Best Under Cabinet Coffee Makers
By Evelyn J Stafford ~ Updated 22 December 2021
As an Amazon Associate I earn from qualifying purchases
Are you tired of having to fight to get your coffee maker out from under the counter to brew your coffee? If so, you need an awesome coffee maker under cabinet tool. One of these new devices means that your coffee maker can slide out from under the cabinet and then back under without you ever having to struggle with the machine.
No more spills, no more fighting to open the water reservoir to fill it up, and no more stress in the morning. All of these great under the cabinet coffee makers will simplify your morning routine while allowing you to save maximum space on your countertop.
The best part is that it's easy. The under the cabinet coffee maker can install in just a few seconds, it's totally reliable, it's easy to clean when the time comes, and there are no complicated switches or gears. The coffee maker slides out so that you can brew your favorite coffee, and then it slides back under the counter so it's not in your way anymore.
If you find this list of coffee makers a little basic or not to your liking, consider pairing up your sliding caddy with a machine from our list of the best espresso machine with grinder selections.
Overview: Our Best Picks
Today we're going to be looking at two different options so that you can brew your coffee using space saving methods. Both methods are going to make your time brewing coffee quicker, easier, and much less messy.
★ Hamilton Beach ★
Single Serve
No Delay Brew
2 Brew Sizes
2 Brew Types
No Frother
Fixed Reservoir
Single Serve
No Pods
1 Year Warranty
Check Price
★ Mr Coffee ★
12-Cup Coffee Maker
No Delay Brew
1 Brew Size
1 Brew Type
No Frother
Fixed Reservoir
1-12 Cups
No Pods
1 Year Warranty
Check Price
We're also going to be talking about the best coffee makers that you can use in conjunction with the Sliding Kitchen Caddy, which is the device that allows your coffee maker to move swiftly in and out from underneath the cabinets.
The Sliding Kitchen Caddy
The Sliding Kitchen Caddy is the ultimate tool for all under the counter coffee makers. At its core, it's a sliding tray that you place your coffee maker on so that it can slide in and out effortlessly. Almost any coffee maker can fit on it, it allows easy brewing. Plus, it's space saving because it tucks underneath your cabinet effortlessly.
This unit is easy to wash, you can put it in your dishwasher, and you can use it for much more than just a coffee maker. You can put your blender on it, your toaster, or even your food processor. If you want to have a convenient kitchen, this is the way to do it. Plus, it has a total weight capacity of 25 pounds. If you have a coffee maker that weighs over 25 pounds, you have some problems that no tool is going to fix!
Sliding Kitchen Caddy + Hamilton Beach Scoop Single Serve Coffee Maker
The Hamilton Beach Single Serve Coffee Makers is one of the ideal models for using with the Sliding Kitchen Caddy. It's a standard low-cost brewing coffee machine that makes your coffee the way you like it. It fits amazing on the Sliding Kitchen Caddy, it looks awesome in your kitchen, and it brews all the coffee you could ever need.
It also brews a custom cup, allowing you to immediately fill your travel mug and then head out the door for work. It doesn't have any fancy buttons or programs, but it is a solid coffee maker that does will keep you brewing day after day.
Option 1: Store Your Coffee Maker on a Sliding Caddy
The first option we're going to be talking about today is storing your coffee maker on a sliding caddy. This is the best space saving method available for those who like brewing their coffee without making a mess.
First, we'll talk a bit about the Sliding Kitchen Caddy itself, then we'll get into the best under counter coffee makers. The coffee makers themselves don't actually slide in and out. They need to be used with the sliding caddy to save you space and keep your kitchen a happy place.
Introducing the Sliding Kitchen Caddy
None of the under the cabinet coffee makers are going to work without the Sliding Kitchen Caddy. It's designed to make your kitchen more convenient. It's super cheap, and when paired with one of our recommended coffee makers is an outstanding deal.
Plus, it comes included with an anti-slip design and smooth wheels so that it pulls out and pushes back easily. Oh yeah, and it comes as a 2 pack! You can have a spare or use it with two different appliances.
The sliding caddy is effortless, it has a full weight capacity of around 25 pounds, and it's perfect for any appliance in your kitchen. Obviously, we are talking about coffee makers today. But it also works with food processors, blenders, toasters, and anything else you want to keep out of the way in your kitchen.
Installation is quick and easy, it comes included with all the pieces needed for install, and when it's time to clean, you can simply stuff the kitchen caddy into the dishwasher. It's constructed out of a premium ABS material, ensuring it's durable and toxic-free. It's also sturdy and reliable and doesn't feel flimsy at all.
But don't just take it from us. Do some investigating on your own and check out the hundreds and hundreds of satisfied reviews online of extremely happy customers. The company even offers you a 100% satisfaction guarantee with a full return within 30 days, no questions asked.
See It In Action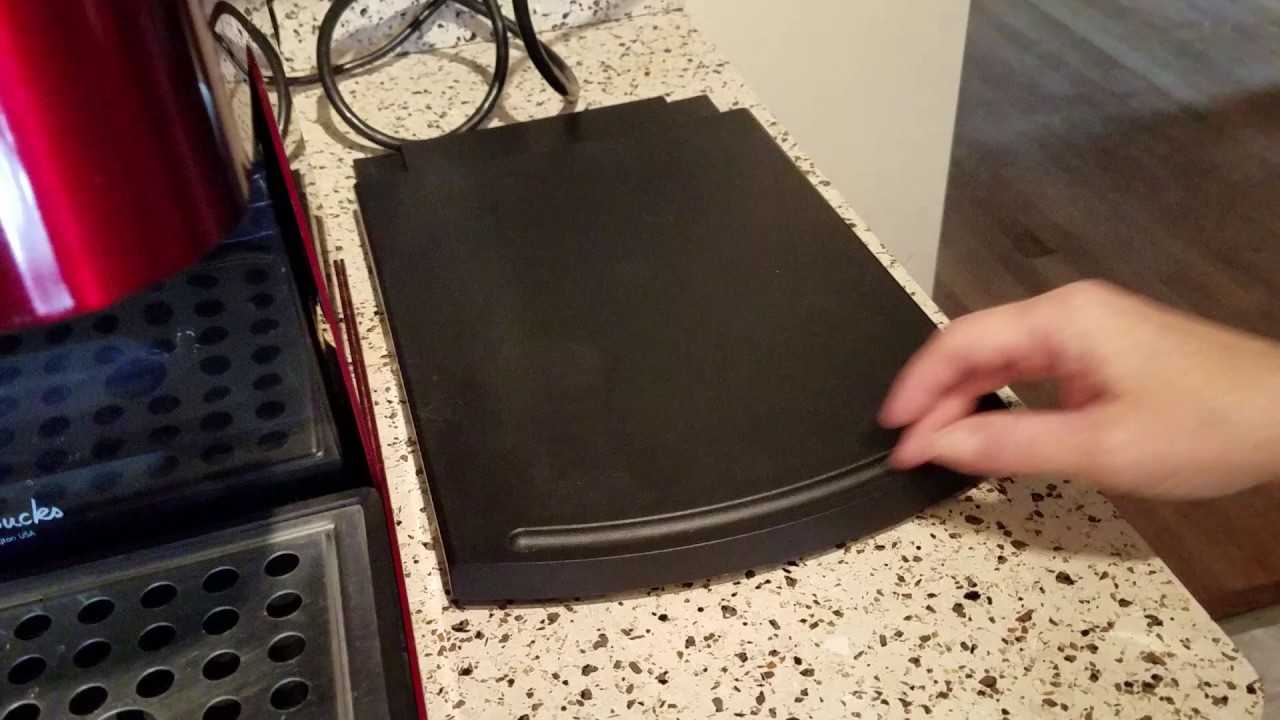 Sliding Caddy + Hamilton Beach Single Serve Coffee Maker
The single-serve coffee maker from Hamilton Beach is a great accessory for the Sliding Kitchen Caddy. It's small, compact, and you don't need a thermal carafe for brewing coffee. You can use your own coffee grounds with the accurate measuring scoop, giving you consistent results every time you brew a cup.
You also get very fast brewing with this model. For an 8-oz cup, expect around 9 seconds for the whole brewing cycle to finish. If you're doing a full travel mug, it will brew in around 2.5 minutes. This is totally appropriate for a traditional drip coffee maker. And the best news is that it slides in and out from underneath the cabinet effortlessly with the kitchen caddy.
This is one of the cheapest coffee makers money can buy, which is why it's so surprising that you get so much quality. You're obviously not going to get all kinds of fancy espresso features. There is no milk frother. You don't have a digital display. But if you just want to brew yourself a single serving of your favorite coffee, this machine really does do the trick.
It's also super simple to use for anyone who hates buttons, dials, and unnecessary settings. All you have to do is fill the top bucket with your favorite coffee grounds, hit the button, and watch the brewing in action. There are only two basic settings for strength: regular or bold. And yes, there really is a difference!
Features
Quick Brewing
Brew Your Own Coffee
Custom Cup Options
Automatic Shutoff
Single-Serve Brewer
We like
Small & Compact
Low-cost option
Use Personal Grounds
Brewing Direct to Travel Mug
Strong Coffee
We don't like
No Fancy Parts
Must Use Paper Filters
Cheaper Quality
See It In Action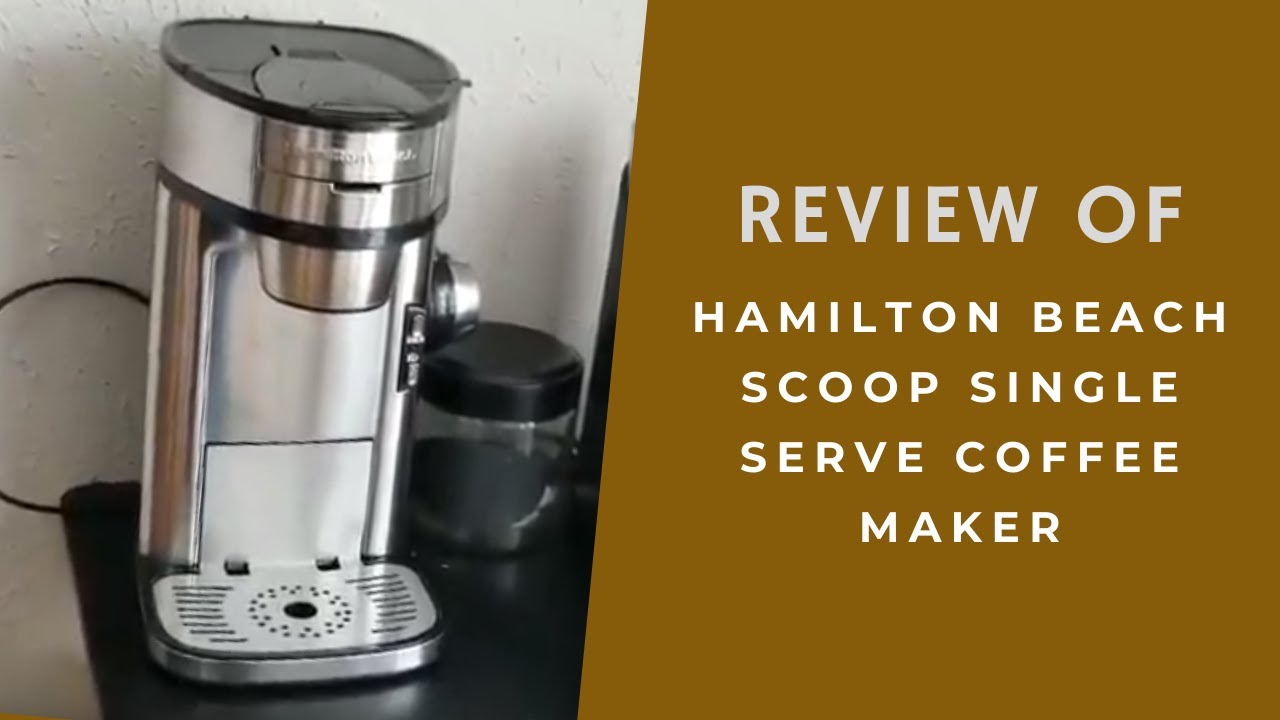 Sliding Caddy + Mr. Coffee 12-Cup Coffee Maker
If you are interested in under the cabinet coffee makers that are even more affordable, you might want to consider something like the Mr. Coffee 12-Cup Coffee Maker. It uses a glass carafe to make a full pot of scrumptious coffee. And yes, it fits awesome on the sliding caddy.
Keep in mind, this coffee maker is a very low-cost option. It's not going to have any impressive features to knock your socks off. It is the most basic kind of coffee maker you can buy. It has an indicator light for on/off, you can pause the brewing cycle to make a cup before it's finished, and you will always know when you're out of water thanks to the translucent window on the water reservoir.
There isn't too much to say about this machine. It's very easy to use, it has a warming plate that works for two hours, it makes hot coffee that you can drink immediately, and it even works with reusable filters so you don't have to waste paper filters. This is your traditional coffee machine, only now with the sliding caddy you can slide it in an out from under the counter for more convenience.
Features
On/Off Indicator
Easy Cleaning Filter Basket
12-Cup Glass Carafe
Easy Cord Storage
Dual Water Window
We like
Super Cheap
Makes a Full Pot of Coffee
Traditional Machine w/ Simple Design
Fits Nicely on Sliding Caddy
Comes in Black or White
We don't like
Plastic Material
No Options
No Programmable Modes
See It In Action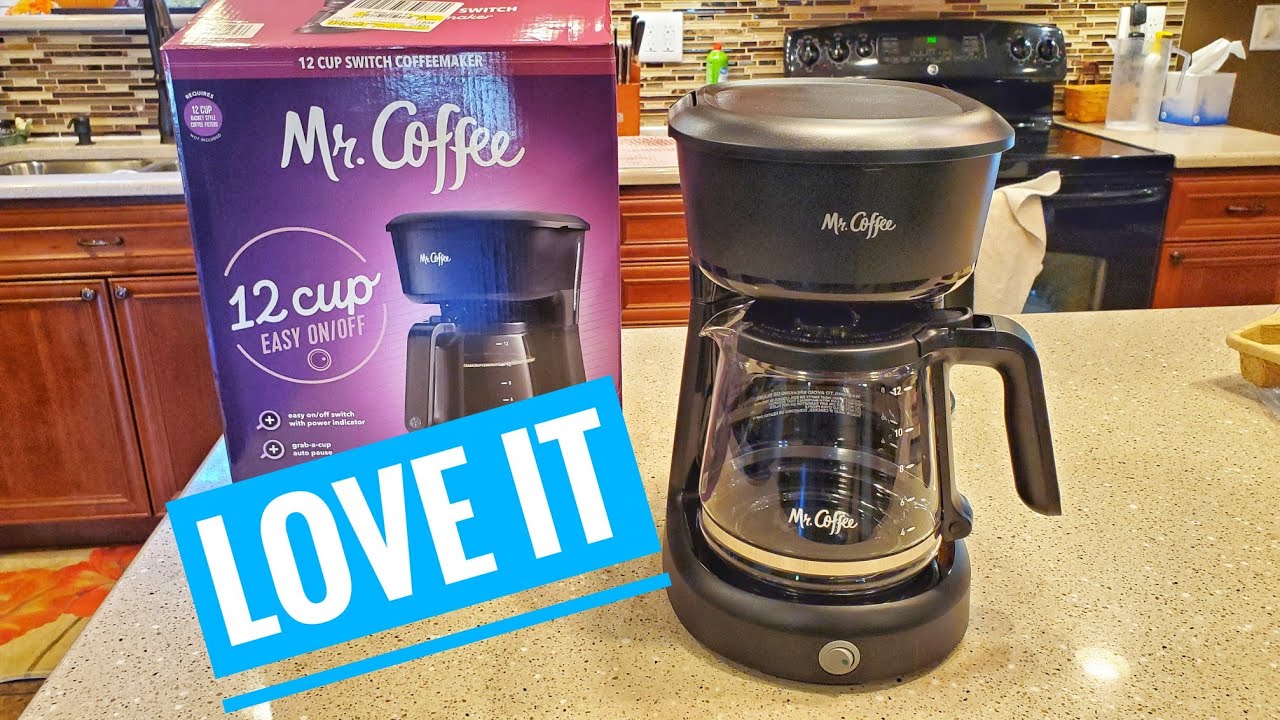 Sliding Caddy + De'Longhi 15-Bar Pump Espresso Machine
Out of all the under the cabinet coffee makers, this one is definitely the fanciest. It's a professional espresso machine that brews like a pro. It can make anything you want, like a single espresso, a double espresso, a cappuccino, or a latte. And all your beverages are going to be the same quality that you would get at your local coffee shop.
This unit even makes incredible foam. It comes with a manual frother that can mix steam and milk to give you the creamiest froth you've ever had in your own home. Plus, the machine uses a 3-in-1 filter holder so that you can make one or two espresso shots. And the best part is that all these features are easy to use.
If you want a taller cup of coffee, simply program the machine to make a taller cup! It won't make a traditional filter coffee, but it can brew larger sizes. The bottom tray is completely removable so that you have no restrictions on cup size. Even the water reservoir is removable so that you don't have to make a fuss about filling it up.
This coffee maker is so slim that you almost don't need the sliding caddy. But to make your life easier, why not combine both? The sliding caddy allows the espresso machine to move in and out from under the cabinet without any effort on your part.
Features
Authentic Barista Espresso
Coffee House Foam
Three-in-One Filter
Accommodates Tall Cups
Sleek & Slim
We like
Quality Espresso Machine
High Pressure
Espresso + Cappuccino + Latte
Advanced Frother
Tastes Amazing w/ Twin Brewing Cycle
We don't like
Really Expensive
Can't Brew Normal Coffee
Not Super Durable
Option 2: Using a Mountable Coffee Maker
Mountable coffee makers take it to a whole new level of convenience. The machines from Black & Decker that we're going to talk about today make life so easy. Simply install them to the underside of your cabinets and enjoy coffee all the time without ever having to clean a mess or deal with an annoying countertop coffee maker!
Black & Decker Under Cabinet Coffee Maker (12-Cup Programmable)
This type of coffee maker is something you only ever see in rich people's houses! By installing the coffee maker on the bottom of your cabinet, you are saving lots of space while making your kitchen look new and modern. The installation is super easy, all the instructions make sense, and the mounting template is simple for anyone to understand. You can have this thing installed in just a few minutes.
But what about the coffee it makes? Well, it's just as good as any other coffee maker. It has quick-touch programming so that you can automatically control the brew and set the digital features. You're able to pause the brew and pour yourself a mug of coffee before the cycle is complete, and it comes with a durable glass carafe that can hold a maximum of 12 cups.
And even though the unit is mounted to the underside of your cabinets, it still works the same as any other coffee maker. Simply fill the bowl with your favorite coffee grounds, fill the removable water reservoir, and go ahead and brew. It even comes with a warming plate so that your coffee will stay hot and drinkable for hours after the brewing has finished.
Features
Simple Installation
Quick-Touch Programming
Brew Pause
12-Cup Glass Carafe
Removable Water Reservoir
We like
Frees Counter Space
Looks Sleek & Futuristic
Easy to Install & Operate
Cleaning is a Breeze
Quality Black & Decker Product
We don't like
Hot Plate Isn't Great
Poor Reviews
Spilling Problems
Black & Decker Under Cabinet Coffee Maker (8-Cup Programmable)
This is the exact same model we just discussed only a bit smaller. Rather than giving you 12 cups of coffee, this machine is programmable with only an 8-cup carafe. However, that does make it a little cheaper. If you don't need 12 whole cups of coffee and you're happy just making 8 cups, this is going to save you a bit of money.
It comes included with the same easy installation. All the instructions and the mounting template are the same. It still frees up all the space on your countertop. It has the brew pause feature so that you can sneak a cup of coffee before the brewing cycle has completed. And it has the quick-touch programming so that you can have your coffee ready when you want it.
That's right, both the coffee makers are fully programmable within 24 hours. You can wake up with your coffee and no mess on your counter!
One of the other great things about the Black & Decker machine is that it can be used anywhere. It looks great in apartments, you can install it in your recreational vehicle, and you can even put one in your own office.
Features
Programmable 24/hr
Clears the Countertop
Removable Water Tank
Keep Fresh Indicator
Automatic Shutoff
We like
Cheaper & Still Convenient
Looks Great w/ Any Color Cabinet
Installation is Quick & Easy
Brew Pause for Quick Coffee
Useful Programmable Options
We don't like
Tough to Clean
Water Reservoir Can Be Annoying
Made of Plastic
Our Top Pick
If you're looking to save counterspace by purchasing one of these awesome blenders, our recommendation is the Sliding Caddy + Hamilton Beach Scoop Single Serve Coffee Maker. It brews the best coffee, it's the most reasonably priced with the best features, and it works very well with the Sliding Kitchen Caddy. You'll love the difference this combo makes when brewing coffee.
FEATURED PRODUCTS
Hamilton Beach Single Serve

2 Brew Sizes / 2 Brew Types
Single Serve Only
No Pods Required

Check Price
Mr Coffee 12-Cup Coffee Maker

1 Brew Sizes / 1 Brew Types
Carafe Only (1 - 12 Cups)
No Pods Required

Check Price
Recommended Reading
Are you tired of having to fight to get your coffee maker out from under…
COMMENTS
Are you tired of having to fight to get your coffee maker out from under…
COMMENTS
Are you tired of having to fight to get your coffee maker out from under…
COMMENTS