The Best Espresso Machines under $200
By Evelyn J Stafford ~ Updated 13 December 2021
As an Amazon Associate I earn from qualifying purchases
Today we are looking at the best espresso machines under $200. If you're an espresso lover and you don't want to spend more than 200, these are the best espresso machines in the business. They all make great espresso, each machine under $200 is easy to use and set up, and at the end of the day you are going to have the best espresso machine sitting on your kitchen counter, ready to make you coffee at any instant!
Each coffee machine on the list offers different features, and we're going to review every major espresso maker to see which best suits your needs, which brews the best coffee and espresso, and which is the best value for your hard-earned dollars.
While this line up is sure to tick most if not all your boxes, should you decided to shit into a higher gear, we have you covered n our guide to the best espresso machine under 300.
Overview: Best Espresso Machine Under 200
★ De'Longhi ★
Espresso Maker
Semi Automatic
Espresso, Cappuccino & Latte
Pods or Ground Coffee
Manual Frother
Removable Reservoir
12.2" L x 19.3" W x 15" H
1 Year Warranty
Check Price
★ Mr. Coffee ★
Espresso Maker
Semi Automatic
Espresso, Cappuccino & Latte
Ground Coffee Only
Automatic Frother
Removable Reservoirs
11.2" L x 8.8" W x 12.6" H
1 Year Warranty
Check Price
Today we're looking at eight of the best espresso machines under $200, but there are two espresso machines that really stand out (prices subject to change). The De'Longhi 15 Bar Pump Espresso & Cappuccino Maker is a professional espresso maker that delivers premium espresso at an affordable price. It's loaded with all the best features and is at the top of the list in this price range.
On the other hand, the Mr. Coffee Espresso & Cappuccino Maker is a fully functional coffee maker that produces fantastic espresso with the ideal pressure and temperature. It has more bells and whistles than most other machines under $200 on the list, and it comes complete with a solid reputation.
Semi-Automatic, Super-Automatic, or Capsule?
There are three main types of brewing options when using an espresso maker. The best espresso machine for under $200 is going to work either with semi-automatic, super-automatic, or capsule. A lot depends on your personal preference.
Semi-automatic espresso machines are similar to normal automatic machines. They do mostly everything for you except for measure the water and shut off. This means it's up to you to shut off the machine and watch it while it brews.
For super-automatic espresso machines, you couldn't ask for better technology. They literally do everything for you. The espresso machine will grind the beans, measure the water, and even froth the milk. These are the top-tier of espresso machines.
Then there are capsule units. These make delicious espresso by using capsules. Out of all the espresso makers, they are typically the cheapest. But they are also fully automated. Rather than grinding beans and using grounds, you just insert a capsule and the espresso maker does the rest of the work for you.
The Best Espresso Machines Under 200
Here we have composed a list of the eight best espresso machines under $200 (prices subject to change). Let's take an in-depth look at ever last espresso maker and how they can benefit your life. We have automatic machines, semi-automatic units, and the end you will find the two best capsule espresso machines in the business. Now let's take a closer look!
1. De'Longhi 15 Bar Pump Espresso & Cappuccino Maker
WINS PICK OF 2021
Of all the options presented, this is the best priced espresso machine under 200! It uses a steel drip tray, it has a removable water tank, it has a useful milk frother and a steam wand, and it's one of the best espresso machines on the list.
The machine is easy to use, it prepares lattes and cappuccinos by using a swivel jet frother. This means you will have the perfect espresso every time. You can even use the twin brewing cycle for maximum taste and maximum efficiency. And unlike other espresso machines that take too long to brew, this one is super fast and relatively quiet.
It also makes espresso at the perfect temperature. The espresso machine comes with two separate thermostats so that you can control the water and the steam separately. This puts you in control of the flavor of your espresso at all times.
The espresso machine is easy to clean, it has a 3-in-1 filter holder, it's small and fits nicely on your kitchen counter, and it's super convenient because you can use it with pods or with ground coffee. If you're looking for a simplistic espresso machine to use at home but are worried about all the settings, this is a great option. You don't need any previous experience to make the best espresso of your life.
Features
Swivel Jet Frother
Perfect Temperature Brewing
Stainless Steel Boiler
Steam Dial + Steam Wand
Pods + Ground Coffee
We like
High-Quality Espresso Maker
Easy to Use + Quick Espresso
Major Convenience
Built to Last Years
Steam Wand Works Great
We don't like
Too Much Vibration
Manual Machine
Water Tank Too Small
See It In Action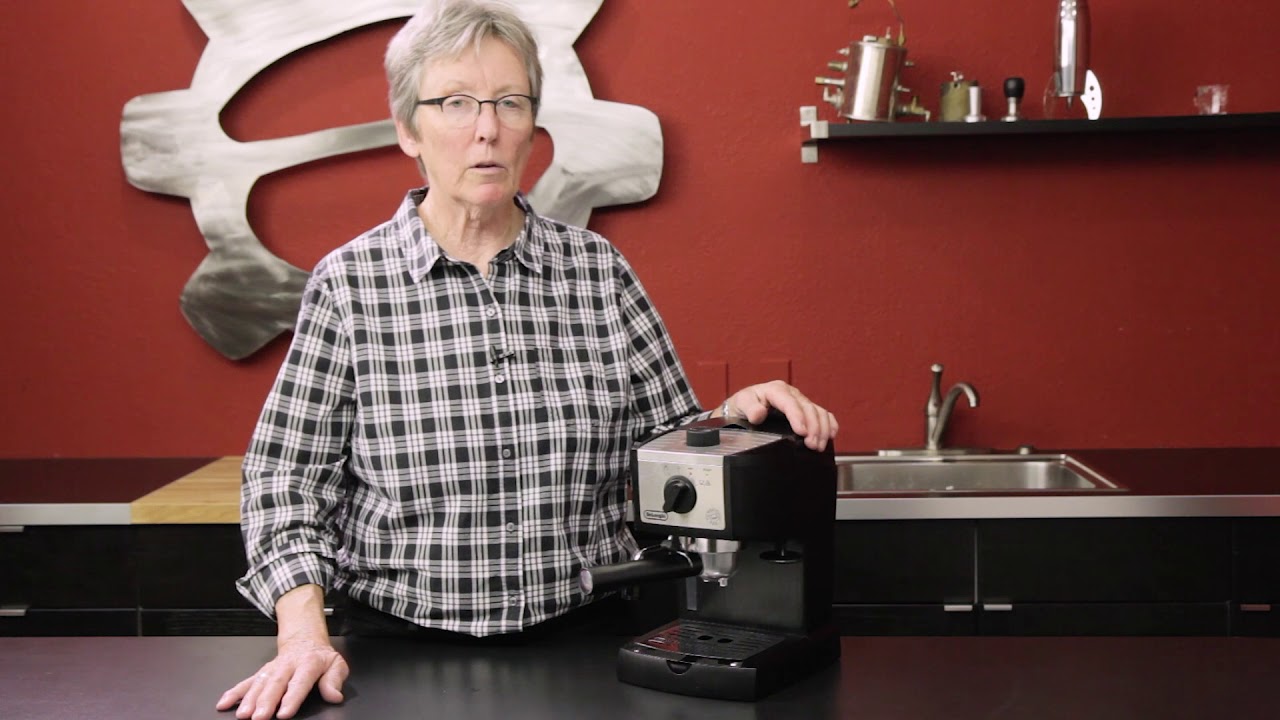 2. Mr. Coffee Espresso and Cappuccino Maker
If you're interested in a premium unit, this is definitely the best espresso machine in this price range. Yes, it's more expensive than some of the other models, but it makes the most robust espresso you've ever tasted. The machine is going to automatically froth your milk when you're making a cappuccino or a latte, and the water tank is fully removable and easy to clean.
As for brewing the coffee itself, all you need is to select your grounds, decide if you want a single shot or a double shot espresso, then activate the machine using the one-touch control panel. You can sit back and watch the machine work for you. No measuring and no fuss!
Mr. Coffee always makes the best espresso. The 15-bar system means that you get an espresso just like you would at your local coffee house. And unlike a lot of expensive machines that are loud and confusing, this unit is actually pretty quiet. Plus, all the buttons are clearly marked so that you don't get stressed just trying to make an espresso.
And finally, the machine has a self-cleaning cycle so that it stays clean at all times. You don't have to worry about getting your hands dirty, and you don't have to worry about forgetting to clean the machine because the button is right there every time you use it. This will ensure the best taste with every espresso.
Features
Automatic Milk Frother
3-in-1 Espresso Maker
15-Bar Pump System
Easy Fill Water Tank
One-Touch Controls
We like
Comes in Three Colors
Super Easy & Convenient
Looks Great & Feels Sturdy
The Automatic Milk Frother
The Taste is Fantastic
We don't like
More Expensive
Can't Make Normal Coffee
Not Compatible w/ Pods
See It In Action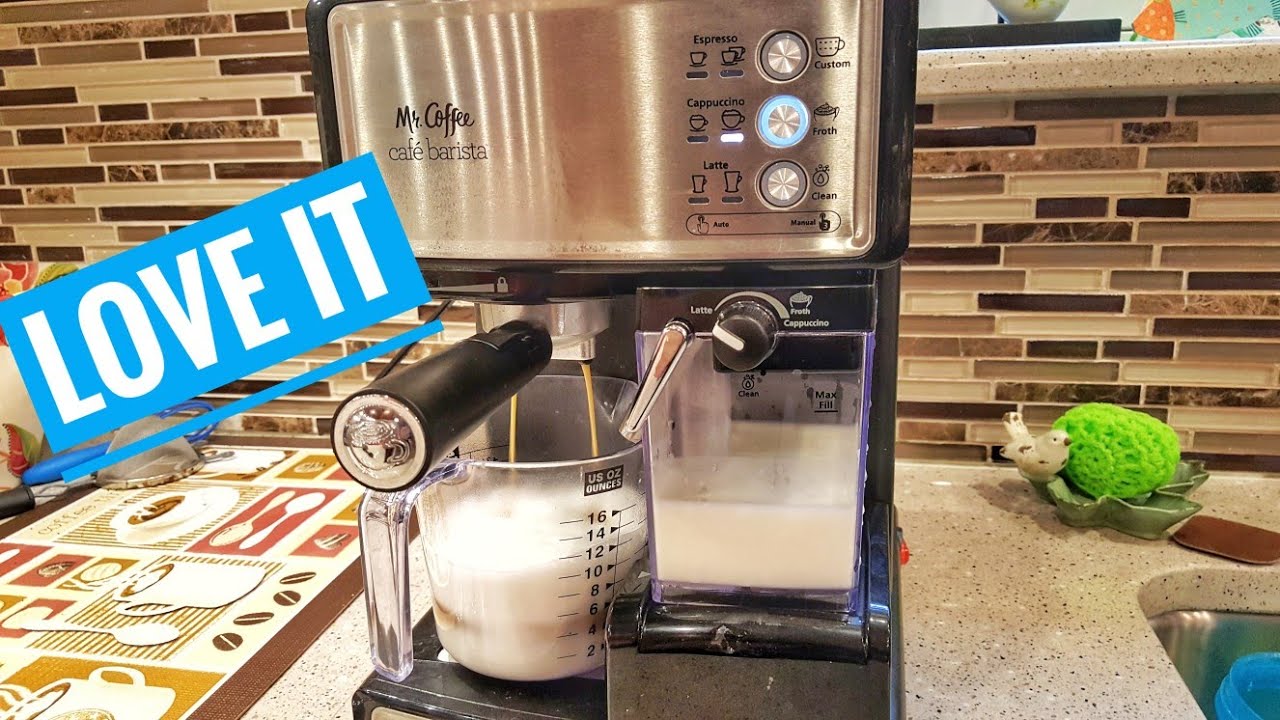 3. Hamilton Beach Espresso Machine with Steamer
In third place, you'll find the Hamilton Beach's (40715) espresso machine. This machine offers a few added features such as a large removable water tank that's rare in this price range. It pulls a superior shot of coffee and features a quality steam wand.
You're not limited to ground coffee with espresso machine as it also accepts soft coffee pods. These are not the Keurig / Nespresso variety but look like a large tea bag. You can also pull two single shot at a time if your making coffee for two people.
To use the espresso maker, start by (you guessed it) turning on the machine. While you wait for the water to heat up, add water via the back of the machine. Fill your coffee basket with ground coffee, then insert it into the machine.
Press the third button on the front of the machine to begin extracting your coffee. When you reach your desired amount of espresso, press the button again to stop the extraction process. Place your milk under the steam wand and turn the large right dial around to produce steam. Turn to the opposite direction to stop the process. Combine the two and enjoy!
The machine features a removable 40 oz water tank, so you won't need to refill it after every use. Being removable, it's also ease to clean the inside of the tank as you should on every now and again.
Features
Can use espresso pods or ground coffee
On / off switch
40 oz water tank
Removable water tank
Removable drip tray
We like
Make espresso, cappuccino, mocha, & latte
Can make 2 single espresso shots at once
Fast heat up time
Espresso machine is easy to clean
Best bank for your buck
We don't like
Feels very plastic like
Milk steaming jug not included
No dedicated tamper
4. Gevi Home Barista Espresso Machine
The Gevi Home Barista Espresso Machine is one of the best units on the list. It comes in at a super low price, and it has everything included to transform you into a professional home barista. You can use the machine to make mochas, cappuccinos, lattes, and of course, a yummy espresso.
This machine is small, it comes with an oversized removable water tank, it has a double temperature control system, and it ensures the best flavor with every brew. It uses the same standard pressure to brew espresso that they use at professional coffee houses, and it even has a professional milk frothing wand so that you can have authentic cappuccinos and lattes.
It's a semi-automatic machine that allows you to choose how strong you like your espresso. You can even use it to make tea. If you're worried about complications – don't! It doesn't take any knowledge to operate the unit. The drip tray is removable, the froth wand rotates 360 degrees, and the visual control panel has all your options plainly displayed.
But one of the best parts is that you can control the temperature of both the water and the milk foam separately. This means no matter what your personal preferences are when it comes to espresso, you are covered with this unit. The machine is stainless steel, it has a 1.5-leader capacity in the water tank, and the company promises two years of perfect functionality.
Features
Double Temperature Control
Huge Water Tank
Professional Milk Frother Wand
15-Bar Pressure
Semi-Automatic 2-in-1 System
We like
Great Control for Taste
Professional Machine for Super Cheap
Stable Extraction & High Pressure
Makes Classic Espresso + Specialty Drinks
Wand Works Well
We don't like
Not Fully Automatic
Froth Could Be Better
Better for Beginner Baristas
Please enter a valid asin
5. Mr. Coffee 4-Cup Steam Espresso System with Milk Frother
Next in our line-up is the popular 4 cup espresso maker with built in steamer by Mr Coffee. There are no automated features to the machine, meaning you need to do everything manually. The coffee maker allows you to produce 2 – 4 shots of espresso, then go on to create a Cappuccino or Latte.
The coffee maker is easy to use, simply fill your coffee basket and tamp down. Secure the basket to the machine and fill the water reservoir from the top (back) of the machine. Turn the dial towards you to extract your espresso! It will take 2 – 4 mins before the extraction begins as the water needs to heat up. Don't walk away from the machine as you'll need to manually stop the extraction once complete.
When you have extracted your espresso, add your desired amount of milk to a stainless-steel or glass jug and place it under the steam wand (at an angle). Turn the dial used to extract the espresso in the opposite direction to activate the wand. Steam to your heart's desire, then combine the two.
You can't extract your espresso and steam your milk at the same time, these need to done separately. The machine has a short retractable cord, making it portable to clean around and keep the cord hidden from sight.
Note that you will have to supply your own stainless steel or glass jug to steam your milk in and it's advised to buy a separate tamper. The tamper included is the reverse side of the scoop used to fill your coffee basket with ground coffee.
The machine has a small water tank that has to be filled before every use, so would be perfect for a single person. The water tank is not removable, but easily accessed from the top / back of the machine. It can only be filled from a cold start.
Features
Manual Operation
Steam Wand
4 Cup Water Tank
Washable drip catcher
No on / off switch
We like
Can make espresso, cappuccino or latte
Can produce 2 – 4 shots of espresso
Can steam milk
Short retractable cord
We don't like
You can not walk away while in operation
Milk steaming jug not provided
Water tank must be filled before each use
6. Gevi Cappuccino, Latte and Mocha Maker
Here we have another awesome espresso machine from Gevi. It's like the previous machine we just discussed, only more robust and complete with more impressive features.
Out of all the espresso makers on the list, it's one of the better options. The whole machine is stainless steel, it has flawless ratings online, it comes with a removable water reservoir, a dual temperature control system, and professional 15 bars of pressure for perfect espresso. There is no doubt this espresso machine makes café-quality coffee in just seconds. It even has a rapid heating system that only takes 45 seconds!
The espresso machine is quieter than normal, it includes a pro milk frother to help create cappuccinos and lattes. And the dual temperature control is actually very accurate. You can tweak the temp of the water and the milk to get the desired flavor. This makes for exquisite espresso extraction.
Overheating protection, auto pressure relief, automatic shutoff, and separate thermostats are just a few more of the awesome features in the espresso machine. If you're looking for something that can make creamy milk frothing and an awesome Italian espresso, this is it!
Features
45-Second Fast Heating
Professional Frothing Wand
Stainless Steel Design
Removable Drip Tray
Double Temperature Control
We like
Useable Functions
Great Longevity
Stylish & Modern
Strong Motor & Tasty Espresso
Can Make Latte Art
We don't like
Tough to Clean
Takes Up a Lot of Space
Can't Use Pods
7. De'Longhi 15-Bar-Pump Espresso Maker
This is probably the best dual espresso machine under $200. It works both with ground coffee and with pods, and regardless of what type of coffee you make, it's going to taste delicious. This is an espresso machine you will be happy to come home and use every day after work to wind down. Plus, if you're using it in the morning, it automatically self primes to save you time.
The machine is super easy to wash, it has a steel drip tray so that you don't make a mess, the water reservoir is massive, meaning you barely need to refill it. And when you do need to refill it, it can be easily removed so that you don't spill water all over the place. There is even a rack on top of the machine to keep your espresso cups dry and ready for use.
De'Longhi is notorious for making durable products. You will have a hard time finding a single negative review about this espresso machine. The stainless steel looks great in any modern kitchen, the advanced frother allows you to experiment with all kinds of specialty drinks
And yeah, it comes very close to budget, but it's well worth the price. Say goodbye to expensive espressos and americanos from overpriced coffee shops!
Features
Removable Drip Tray
Stainless Steel Machine
Easy-To-Use Frother
Automatic Self Priming
Pods or Ground Coffee
We like
Can Use Any Type of Coffee
Simple to Clean & Convenient
Taste is Phenomenal
Great for Espresso & Lattes
Advanced Frother is Fun
We don't like
No Water Filter
Close to budget
It's Loud
8. Yabano Espresso Machine
The Yabano Espresso Machine is one of the best espresso makers on the list. It's a little expensive, but it's well-worth your money. This is not your standard coffee maker. It uses high-pressure extraction to quickly penetrate the coffee powder and make an exquisite espresso that is going to fill your kitchen with the fragrant scent of rich coffee.
The espresso machine comes with integrated pressure gauges so that you always know the exact pressure, and this will allow you to have complete consistency with all your brewed espresso drinks. The removable water tank is a little small, but the design keeps the espresso machine small and discrete.
Other features include a stainless drip tray, a high-tech milk frothing system with high-pressure steam injection, a steel filter basket, and a convenient operation panel. On the operation panel you will find all the buttons clearly labeled so that even if you're new to making your own espresso, this machine won't confuse you.
Finally, on the top of the espresso machine is actually a cup warmer grill, which allows you to preheat your cups before brewing. This will help keep the espresso hotter for longer. And of course, you're not limited to just espresso. You can make all the standard barista drinks like cappuccinos and mochas, and you can experiment with different designs thanks to the milk frother.
When all is said and done, this is probably the greatest of the espresso makers from a relatively unknown company.
Features
High Pressure w/ Built-In Gauges
High-Quality Steam Wand
Transparent Water Reservoir
Stainless Filter Basket
Convenient Operation Panel
We like
High-Tech Espresso Machine
Extraction is Quick & Easy
Cup Warmer Grill is Great
Accurate Controls & Quality Taste
We don't like
Should Clean Regularly
Low Number of Reviews
Lesser Known Company
9. Nespresso Vertuo by Breville
Every coffee maker from Nespresso is high quality. There's no debating it. If you're looking for an espresso machine that doesn't require any fussing with wands or settings, you need an automatic capsule machine just like the Nespresso Vertuo.
Everything is simpler when you use an espresso automatic brewing machine. There is nothing to it. Simply pick which Nespresso capsule you want to try, stuff it into the machine, and push one button. There are no other settings and there are no complicated procedures. You can set it and walk away and come back to a delicious espresso.
Plus, this machine allows you to make coffee. You get five different sizes to choose from, including a single or double espresso and a full 14-oz coffee. This is the best espresso machine if you want to make americanos and larger specialty beverages. All the capsules are automatically ejected and stored in the wide container, and the removable water reservoir makes for less mess.
The price isn't even that bad. It's low-cost, which is pretty impressive for a coffee maker that brews a powerful espresso in under a minute. The Nespresso also uses its own special extraction technology with their own capsules to give you a much more flavorful drink than you get with other similar pod or capsule units.
Features
Retro Design
Ultimate Simplicity
One-Touch Brewing
Automatic Capsule Ejection
Adapts w/ Each Capsule
We like
Extremely Delicious Coffee
Massive List of Flavors
Comes w/ Welcome Capsule Set
Brews 5 Different Sizes
No Hassle/One-Touch Operation
We don't like
No Frother
Nespresso Pods Are Pricey
No Milk Frother
10. Nespresso Essenza Mini by Breville
This is one of the best coffee makers for a single person who loves espresso. The Nespresso Essenza is a tiny unit that can tuck into the corner of your kitchen counter and make you a quick coffee at any time. It's also one of the smallest personal espresso machines on the market, and it has a ridiculously high user score from satisfied customers. Everyone loves this unit!
And it's easy to see why. It's well priced and comes in either black or white, it looks modern and sleek, and it comes with a complimentary Nespresso welcome kit so that you can try a wide range of different capsules, each with unique aromas and unique tastes. For people who love convenience, this is the machine for you. It's also ideal for people who want to experiment with different coffee flavors without sacrificing quality or wasting time.
The Nespresso Essenza is also versatile. It might not be able to make a full pot of coffee, but you can at least adjust the cup sizes to make either a standard espresso or a tall espresso. And no matter what your choice is, the beverage is always going to taste delicious. Everyone knows that Nespresso has a much higher level of quality with their coffee capsules than other companies.
The only downside is that there is no frother. But who needs a frother when you have this incredible espresso maker? It has an energy saving mode, there are literally no complicated settings, and it's designed to continue working for years to come. This will become a staple in your kitchen and part of your morning ritual.
Features
Barista-Style Coffee in Small Package
Energy Saving Mode
Dual Programmability
One-Touch Operation
Heats Water in 25 Seconds
We like
Adjustable Cup Sizes
Tiny & Saves Space
Complimentary Nespresso Welcome Kit
Works Super Fast & Perfect Temperature
Simplistic
We don't like
Limited Options
Pods Are Expensive
Little Loud
Our Top Coffee Pick: Best Espresso Machine Under $200
The De'Longhi 15 Bar Pump Espresso & Cappuccino Maker is definitely going to be the best on the list. It's a quality unit with great features that can make you an espresso in seconds that tastes just like you would get in a coffee shop. Plus, it comes with a professional milk frother! Oh yeah, and it's dirt cheap without giving up the qualities you want in a pro espresso maker.
The Mr. Coffee machine is also great if you're interested in spending a bit more money for a few extra features. It has all the bells and whistles you expect, but you do get a bit more for your money. However, it's a lesser known company when it comes to kitchen appliances.
If you want a capsule machine, we recommend the Nespresso Vertuo – but keep in mind that you have to use Nespresso pods and it doesn't come with a frother. But if you're keen on picking up a machine that you can simply pop a pod into and brew a coffee, this is the best one on the market.
FEATURED PRODUCTS
De'Longhi Espresso Maker

3 Coffee Types + Manual Frother
Semi Automatic / 15-bar
Pods / Ground Coffee

Check Price
Mr. Coffee Espresso Maker

Single or Double Shot Espresso
Semi-Automatic / 15 Bar Pump
Automatic Milk Frother

Check Price
Recommended Reading
Today we are looking at the best espresso machines under $200. If you're an espresso…
COMMENTS
Today we are looking at the best espresso machines under $200. If you're an espresso…
COMMENTS
Today we are looking at the best espresso machines under $200. If you're an espresso…
COMMENTS