Best Single Serve Coffee Maker Without Pods
By Evelyn J Stafford ~ Updated 30 December 2021
As an Amazon Associate I earn from qualifying purchases
Easy-to-use coffee pods were extremely popular just a few years ago. However, these days people are moving away from anything considered to be excess waste, like tons of coffee pods that end up in landfills every year. Now people want a coffee maker with no pods.
With all the amazing technology being applied to single serve coffee makers for use at home that do not require pods, and often come with built-in grinders, the choices are plentiful. We have compiled a list of the five best, each one a coffee maker with no pods that can make a delicious single cup or full pot of coffee.
If you are pressed for space and need a coffee machine + easy access method, we have you covered in our guide to the best under cabinet coffee makers.
Best Single Serve Coffee Maker No Pods
★ Ninja ★
Specialty Coffee Maker
Delay Brew Timer
6 Brew Sizes
4 Brew Types
Fold Away Frother
Removable Reservoir
Single or Carafe
No Pods
1 Year Warranty
Check Price
★ Hamilton Beach ★
Single Serve
No Delay Brew
2 Brew Sizes
2 Brew Types
No Frother
Fixed Reservoir
Single Serve
No Pods
1 Year Warranty
Check Price
It should come as no surprise that the Ninja Specialty Coffee Maker is our top pick. Ninja always designs the best coffee makers, and the Ninja Specialty bumps it up a notch by offering a wide variety of beverages in different brew sizes that will make even the pickiest coffee drinker happy.
In the battle of the coffee makers without pods, the the Hamilton Beach Scoop is without a doubt the maker, no pods required! This coffee maker is better at making single cups, filling up a travel mug, and giving you one delicious mug of yummy coffee. The Hamilton Beach Scoop is clean, effective, and simply better then other single cup coffee makers.
These two models are obviously very different. That said, they are each the best at what they do. The Hamilton Beach Scoop Single Serve Coffee Maker with No Pods is roughly a quarter of the price of the Ninja Specialty Coffee Maker with No Pods. The choice of which to buy comes down to how much coffee you drink every day, and whether you want specialty coffee or ordinary filtered coffee.
1. Ninja Specialty Coffee Maker
WINS PICK OF 2021
The Specialty Coffee Maker is a win for the Ninja brand. This may be one of their most advanced coffee makers to date. You can brew yourself a single cup, a large cup, a whole travel mug, or an entire carafe. Not only that, but you can brew iced coffee that is just as tasty as what you get from your local café.
The foldaway frother works in seconds to turn milk into a creamy froth for your cappuccino or latte. If you are someone who likes strong rich coffee, there is a rich brew mode that will satisfy your taste buds with a balanced flavor. No matter what way you look at it, the Ninja Specialty Coffee Maker with no pods is the best way to start your morning.
Yes, it's true, Ninja thought of everything when it comes to how you enjoy your coffee. The warming tray keeps your carafe warm and ready to drink for up to an amazing 4 hours. This is especially handy combined with the pre-programmable feature, in which you can set the time that your coffee will be made.
Some people even say this extremely affordable coffee maker is on par with expensive machines ordered from Italy. It is certainly more convenient than a French press.
Features
Foldaway frother for hot and cold milk
Removable water reservoir
50 ounce glass carafe
Stylish black and silver finish
Single cup capable for strong espresso
No need for pods
We like
Seemingly endless options for coffee
The interface is easy to use
Removable parts make it very easy to clean
The frother adds a coffeehouse touch
We don't like
The machine is quite large
Heat has been known to warp lid of reservoir
No integrated grinder
See It In Action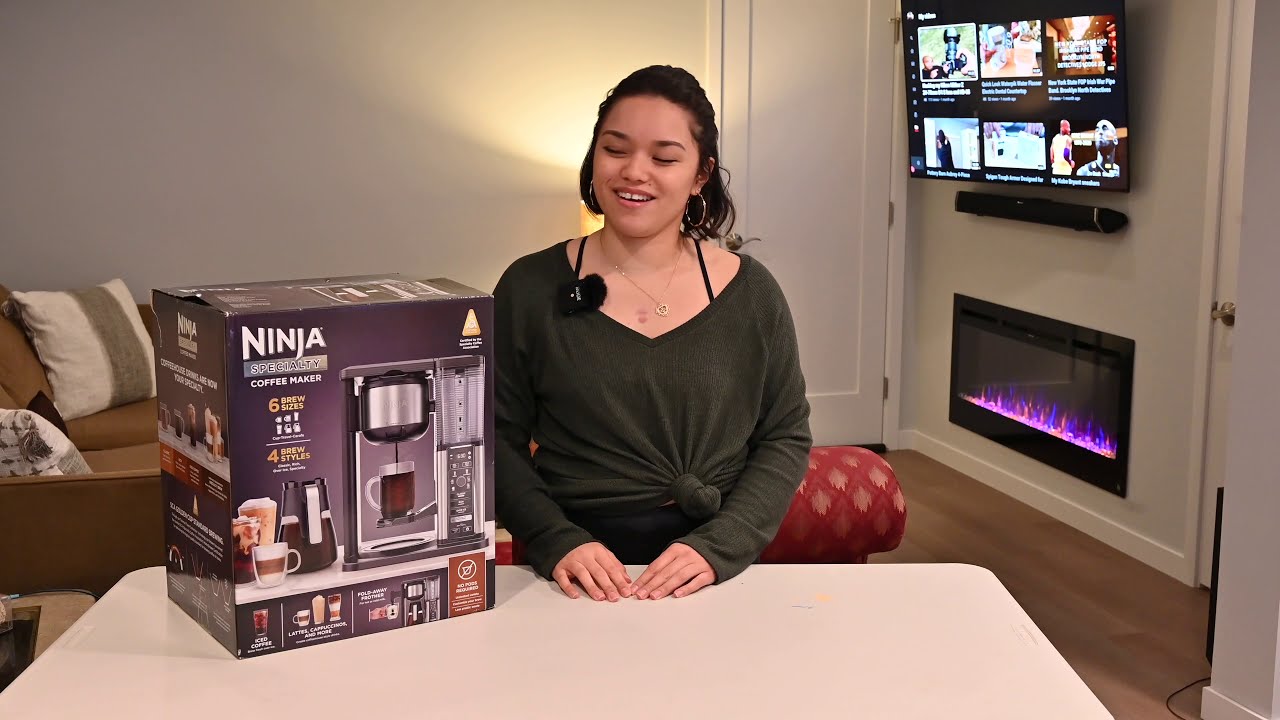 2. Hamilton Beach Scoop Single Serve
The single serve coffee maker from Hamilton Beach is a great and affordable coffee maker without pods that will set you back less than you'd expect! It comes included with a scoop, making it easy to fill the chamber straight from the bag of coffee grinds. It has everything needed to be a reliable single cup coffee machine.
And while you can only use the coffee maker for a single cup, that's what it's for. It does not promise to do anything that it can't. It is super easy to use, with only two buttons on the front. You can either pick a normal coffee or a bold coffee. There are no knobs, no dials, and no nonsensical buttons to confuse anybody.
Another thing we appreciate is the simplicity of the machine itself. It is so minimal that you almost don't see it on your kitchen counter. It is sleek, thin, and can fit anywhere that is convenient for you. Heck, you can even put one in the bedroom for lazy Sundays.
Best of all – no more pods! The Hamilton Beach Scoop Single Serve Coffee Maker works with whichever coffee grinds you want. It's effortless and well worth the few bucks.
Features
Comes with a single serve scoop
Brews a full cup of coffee in less than 2 minutes
Will brew a single cup of normal or bold coffee
Drip tray resistant to spills
Automatic shutoff
Can accommodate a large travel mug
We like
The different strengths of coffee
How quick the machine makes coffee
Its small size and attractive silver finish
It's versatility with coffee grinds, no coffee pods needed
We don't like
It only works for a single cup of coffee
The coffee can be extremely hot when made
See It In Action
3. Cuisinart Grind & Brew Automatic
The Grind & Brew Automatic Coffee Maker from Cuisinart is one of their most popular models. Reasonably priced, you can't go wrong with this all-in-one coffee machine with no pods. It can do single cup, single serve, or a full 12-cup carafe. These are enough coffee options for the whole family.
The Grind & Brew is an environmentally friendly coffee maker, which is an aspect we really enjoy. It comes with a filter basket and the cover for the filter basket, plus the gold tone permanent filter that you can take out and clean. No more paper filters, no more pods, no more useless waste.
The machine is easy enough to use with six well-labeled buttons on the front for pre-programming your morning coffee and tweaking the settings. You can even pause the brew, fill your cup, then resume brewing into the carafe. This is excellent for impatient coffee drinkers. Plus, the carafe has a dripless spout, an ergonomic handle, and a knuckle guard.
This is a fine choice for any family kitchen since it has something for everybody. However, it may be a little large for a single person living in a small space. You definitely get your money's worth with the Grind & Brew.
Features
Programmable 24 hours
Glass cafe with 12-cup capacity
Integrated grinder for coffee beans
Charcoal water filter, great for tap water
Control panel is easy to use
Removable components for simple cleaning, dishwasher safe
We like
The LED indicator shows different modes and settings
The charcoal water filter is good for the environment, plus no pods
All in one, grinds beans & makes coffee
Can make 1 cup of Italian style espresso
We don't like
The grinder can be loud
A lot of different pieces to clean
Must measure beans for each brew
4. Chefman InstaCoffee Single Serve
For those in need of a single serve coffee maker, Chefman has you covered. This powerful yet compact coffee machine will deliver a single cup of smoking hot coffee just the way you like it in under 3 minutes. If you don't think that's impressive, think again.
Because the InstaCoffee is so slim, it can fit pretty much anywhere. This is a great gift for people who travel a lot for business or vacation, since you can pack it in your suitcase and always have a reliable single cup coffee maker with you at all times. And even though it's small, it can still accommodate just about any travel mug you may come across.
The InstaCoffee offers two compatibilities. You can either use K-Cups or you can use coffee grinds. This means it has something for everyone. Brew your favorite brand name K-Cups, hot chocolates, teas, or anything else that comes in a K-Cup, plus you can make your own favorite pre-ground coffee. Not just ground coffee, you can also use the filter for loose leaf tea.
Features
Compatible with K-Cups or ground coffee
Portable for on-the-go coffee making
Operates with one easy button, very simple
Fits almost any travel mug
Brews a single cup in 30 seconds
Design is ultra compact and narrow
We like
The simplicity: design, appearance, ease of use
Can use it to make any kind of coffee with its dual capabilities
Great for traveling, lightweight for storage
One of the most affordable single cup coffee makers
We don't like
Some people may like their coffee hotter
There maybe some splatter with smaller cups
Fast does not always equal flavor
5. AdirChef Grab N' Go Personal Coffee Maker
The Grab N' Go is a reliable, personal coffee maker that comes with its own high-quality 15-ounce travel mug. Its extremely affordable. With AdirChef, you get a travel mug and a single serve coffee maker for the same price.
The Grab N' Go certainly offers a flamboyant line of colors, including blue, green, and orange in different shades. No matter the color, each travel mug has a universal fit, meaning it will fit into any cupholder in any vehicle. No more wonky, pain in the butt travel mugs that won't fit in your car.
Another bonus is the permanent filter. Even if you don't care about the environment, you probably care about saving money. A permanent filter means no more paper filters, no more garbage, and no more wasting money. Simply wash the filter and reuse it. All you need to enjoy a single cup of hot coffee is the coffee itself.
To be completely honest, at this price range you are not going to get a premium, German engineered, Italian authorized coffee maker. Still, the Grab N Go does what it is supposed to. It looks great, you can take it wherever you want, and it is going to make you yummy coffee with one bush of a button. And to be quite frank, if it breaks, just buy another one. Then you'll have two free travel mugs.
Features
Free travel mug
Durable plastic construction
Automatically turns off after each brew
So small it can be used in your office cubicle
Available in a lot of different colors
Designed for personal use, single serve
We like
Comes with its own cool travel mug
Surprisingly durable for the price tag
More eco friendly than other similar models
Portable & replaceable
We don't like
The water may not be hot enough
Hard to clean
Our Top Pick
Our top pick absolutely must be the Ninja Specialty Coffee Maker. To be honest, this could be the replacement coffee machine many people are looking for. It's solidly built, it gives you infinite possibilities for beverages, ranging from hot to cold, it can brew a single cup all the way to a full carafe, and there is no excess waste.
The Ninja comes with a frother to further improve the taste and quality of your beverages. It's easy to clean, delivering consistently rich coffee house macchiatos and cappuccinos. You will have a hard time finding another specialty coffee maker with no pods this good at this low of a price.
Closely on the Ninja's heels is the offering from Hamilton Beach. Lacking some of the features and abilities of the Ninja places this single cup coffee maker without pods a step behind its rival. Whichever of the single serve coffee makers you decide to go with will provide the best experience into 2021 and beyond.
FEATURED PRODUCTS
Ninja Specialty Fold-Away Frother

6 Brew Sizes / 4 Brew Types
Single Serve or Carafe
No Pods Required

Check Price
Hamilton Beach Single Serve

2 Brew Sizes / 2 Brew Types
Single Serve Only
No Pods Required

Check Price
Recommended Reading
Easy-to-use coffee pods were extremely popular just a few years ago. However, these days people…
COMMENTS
Easy-to-use coffee pods were extremely popular just a few years ago. However, these days people…
COMMENTS
Easy-to-use coffee pods were extremely popular just a few years ago. However, these days people…
COMMENTS