The Keurig K55 vs K250 (2.0)
By Evelyn J Stafford ~ Updated 13 November 2021
These are two of the best Keurig coffee makers available right now. But which one is better, the Keurig K55 vs K250? This is going to be a full Keurig comparison to determine which Keurig belongs in your kitchen. If you love the individual flavor of each K cup, you will love using either of these awesome brewing machines.
By purchasing one of these Keurig machines, you are ensuring that you always have the perfect Cup of coffee with a variety of brew sizes, with optimal strength control, with handy K pods, easy-to-clean water tanks, and so much more.
Keurig K55 & K250: Overview
★ Keurig ★
K55
6, 8 or 10 oz Cup
48 oz Reservoir
Auto Shut Off
No Descale Reminder
Longer Brew Time
No Water Filter
13" H x 10" W x 13" D
1 Year Warranty
Check Price
★ Keurig ★
K250
4 - 10 oz Cup, Carafe
40 oz Reservoir
Auto Shut Off
Descale Reminder
Strength control
2 Water Filters
13.7" H x 9" W x 15" D
1 Year Warranty
Check Price
Here is a quick overview of which coffee maker is the best. The K55 vs the K250 has only one winner, and it is definitely the Keurig K250. This is the Keurig 2.0. It comes in loads of colors, you can use your favorite K Cup to make your favorite coffee, you can brew a wide variety of cup sizes, the water reservoir is generous, and there is strength control.
The Keurig K55 is definitely an awesome coffee maker, but when it comes to the K55 vs K250, it just does not stack up. That being said, the K55 is drastically cheaper, so it may be the better choice for people who are on a tight budget.
The Keurig K55
#1 – Features
The K55 Keurig Coffee Maker is loaded with features, including three cup sizes between 6 ounces and 10 ounces, a short brew time of only one minute, and a programmable automatic off feature to save you energy. The drip tray is removable, you can easily fit a 7-inch travel mug under the spout, and you can use your favorite K Cup at any time of the day.
Additionally, the Keurig K55 comes with a 48-ounce water reservoir so that you can brew 6 cups of coffee before you need to refill the water supply. Plus, you can remove the water reservoir whenever necessary.
#2 – Ease of Use
The Keurig K55 is one of the most simplistic coffee makers to date. If you want a small cup of coffee, no problem. There are three brew sizes to fit your fancy. This brews coffee extremely quickly with a single push of a button, giving you instant access to scrumptious coffee at any time of the day.
The K55 is an essential machine for making everyday beverages. Simply fill the water tank, let the water heat, put in your favorite K Cup, and push the brew button. There is nothing to it.
#3 – Brew Quality
The brew quality you get with this machine is the same brew quality you get with every Keurig coffee maker. Because you are using the traditional K Cups, the flavor of your coffee is basically predetermined.
Each K Cup comes with freshly ground coffee, which is then saturated as the water flows through the paper filter inside of the cup. The perfect amount of pressure is then used to extract every little bit of full-flavored coffee. Now that is some good coffee making from the K55, voted the best in its category by far!
#4 – Cleaning & Maintenance
As with other Keurigs, maintenance and cleaning are almost nonexistent with the K55. The drip tray is completely removable so that you can clean any spills very easily. Plus, the water tank only needs to be rinsed once in a while to keep your machine fresh.
The only other part that needs a quick scrub every now and again is the area where your K Cups are placed, and this takes no more than 10 seconds. There is much less maintenance with a Keurig than with a normal coffee machine.
Small & Compact
3 Sizes of Brewing Options
Can Fit a Travel Mug
Energy Saving
Can Brew in 1 Minute
Lower End Budget Model
Only Comes in Red or Black
Maximum Serving Size is 12 oz
No Special Iced Feature
See It In Action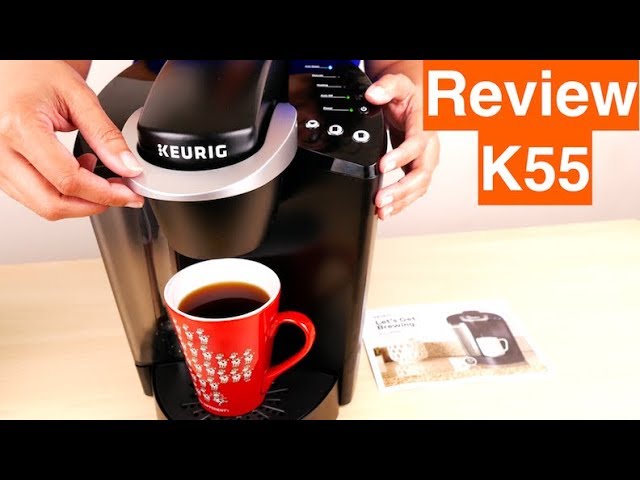 The Keurig K250 (2.0)
#1 – Features
Welcome to the K250, otherwise known as the Keurig 2.0. This is probably one of the best coffee makers ever invented. The Keurig 2.0 comes in any one of seven colors, it has strength control, a massive 40oz water reservoir, short brew times, lots of brew sizes, and tons of options for making coffee.
The Keurig 250 is definitely more expensive than many other machines, but it does come with the ability to use the K Carafe and the K Carafe pods. This machine can brew an entire K Carafe that is up to 30 ounces by using unique K Carafe pods. This gives you an extra boost of caffeine when you need it.
#2 – Ease of Use
The Keurig K250 is definitely super easy to use. This is not your grandma's coffee maker. Selecting strength control is simple with the Keurig K250, as is selecting your cup size and placing your favorite K Cup in the holder.
With the innovative black and white touchscreen, it has never been simpler to brew a great cup of steaming hot java. Thanks to the new K Mug feature, you can use special pods with your Keurig K250 to make cups between 12 and 16 ounces. Basically, you can make any size you want from 4 ounces to 30 ounces by simply using the intuitive touchscreen.
#3 – Brew Quality
The K250 really steps it up a notch when it comes to the quality of your beverage. This is especially true when using the K Mug feature, since you get a perfectly sized drink that tastes exactly like it would if it were made in the café.
The K250 may have the best tasting caffeine beverages around today. Everything about this machine is designed so that you have maximum control over how your drinks taste. That is really the charm of the Keurig K250.
#4 – Cleaning & Maintenance
Cleaning is another thing that is very easy with the Keurig K250. You now have a large carafe and a touch screen, which is different from other Keurig branded machines. But that does not mean cleaning and maintaining the unit is going to be difficult. The drip tray is still removable and the storage tank is still able to be rinsed in just a few seconds.
In fact, cleaning and maintaining the K250 is much easier than cleaning the older models. For example, if I had to fight the Keurig K250 vs K200, the K250 definitely wins all the points for being cleaner, more efficient, and generally easier to take care of.
More Features than Other Models
Cup Sizes + Mug Sizes + Carafe Sizes
Dispenses Hot Water
Cleans Easy
Strong + Quality Brewed Drinks
Expensive
Small Tank for Storage
Touchscreen is Outdated
Must Buy Too Many Pods
See It In Action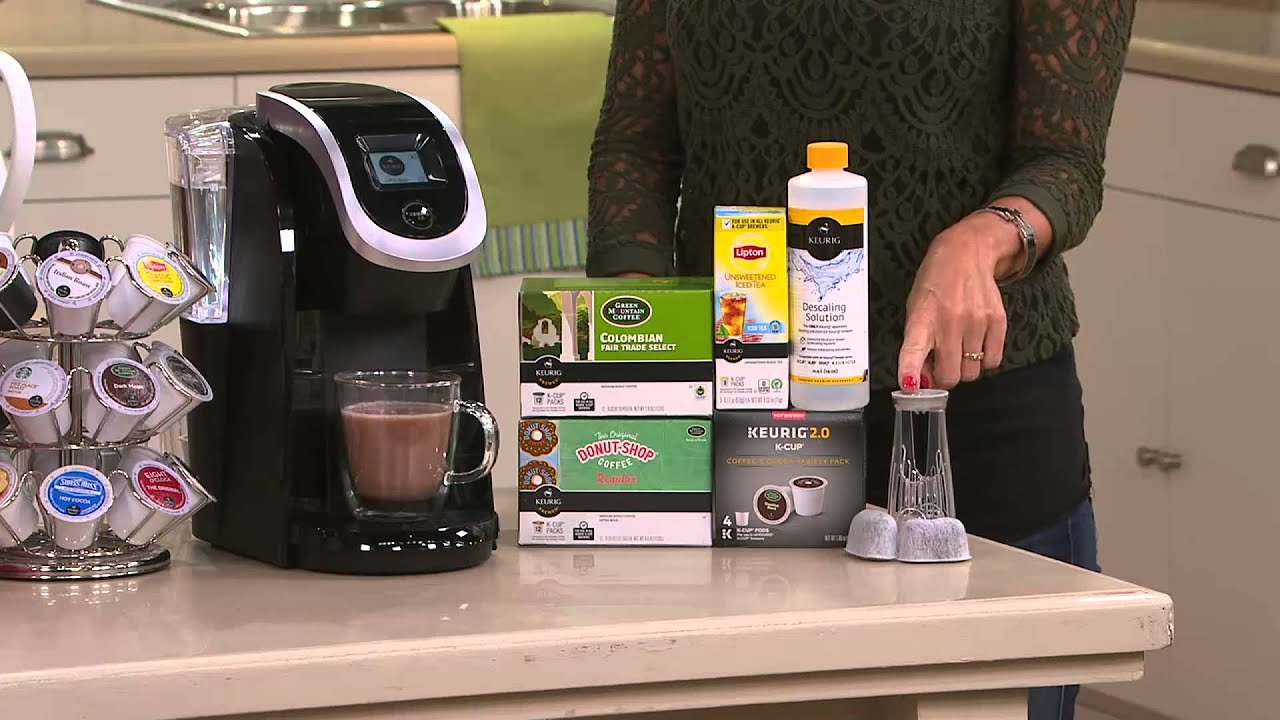 Keurig K55 & K250: Our Pick
Finally, the Keurig 2.0 vs K55 comes to an end. I must say the K55 is an awesome coffee brewer, but the K250 is beyond superior. And yes, the price is there to match the superiority of the K250, but it is definitely worth it. The K Mug feature alone is worth the extra money for the K250. Unfortunately, the K55 can only make small portions by using an ordinary K Cup.
For superior performance, the best beverages, and a brewer that will stay functional for basically the entire life of your kitchen, I definitely suggest sticking to the 250 for all your coffee needs.
FEATURED PRODUCTS
Keurig K55

6, 8 or 10 oz Cup
No Water Filter
No Descale Reminder

Check Price
Keurig K250 (Discontinued)

Single Serve (4 - 10oz) or Carafe
2 Water Filters
Descale Reminder

Check Price
Recommended Reading
These are two of the best Keurig coffee makers available right now. But which one…
COMMENTS
These are two of the best Keurig coffee makers available right now. But which one…
COMMENTS
These are two of the best Keurig coffee makers available right now. But which one…
COMMENTS