Keurig K50 vs K55
By Evelyn J Stafford ~ Updated 14 October 2021
As an Amazon Associate I earn from qualifying purchases
Since 1998, Keurig has been a key innovator among beverage brewing systems.
While they have created commercial appliances for hospitality and commercial industries, they have established a sizeable amount of quality brewing systems for household use. Currently, they offer over 50 different models.
Keurig offers a variety of beverage coffee makers, many of which are programmable for cup size and brew strength. There are also over 500 different varieties of coffees and beverages that are available in K-Cup pods. The selection of drink options is continuously growing.
In this article, we will compare two of Keurig's flagship single-serve brewing systems, the Keurig K50 vs K55. These two models share a lot of similarities, but there are a few differences in appearance and features.
After taking a look at the qualities and features of each coffee maker, and hopefully, simplifying your shopping experience, we will share our favorite pick with you.
Overview
ON SALE!
★ Keurig ★
K55
6, 8 or 10 oz Cup
48 oz Reservoir
Auto Shut Off
Descale Reminder
Short Brew Time
Water Filter
13" H x 10" W x 13" D
1 Year Warranty
Our Full Review
ON SALE!
★ Keurig ★
K50
6, 8 or 10 oz Cup
48 oz Reservoir
Auto Shut Off
No Descale Reminder
Long Brew Time
No Water Filter
13" H x 10" W x 13" D
1 Year Warranty
Our Full Review
Customer reviews for the K50 and K55 reflect the quality, dependability, and performance of the coffee makers.
The K55 seems to be the answer to some of the problems that the K50 experienced. The K55 has fewer complaints of unexpectedly not working. It also offers a convenient descaling feature that prolongs the life of your maker.
The K50 was unable to handle all types of K-Cup style pods. This issue was corrected with the creation of the K55.
Overall, there are thousands of positive reviews and only a few complaints about either appliance. We consider the K55 to be the best Keurig coffee maker for its balance of features to cost ratio.
Equally as popular, we have compaired the K45 to the K55 in our Keurig k45 vs k55 review.
The K50 vs K55 Differences
1. Brew Quality
First, when comparing the Keurig K50 vs K55 you will notice they have very similar brewing systems.
Both coffee makers feature large 48-ounce water reservoirs that can be filled with tap, spring, filtered or purified water. This means that you can brew six, 8-ounce cups before having to refill the water reservoir. An indicator light will let you know when it's time to refill your appliance.
With the simple touch of a button, you can prepare a perfect cup of coffee.
The K50 and K55 have three pre-set brewing sizes – 6, 8, and 10 ounces.
By removing the drip tray from either of the machines, you have the capability to fill a travel mug that is up to 7.1 inches tall.
It takes between 1 – 1 ½ minutes to heat water to approximately 192 degrees Fahrenheit. It only takes 15 seconds before the K50 and K55 is ready to make another cup of coffee.
The K55 boasts a smooth and palatable cup of coffee. This is in part because of the charcoal filtration system. This feature filters water by removing impurities, such as chlorine, salt, minerals, and sediment. These particles are often found in typical household tap water.
Because the K50 does not include the K55's handy filtration system, you'll want to consider using purified water. It will help you achieve similar tasting coffee.
The water reservoir is constructed of BPA plastic. Because the water stored in the reservoir is not filtered, some customers have complained of a plastic taste in their brewed cup of coffee.
We would be amiss not to mention that the quality of coffee that is brewed plays a vital part in the role in the overall taste produced. A good cup of coffee is a combination of pure water and superior coffee grounds.
While you are unable to adjust pressure and temperature with the K50 and K55, you can adjust the strength of your coffee by decreasing the size cup you are brewing. A smaller cup means it is not watered down as much and will boost the flavor of the coffee.
The Keurig K55
The K55 comes in black, white, or red
The K55 features auto-descaling
The K55 features Quiet Brew tech
Despite sound-reducing technology, the coffee maker is still noisy.
See It In Action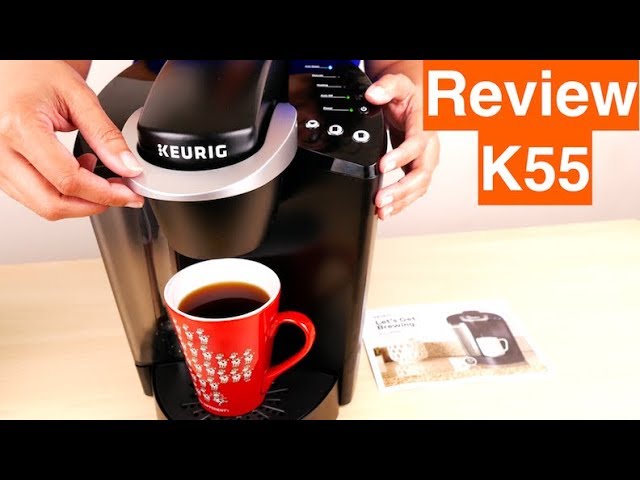 2. Ease of Use
Like most Keurig machines, both the K50 and K55 enable you to make a fresh cup of coffee in only a few easy steps.
After unboxing your Keurig Coffee Maker, we recommend taking a few minutes to read the owner's guide in its entirety. Also, Keurig has an amazing support team that is able to answer any questions you may have about your new maker.
After plugging in the appliance into a power source, fill the water reservoir.
Press the power button and allow the water 4-5 minutes to heat.
Place a cup of your desired size onto the Drip Tray Plate.
Next, add the K-Cup pod into the K-Cup holder, pull the handle down, and select the brew button.
After 1 to 1/ 12 minutes, your hot beverage will be ready to drink.
Then, remove the K-Cup pod and dispose of it in the trash. This process is simple and user-friendly.
Leave the K-Cup holder open to air out. This reduces mildew formation inside of the machine.
Both coffee makers feature an efficient automatic shut-off setting that helps save energy and money. The K50 shuts off after not being used for 30 minutes.
If the K55 hasn't been used for two hours, the appliance will automatically turn off.
3. Cleaning & Maintenance
Both Keurig coffee makers are similar in the way they are cleaned and maintained. In fact, the Keurig user's guide is the same for both models.
Often, your device will let you know when it's time to clean it. You might notice a disruption in the stream that is produced from the water flowing out of the K-Cup Pod. This might indicate a clog or mineral deposit that is developing.
Another sign that it's time to clean your maker is that your coffee has become more bitter tasting. This can be caused by oil and minerals that have built up inside of the appliance and are producing bacteria. Cleaning your maker will keep this from being a regular occurrence.
For every Keurig model, it's important to regularly clean and disinfect the drip tray and water reservoir. Simply remove them and wash thoroughly with soap and water.
In the user's guide, you will also find detailed instructions on how to clean the K-Cup holder. This includes how to remove the entrance and exit needles, and the funnel. Keeping these parts clean will help your appliance last longer and produce better quality coffee.
Every 3-6 months, depending on the amount of use, the appliance should be descaled. This is the process used to clean the inside workings of the coffee maker. Because calcium deposits can develop after normal use, descaling is needed to keep away clogs and obstructions in the brewing process.
If you do not regularly descale your maker, it may become inoperable. You may also notice a decrease in the amount of coffee that is produced per brew cycle.
One notable difference is that the Keurig K55 has an auto-descaling function. Its available to you at the touch of a button. Once the descale indicator light is on, you will know that it's time to descale your appliance.
The Keurig K50 does not offer this function. However, it's a simple process. Just add the descaling solution and run the appliance until the solution has been completely flushed out.
White vinegar is also a non-abrasive option to clean the inside of the maker. Some people have even found that a few drops of lemon juice produce enough acid to break down mineral deposits. This is a more pleasant-smelling option than using a vinegar rinse.
It is vital to the taste of the coffee to keep flushing the appliance out until the water is clean and free of odors.
To clean the outside of the appliance, simply wipe it down with a wet cloth and disinfectant cleaner. This will remove dust and germs that collect on the outside of the appliance.
While cleaning your coffee maker may seem like a hassle, it is worth the investment of time and effort to help extend the life of your coffee maker.
The Keurig K50
The K50 is easy-to-use
Long-lasting and efficient
Reliable, standard single-serve coffee maker
The K50 only comes in black or red
The K50 requires a descaling solution for cleaning
Customers complain that coffee has a "plastic" taste
The K50 is noisier
The K50 can stop working for no apparent reason
See It In Action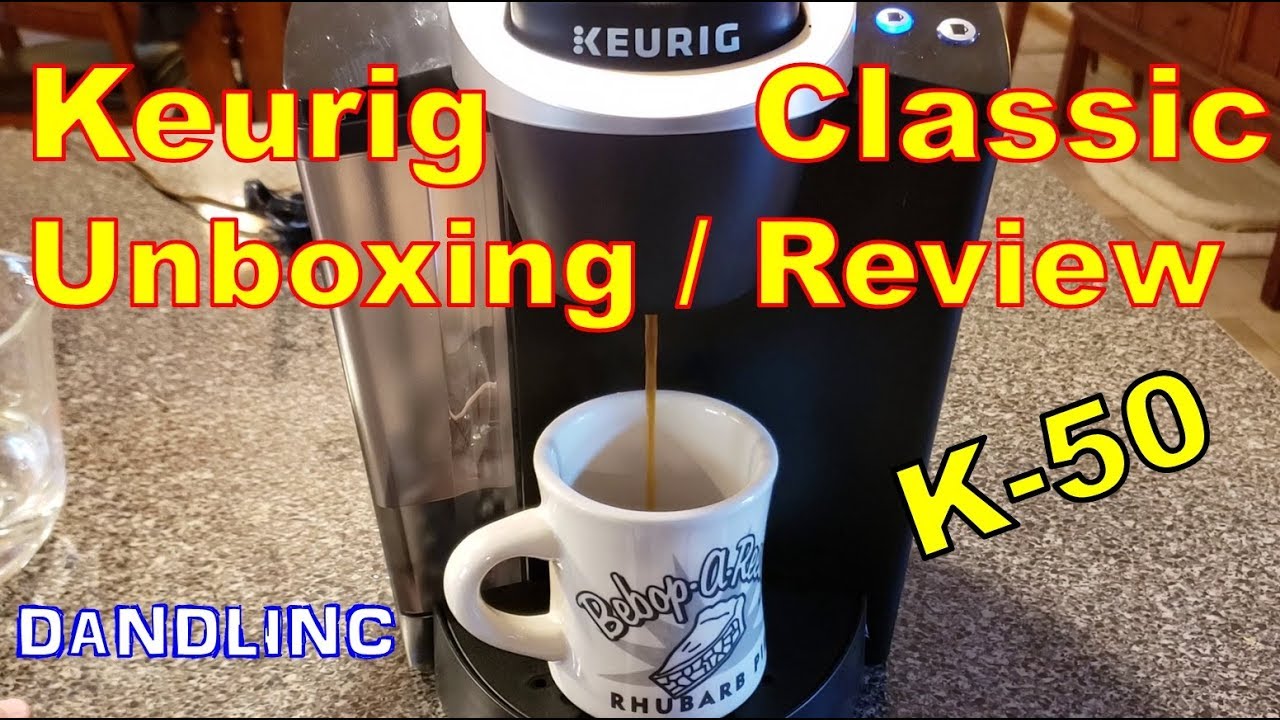 4. Build Quality
The Keurig K50 and K55 are ideal for home use. Neither would be considered high-end, complicated coffee making machines. Instead, they are affordable, functional, and easy to operate.
They have a sleek design that is an excellent addition to any stylish kitchen design.
Both the K50 and K55 are made from plastic, with the K50 being slightly smaller than the K55.
Both the K50 and K55 come with a limited one-year warranty. This guarantee covers defects in workmanship that occur under normal use.
Keurig makes functional and intuitive coffee makers that are a pleasure for consumers to use.
Here's how a Keurig coffee maker works:
A Keurig brewing machine brews K-Cup pod contents by piercing both the foil seal on top and the bottom of the pod at the same time.
A spray nozzle is inserted in the top that forces hot water through the contents of the K-Cup and saturates the coffee grounds.
Next, hot water forces the grounds through the filter by using an intense amount of pressure.
This process produces a freshly brewed cup of coffee every time.
Keurig has also produced a reusable coffee filter that allows you to grind your own coffee beans or add a powdered drink mix, such as hot chocolate, to brew.
Our Pick
While there are few differences between the Keurig K50 vs K55, the Keurig K55 is a newer, sturdier, and slightly heavier appliance. With this updated model, Keurig may only have made minimal changes, but they were significant improvements.
Can you open k cups and use in regular coffee maker – you sure can! In the event something should or you are between coffee makers.
The K55 is listed as one of the top "single-serve coffee makers" on Amazon. This achievement is based on high customer ratings. There are very few complaints, and overall, customers are very pleased with their purchase.
Neither the K50 or K55 offers added features like LED displays or the ability to control temperature and pressure. But they are practical, affordable single-serve coffee brewers that deliver a quality cup of coffee every time.
The K55 is considered a "classic." It is a reliable and dependable coffee maker that has the capability to produce excellent quality cups of coffee for years to come.
With over 500 K-Cup Pod varieties from over 75 brands, your beverage choices are almost endless.
If you want a coffee maker from a notable manufacturer that requires only a small amount of effort and produces excellent results, we recommend that you check out the Keurig K55.
FEATURED PRODUCTS
ON SALE!

Keurig K55

6, 8 or 10 oz Cup
Water Filter
Descale Reminder

Our Review
ON SALE!

Keurig K50

6, 8 or 10 oz Cup
No Water Filter
No Descale Reminder

Our Review
Recommended for you:
Since 1998, Keurig has been a key innovator among beverage brewing systems. While they have…
COMMENTS
Since 1998, Keurig has been a key innovator among beverage brewing systems. While they have…
COMMENTS
Since 1998, Keurig has been a key innovator among beverage brewing systems. While they have…
COMMENTS