The Best Keurig for Iced Coffee – Latest Models Revealed
By Evelyn J Stafford ~ Updated 17 November 2021
As an Amazon Associate I earn from qualifying purchases
Many people love iced coffee but not all coffee machines can make it. Keurig is an expert in this area and has five brilliant models to choose from. Here we'll check each of them out so you can see which is the best Keurig for iced coffee.
Let's get started!
Equally as impressive at making iced coffee is the Keurig supreme plus. This model, while only ranked 3rd in our line-up, has a lot more to offer such as 4 oz brew, temperature and strength control. To see if may be a good fit for you, see our Keurig supreme vs supreme plus guide.
Overview
★ Keurig ★
Supreme
6, 8, 10, 12 oz Cup
No Strength Setting
No Temperature Settings
Brew Over Ice
K-Cup / My K-Cup
Removable Reservoir
66 oz Reservoir
1 Year Warranty
Check Price
★ Keurig ★
k-slim + iced
8, 10, 12 oz Cup
No Strength Setting
No Temperature Settings
Brew Over Ice
K-Cup / My K-Cup
Removable Reservoir
46 oz Reservoir
1 Year Warranty
Learn More
While all five of these models are excellent, we think that two of them stand out from the rest. First, we have the Keurig-K Supreme that has a dedicated iced coffee function. You can enjoy a strong brew with multistream technology to provide you with a richer flavor with aroma.
The brewing time is fast, and it has a rear or side dual water tank. Another great feature is that the filter is reusable, and it is K-cup compatible. It's the perfect machine for making iced coffee.
A close rival is the K-Slim + ICED, which is a more portable option. This is a sleek and compact coffee maker which is perfect for traveling, offices or just taking up minimal space on your countertop. It can perfectly make a lot or cold drink in no time at all, with three cup sizes available.
While we loved these two models, the other three we've reviewed here have a great range of qualities too. Read on as we take a closer look at all these Keurig models so you can choose the one that perfectly fits your needs.
Our Selections
1. Keurig K-Supreme
First on our list is the Keurig K-Supreme which delivers 5.75 ounces of perfect iced Joe. You get a bold yet full flavor and aroma with this appliance. With the multistream technology, you get several water streams to saturate your coffee grounds.
So you can wake up the household with the aroma of coffee brewing early in the morning. A fantastic thing is it fits a 7-inch travel mug to enjoy your coffee on the go. All you need to do is to remove the drip tray to make the mug fit.
The coffee machine brews fast, and there is no need for waiting for the next mug as it can brew back to back. The water tank capacity is 66 ounces and allows you to position it on the back or side. With the available space, you can place the tank conveniently for you to fill.
The customization is incredible which, of course, includes the setting to get a refreshing cup of iced coffee. If you want an all-around coffee maker that also makes iced coffee, you can't get much better than the Keurig K-Supreme.
Highlights
K-cup and coffee grounds compatible
Works with reusable filter
The water tank size is 66oz
Cup sizes ranging 6-12oz
Multiple colors available
Designed with a swivel water tank
Provides you with back-to-back brewing
Multistream technology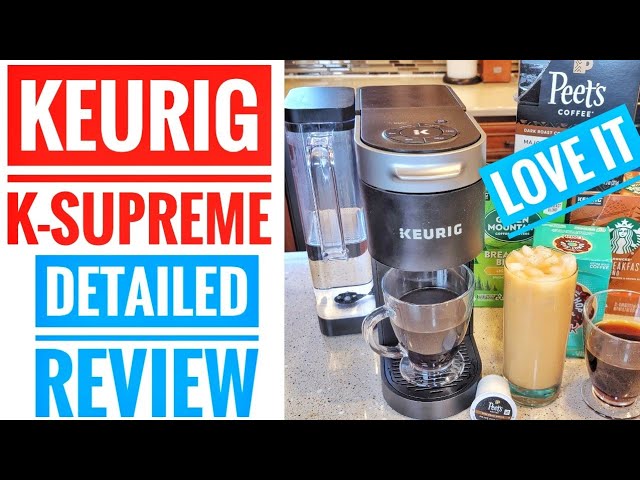 2. K-Slim + ICED
Now, this coffee maker is super stylish and slim to fit onto any countertop. The original K-Slim is one of the best portable coffee makers in the world but with the added iced function, they've made it even better.
You can enjoy full-flavored ice coffee in rapid time. You get both worlds enjoying a hot or cold cup of coffee. It comes with a 'Brew Over Ice' function that adjusts automatically to brew at the right temperature you prefer.
The removable 46-ounce reservoir can make up to four 8-ounce mugs before it needs refilling. You can enjoy drinking your regular cup in three sizes of 8, 10, or 12 ounces but the iced brew only makes 6oz of coffee.
The appliance is travel mug-friendly when you remove the drip tray so you can take your coffee with you anywhere. Another great feature is that the K-Slim is energy efficient and switches off after five minutes when done brewing. Finally, you can use it with the K-cup and a universal coffee filter for ground coffee.
Highlights
Dedicated 'Brew Over Ice' function
Multiple cup sizes
Removable water tank
Compact and portable design
Travel mug friendly
Compatible with K-cups and ground coffee
Switches off automatically after the last brew
Stylish and sleek design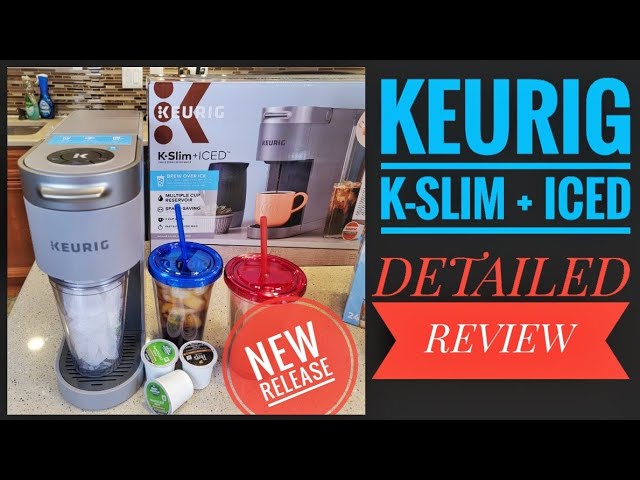 3. Keurig K-Elite Coffee Maker
The Keurig K-Elite is a unique coffee brewer that sets itself apart from most other devices. It has a brewing function to enjoy an iced coffee. In addition, you get loads of advanced settings, including temperature control, ice button, strength adjustability, and more.
When you push the iced button, it uses a programmed setting to brew your drink. The water tank is 75-ounces, so it can brew several drinks at a time before it needs refilling. So why choose this model? If you have a huge family, this model will become a big favorite in the home.
You can use it with K-cups or ground coffee and there are five mug sizes available. The customization options are excellent as you can enjoy a mild to strong brew with the press of a button. The usability here is also excellent so you're not going to get confused by all these features.
Are you in a rush? No problem, as the fast brew cycle makes sure you have your coffee ready in seconds. As the name suggests, this is an elite coffee maker which has exceptional versatility. There's no doubt you'd fall in love with it.
Highlights
K-cup and ground coffee compatible
Easy iced setting
Strong brew button
Drip tray removes to fit a travel mug
It has indicator lights with a fast brewing cycle
Caters for a wide selection of cup sizes
Wide selection of colors
Large water reservoir
4. Keurig K-Supreme Plus
Okay, one thing we love about the Keurig K-Supreme Plus is that you get several adjustable settings to personalize your coffee. For example, there are five drink sizes with three strength settings to enjoy a bolder cup of Joe.
Choose between three temperatures to customize the way you enjoy your drink. The water tank is enormous at 78 ounces, and removable. So you can brew a couple of mugs without needing to refill it all the time. One thing you can expect is more flavor with this coffee brewer.
Further, it works with grounds and K-cups for fantastic versatility. While it is a single-serve coffee maker, it works efficiently and comes with the latest multistream Technology. So you can enjoy a full aroma and flavor drinking your iced coffee.
Another highlighted feature is that up to three people can program the coffee brewer with their settings to suit their brewing needs. While it is more expensive than the regular K-Supreme, most people see it as money very well spent due to its perfect coffee and an incredible array of features.
Highlights
K-cup and ground coffee compatible
Multistream technology
Programmable for up to three users
Customizable brewing
Multiple brewing cup sizes
Removable water tank
Simple button layout and travel mug friendly
Presents you with back-to-back brewing
5. Keurig K-Supreme Plus Smart
Now, if you enjoy living in a smart home and have a smartphone, you will love this iced coffee brewer. You can customize your brew to a full-flavored coffee the way you like it using the Keurig K-Supreme Plus Smart app.
You can enjoy a crafted cup with the BrewID that amazingly recognizes the K-cup pods and delivers the exact drink that you want every time. The fantastic thing is you can set the brew according to their recommendation to enjoy a delicious drink without even touching your coffee maker.
There are different strengths, cup sizes, and temperatures for you to choose from. You can have the strength balanced, enjoy an intense flavor or brew your coffee over ice just like you love it. The cup sizes have five different options, which adds to its versatility.
The Multistream technology works with multiple water streams to saturate grounds to a full aroma and flavor. You can connect it to Wi-Fi to manage your settings and store your personal settings. So you can lay in bed to brew a mug early in the morning with a touch of a button ready for you to drink on your way to work.
You could even start brewing your cup so it's ready for when you walk through the door after a tough day at work. The smart functionality even extends to being able to use voice commands. It's a very impressive machine that has brought coffee making into the 21st century.
Highlights
K-cup and ground coffee compatible
Multistream technology
Five mug sizes are available
Connects with your smartphone
Programmable temperature and strength
Voice-activated
Dedicated ice coffee button
Designed with BrewID to recognize K-cup pod or grounds
Final Thoughts
If you enjoy a mug of coffee, especially an iced one, then all the Keurig coffee brewers on the list are sure to please. Each of these models provides you with unique features to customize your mug of Joe just the way you like to drink it. So what are you waiting for? Check them out again and find one that fits perfectly into your home.
FEATURED PRODUCTS
Keurig Supreme

6, 8, 10, 12 oz Cup
No Strength Setting + Iced
Removable 66 oz Reservoir

Check Price
Keurig K-Slim + Iced

8, 10, 12 oz Cup
No Strength Setting + Iced
Removable 46 oz Reservoir

Learn More
Recommended Reading
Many people love iced coffee but not all coffee machines can make it. Keurig is…
COMMENTS
Many people love iced coffee but not all coffee machines can make it. Keurig is…
COMMENTS
Many people love iced coffee but not all coffee machines can make it. Keurig is…
COMMENTS