The Best Keurig for Camping and the RV
By Evelyn J Stafford ~ Updated 16 November 2021
As an Amazon Associate I earn from qualifying purchases
A lot of people like to camp in comfort and style. A key component of that is having great coffee and thanks to Keurig, you can easily do that with one of their coffee makers. Here we find out the best Keurig for camping or RV.
Keurig have a lot of coffee makers in their range that date back to 1998. These coffee makers fall under two major categories, the 1.0 and 2.0 range. To learn all the differences, see our Keurig 1.0 vs 2.0 guide.
Overview
★ Keurig ★
K Mini Plus
Strong Brew
Removable Reservoir
Single 6-12oz Cup
9 Pod Storage
Cord Storage
12.1" H x 4.5" W x 11.3" D
1 Year Warranty
Check Price
ON SALE!
★ Keurig ★
K Mini
No Strong Brew
Fixed Reservoir
Single 6-12oz Cup
No Pod Storage
Cord Storage
12.1" H x 4.5" W x 11.3" D
1 Year Warranty
Check Price
When choosing your Keurig for camping or RV, one of the most important considerations is the portability of the coffee maker. A portable coffee will make your life a lot easier and allow you to have a perfect cup of Joe wherever you are.
When looking at a coffee maker for camping or RV, we need to split it into two categories of powered and unpowered models. It's powered compact coffee makers where Keurig excels and we think their best model is the K-Mini Plus.
The K- Mini Plus offers outstanding features that make it suitable for outdoor use and in recreational vehicles. The coffee maker is easy to use and can make freshly brewed coffee in a few minutes. It has other great features such as cord storage and comes with one cup reservoir to add fresh water every time you brew.
For unpowered models, we need to look away from Keurig. The Wacaco Minipresso is an awesome device that uses pressure from a hand pump to create magically good coffee. Read on as we look at these two models in further detail while checking out the other contenders.
Our Selections
Powered Site
If you're going to have access to power on your trip, then Keurig has three incredible models for you. These are the K-Mini, the K-Mini Plus, and the K-Slim. Let's see how they stack up against each other.
1. Keurig K-Mini Plus
The Keurig K-Mini Plus is one of the best choices for a coffee lover trying to find the perfect coffee maker for your RV or your camping experience. It's manufactured from environmentally friendly materials and is perfect for any campsite or RV.
The Keurig K-Mini Plus is less than five inches wide and can therefore fit into most spaces. The coffee maker is easy to carry around, easy to use, and has a cord storage space. Its compact size makes it the ideal companion for any trip.
The coffee maker is designed to brew up to 12oz of Keurig K-Cup pods. Both Keurig K-Mini Plus and K-Mini coffee makers have power specifications of 120 volts AC, 60HZ, and 1470W. The maximum power consumption of the coffee maker is only reached during the heating cycle and at other times, its output is typically between 10-15W.
That makes it perfect for RV's and powered camping sites. Importantly, the results you get from it are incredible and will be just like the standard coffee maker you have at home. There are other great features such as its travel cup compatibility, strong brew option, and pod storage.
Overall, this is the best compact coffee maker available right now.
Highlights
Can store 9 pods
Cord storage for easy transport
Removable water reservoir
6-12oz water storage
Hot water only
Weight of 5lbs
Small and compact profile
Strong brew feature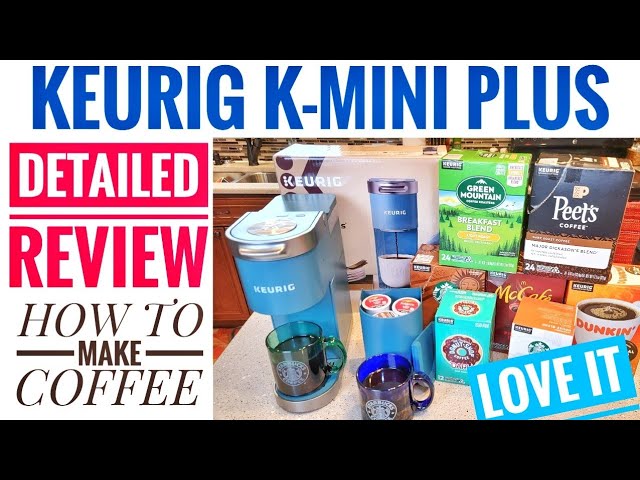 2. Keurig K-Mini
If you're looking for an easy and fast way to enjoy freshly brewed coffee during your camping experience or in your RV, then the Keurig K-Mini is a great coffee maker to consider. It doesn't quite have all the features of the K-Mini Plus but it's also not as expensive.
The coffee maker comes in a sleek design and is available in a range of colors. Just as the name implies, the coffee maker is very portable, less than five inches wide.
This makes it very easy to carry in camp bags and store away. Also, like other recent brewers from Keurig, the K-Mini is manufactured from eco-friendly materials. With the K-Mini coffee maker, you can brew up to 12oz within a few minutes. The cord storage feature of the machine also makes it easy to move around and use in an RV.
We mentioned its power specs when talking about its updated rival so you know it won't drain your battery. What you don't get here is pod storage or a strong brew option, so it's not quite as good as the K-Mini Plus.
If you're not bothered about those features and want a brilliant coffee maker which is a little cheaper, then choose the K-Mini.
Highlights
No pod storage
Cord storage for transport
Fixed water reservoir
6 – 12 oz water storage
Hot water only
4.6 pounds
Small profile
No strong brew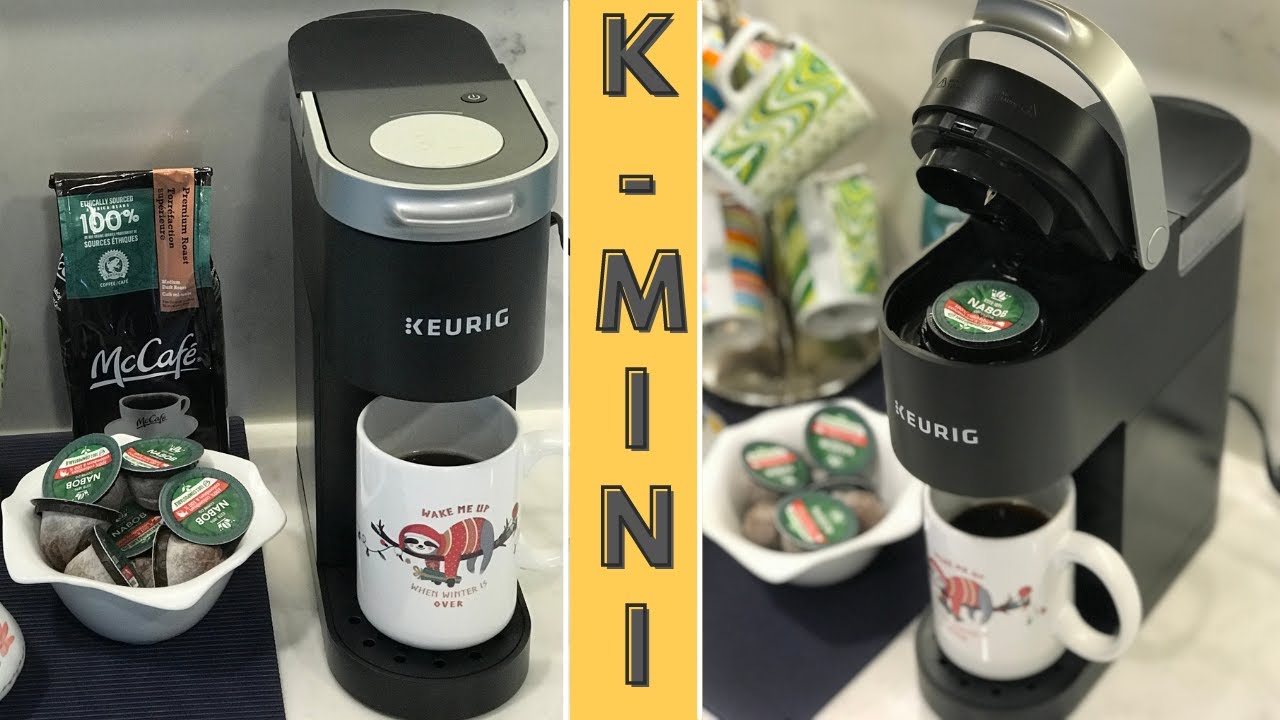 3. Keurig K-Slim
The K-Slim is another Keurig coffee maker that offers coffee lovers a way to enjoy freshly brewed coffee during their outdoor experience or in their RV. Just five inches wide, the K-Slim is portable and handy enough to carry around.
While a similar width to the other two models, it is significantly deeper and also a little heavier. You can still class this as light and portable but not quite as compact as the Mini models.
The performance of this coffee maker is impressive as it can be used to extract a range of pod varieties of coffee, cocoa, tea, etc. Keurig K-Slim helps remove more flavor and aroma, helping you enjoy a wholesome experience with your beverage without necessarily being at home.
The coffee maker comes with a multiple-cup water reservoir that allows you to brew up to four cups and it can be easily used with several forms of travel mugs. Another great feature is the auto-off feature that helps save power which turns off your machine five minutes after your coffee is brewed.
If you're happier to use a little more power and use a less compact coffee maker, the K-Slim is the one that you want as its performance and features are second to none.
Highlights
Portable and easy to move around
Easy to use
Can hold up to 8oz cup size
Multiple cup reservoir
Weighs 6.22 lbs
Higher power demands
No strength control
Auto shut off
Unpowered / Camp Site
If you're not going to have access to power then you can still have great coffee. Here we cast our gaze away from Keurig and look for the best unpowered alternatives.
4. AeroPress Go
The AeroPress Go is particularly suited for brewing your coffee when camping or any other outdoor activity. The coffee maker is a more portable version of the original AeroPress device.
Able to produce 10oz of coffee, the Go model is exceptionally easy to use once you get comfortable with it. The results are very impressive as you'll get a smooth and rich coffee that has a lack of bitterness.
It comes with a silicone seal that makes the device better to use and clean than its predecessor. The coffee maker comes with a cup along with everything you need such as a stirrer and scoop, along with 350 filters.
The method to brew coffee with the AeroPress Go device is the classic method of adding hot water, stirring, and plunging. It's very simple to do and the whole process will only take a minute or two. There is also the option to cold brew, which takes a little longer.
It's a well-engineered coffee maker that will give you a satisfying cup wherever you are.
Highlights
Incredible portability
Only take around a minute
Cold brew option
Ingenious compact design
Easy to use
It helps produce a smooth, rich coffee
Prevents wastage
Comes with 350 filters
5. Wacaco Minipresso
This portable coffee maker is one of the accessories you are more likely to find with a coffee lover. It is very portable and can conveniently fit into the smallest camp bags. It weighs an incredible 0.8lbs (360 grams) and is less than 7-inches long.
Despite its basic look, it is incredibly efficient and very powerful. The device is simple and easy to use with its hand pump design. You won't be fiddling around with small parts, which also makes it great for use with gloves.
Cleaning it after use can be a challenge sometimes but you can get it done fairly quickly if you have access to clean water. When you do use it, you can enjoy well-brewed coffee wherever you are as you'll be very impressed with the taste.
The coffee maker has two water levels, 50 and 80 ml. Once you add the hot water, screw the main body of the coffee maker onto the tank, turn the piston, and start to pump. You'll soon get great coffee with a minimum of fuss.
Highlights
Incredibly light
Hand pump operate
Easy to use
Durable
Not great for multiple cups
You cannot use it with K-cups
Built-in cup and scoop
Pocket-sized design
Final Thoughts
All five of these models are fantastic. The best one for you will depend on the space you have and the power you have available. What's clear is that with any of these brilliant devices, you can have great coffee wherever you are in the world.
FEATURED PRODUCTS
Keurig Mini Plus

Single Serve (6 - 12oz)
Removable Reservoir
Up to 9 Pod Storage

Check Price
ON SALE!

Keurig Mini

Single Serve (6 - 12oz)
Fixed Reservoir
No Pod Storage

Check Price
Recommended Reading
A lot of people like to camp in comfort and style. A key component of…
COMMENTS
A lot of people like to camp in comfort and style. A key component of…
COMMENTS
A lot of people like to camp in comfort and style. A key component of…
COMMENTS