Keurig Elite vs Supreme – Who does it Better?
By Evelyn J Stafford ~ Updated 7 November 2021
As an Amazon Associate I earn from qualifying purchases
If you're calling your coffee machines "Elite" or "Supreme" then they better be good. Thankfully these models are from Keurig, which means quality comes as standard.
While both of them are excellent, which one is better? It can be a hard call as they have many similarities. Here we're going to try and drill down into their differences so you can work out which one is going to be better for you.
Let's get started on our Keurig K-Elite vs. Keurig Supreme comparison!
If these two machines are not quite in your price range, we can highly recommend the Keurig Mini or Mini Plus. To explore the differences and see the if they could be a good fit, be sure to stop by our Keurig Mini vs Mini Plus guide.
Overview
The introduction of the new multi-stream tech was a game-changer for Keurig. This new technology enables their coffee makers to run multiple water streams through the coffee grounds. This saturates the coffee grounds more evenly producing better-flavored coffee with the perfect aroma. The K-Supreme was the first model to incorporate the technology.
While it doesn't have that feature, the K-Elite is still able to create an exceptional cup of coffee and has many fantastic features. This includes an instant hot water function that eliminates the need for a water heater, as well as giving you temperature adjustment.
Both are brilliant and it's hard to split them. Let's have a look at the differences in their specs.
Differences
★ Keurig ★
Supreme
6, 8, 10, 12 oz Cup
No Strength Setting
No Temperature Settings
Brew Over Ice
K-Cup / My K-Cup
Removable Reservoir
66 oz Reservoir
1 Year Warranty
Check Price
★ Keurig ★
K Elite
4, 6, 8, 10, 12 oz Cup
Strong Brew
Temperature Settings
Brew Over Ice
K-Cup / My K-Cup
Removable Reservoir
75 oz Reservoir
1 Year Warranty
Check Price
Similarities
Maintenance alerts
Both come equipped with the over ice and strong button features
They both come with a high altitude setting option
Both have easily understandable operating buttons
Fast brewing time for both models
Feature Comparison
While both of them are excellent coffee makers, they do have some significantly different features. Let's see what they are.
Keurig K-Supreme
Multi-stream technology – The model contains five needles that puncture the pod and spray water into the coffee grounds. This helps in better saturating the grounds ensuring you get a high-quality, perfectly flavored cup of coffee with the best mixture of aroma.
Dual-position reservoir – The K-Supreme comes equipped with a 66-ounce water tank that can produce five 12 ounce mugs of coffee without needing a refill. The reservoir is also versatile in its positioning meaning it can be mounted on either the side or back of the coffee maker. This is helpful as one has a choice of positioning that best fits their kitchen setup.
Back-to-back brewing – The K-Supreme can produce cup after cup of coffee. The water heater does not need a long time to heat up the brew meaning it takes less time to make the next drink.
Travel mug friendly – The model has enough clearance to perfectly accommodate a 7" travel cup. This means that you don't have to first brew your coffee onto a mug before transferring it to your travel cup.
Customizable – The coffee maker comes equipped with an iced coffee option. This is perfect for all you iced coffee lovers. It is also equipped with a strong option for those who love their coffee a little bit more strongly. This option reduces brewing time allowing the mixture to emerge stronger than a normal coffee setting.
Maintenance alerts – The machine has sensors that sense water levels in the reservoir. It then alerts you when the tank needs refilling. It is also set to alert you after 250 brews to descale your coffee maker.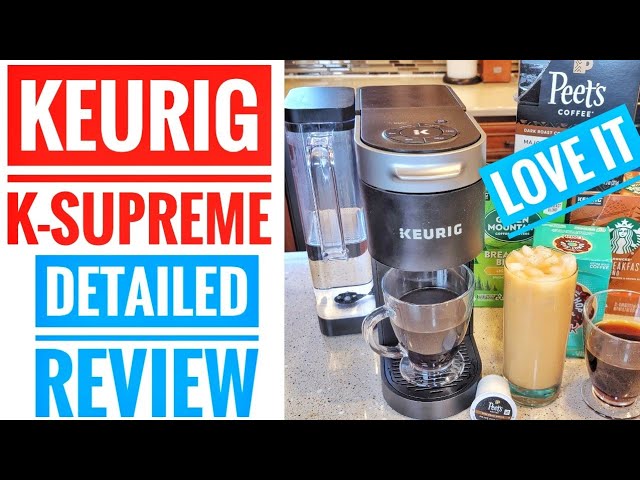 Keurig K-Elite
Multiple cup sizes – This model offers five cup size options. These include 4, 6, 8, 10, and 12-ounce cup choices. This lets you choose the amount of coffee you like without wasting or compromising flavor.
Removable reservoir – It comes equipped with a 75-ounce water tank that can produce up to eight 12 ounce glasses of coffee. The reservoir is positioned at the back of the machine and is easily detachable, easing refilling and cleaning.
Iced coffee and strong brew feature – For those who like their coffee cold or a little bit stronger than the normal cup, this model offers all these features for you.
Maintenance alert – The coffee maker is programmed to sense when water levels are low in the reservoir and alert you by flashing a warning light on the display. It also reminds you to descale after 250 successfully brewed cups.
Energy-efficient – It comes equipped with an auto-off feature that switches off the device after idling for 2 hours.
Hot water on demand – This feature ensures you can get hot water fast for instant soups and oatmeals.
Quick brew tech – This means you can brew your drink at incredible speeds.
Auto-on feature – You can set the time you want the machine to prepare your favorite cup be it in the morning or maybe you want your afternoon dose of caffeine.
Temperature adjustment – You can adjust the temperature of your brew to be anywhere between 187-192 degrees.
High altitude setting – By turning on this feature you can get the same perfect cup of coffee even at over 5000ft above sea level.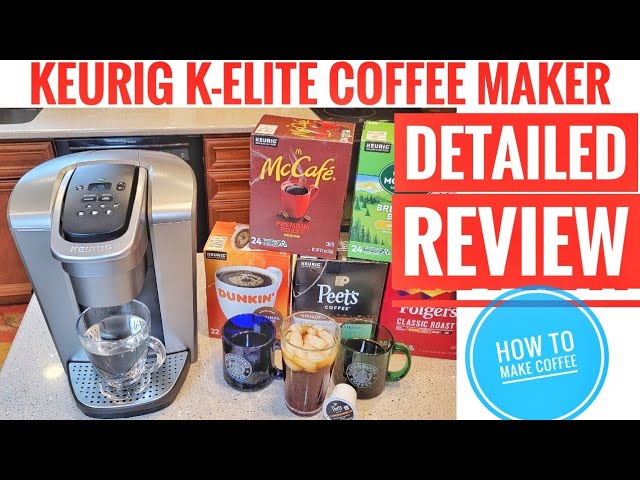 Ease of Use
Keurig K-Supreme
Simple buttons – The control buttons are located at right the top of the coffee maker which gives you the sizing options along with being able to choose a strong coffee or an iced coffee. It's an impressive level of functionality.
Removable reservoir – This feature enables the tank to be easily refilled when empty and eases the cleaning of the tank after long-term use. The tank is also adjustable to either the back or side of the coffee maker making it perfect to fit any kitchen setting you have.
Maintenance alerts – The machine alerts you on low water levels in the reservoir for you to refill. It also alerts you on when to descale the device.
Keurig K-Elite
Simple buttons – The control buttons on the K-Elite are very different from the Supreme in terms of their look but are similar in their functionality. This means that it's equally as easy to use.
Removable reservoir – The K-Elite also has a removable reservoir, which makes cleaning and maintenance very easy. It also means you can refill it without any spillages.
Maintenance alerts – The machine has sensors that sense water levels in the reservoir. It then alerts you when the tank needs refilling. It is also set to alert you to descale your coffee maker.
Temperature setting – The device offers three temperature settings to suit your preference.
Auto on and off – Set the time you would like to have your coffee and find it ready for you. The auto-off feature helps conserve energy when the machine is not in use.
Brew Quality
Both models offer a perfect brewing experience. Their K-Supreme incorporates the multi-stream technology that ensures that the coffee grounds are perfectly brewed producing coffee with a perfect blend of flavor and aroma.
The temperature settings available in the K-Elite model ensure you have control of your drinking temperature preference. The iced coffee feature is also highly praised by cold coffee enthusiasts saying it produces the best mixture for drinking over ice.
It is also important to note the strong brew feature in both models that allows you to enjoy your coffee a little bit more concentrated than your average cup. This is especially helpful when you need a little bit more caffeine to jump-start your body.
Cleaning & Maintenance
Both models are fairly easy to clean and maintain. A notable feature is the water tank that can be easily detached from the machine and cleaned separately. The device is also set to remind you to descale after brewing 250 cups of coffee.
The descaling process itself is quite simple as it involves brewing water only until the descaling light goes off. By heating the water continuously, it cleans the inside components removing coffee stains ensuring the machine works at its optimal level.
Overall Value
When it comes to value it all depends on how you like your coffee. If you like your coffee simple with very little alteration the Keurig Supreme is a perfect choice for you. It offers simple coffee settings that ensure you get the same quality of coffee every single time.
If however you live in a household with many coffee lovers with different coffee tastes be sure to buy the Keurig K-Elite. The hot water feature on the K-Elite can be very useful too.
Looking at their relative prices, both of them are impressive value for money. With the Keurig brand, you always know you can buy in confidence that you're getting a brilliant coffee maker.
Final Thoughts
Which one is better? Well, it's hard to say. For pure and brilliant coffee without any fuss, I'd say you should go for the K-Supreme. If you wanted more control and a bigger array of features, then go for the K-Elite. Whichever one you choose, you'll be happy with your new coffee machine and will see it as money very well spent.
FEATURED PRODUCTS
Keurig Supreme

6, 8, 10, 12 oz Cup
No Strength Setting + Iced
Removable 66 oz Reservoir

Check Price
Keurig K Elite

4, 6, 8, 10, 12 oz Cup
Strong Brew + Iced
Removable 75 oz Reservoir

Check Price
Recommended Reading
If you're calling your coffee machines "Elite" or "Supreme" then they better be good. Thankfully…
COMMENTS
If you're calling your coffee machines "Elite" or "Supreme" then they better be good. Thankfully…
COMMENTS
If you're calling your coffee machines "Elite" or "Supreme" then they better be good. Thankfully…
COMMENTS