Best Cheap K Cup Coffee Maker
By Evelyn J Stafford ~ Updated 19 January 2022
As an Amazon Associate I earn from qualifying purchases
If you love to have your dose of caffeine before you start your morning routine, then a K Cup coffee maker can be the perfect solution for you. These handy machines use coffee pods to brew fast, single-serve portions. Here are some of the best K Cup coffee makers that are not only convenient but also budget-friendly.
For a more detailed review of the Chulux coffee maker, be sure to swing by our dedicated Chulux coffee maker review.
Overview
We reviewed five different K Cup Coffee Makers that we thought were able to make brilliant coffee and offered exceptional value for money. While all five models come with great features, two of them deserve a special mention.
Our top choice out of the five brewers is the CHULUX Single Serve Coffee Maker Brewer, and for multiple reasons. First and foremost, it is truly a single-serve brewer. There is no fussy measurement of water or wasting perfectly good coffee. You just fill the reservoir, and that's the amount of coffee you get.
Another reason we recommend this coffee maker is its compact size. It can fit in any kitchen, and you can even take it with you on your travels, so you are never left without your personal cup of hot brew.
The second K Cup coffee brewer we have singled out is the InstaCoffee Single Serve Coffee Maker. True to its name, this machine will provide you with your single serving of hot coffee in a matter of seconds. It's perfect for busy schedules, whether you work from home or in an office.
Join us as we look at these two models in further detail while also checking out three others that may be more suited to your needs.
Our Selections
1. CHULUX Single Serve Coffee Maker Brewer
features
8
ease of use
9.5
durability
8
brew quality
7.5
value for money
9
If you are one of those people who often find waking up before their first coffee in the morning very hard, you will love this CHULUX brewer. The only thing you will have to do in the morning is to push a button, and your hot brew will be ready in less than 3 minutes.
The same is true if you need some caffeine to spruce you up at any time of the day and regardless of where you are. With this machine, you will never have to wait for your coffee anymore.
Due to its compact size, this CHULUX coffee maker can easily fit into any space, including offices and tiny apartments. Not only that, you can even carry with you on your trips to ensure you always have your perfect pods wherever you go. It's great for those who travel for work frequently and need coffee to fuel them on their way.
However, the best feature of this brewer is that it holds the exact amount of water you will get in your cup of coffee. You won't have to worry about wasting energy or a good roast anymore or having it cool in multiple cups. And when your coffee is brewed, the machine turns off, further reducing energy waste.
You can also go ahead with your busy routine without needing to deal with the cleanup. If there is any spillage, you can just take out the tray, rinse it off, and put it back in a matter of seconds.
Highlights:
Small and lightweight
User-friendly operation
Boils water in 3 minutes
Turns off automatically
Removable tray for easy cleaning
Reservoir for one single dose
Safe lock design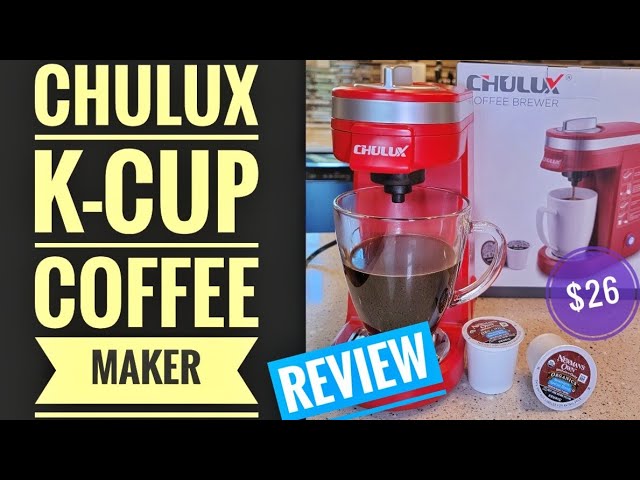 Product Specs:
Pros & Cons:
K Cup Compatable
1 x Brew Size
No Travel Mug
12 oz Reservoir
1 Year Warranty
Ground Coffee
Regular Brew
Filter Separate
Fixed Reservoir
7.4' D x 4.3' W x 9' H
Pros:
We found the brew time to be around 3 minutes.
We found no leakage or grounds in coffee/cocoa/tea.
The Chelux is lightweight, compact & good for travel.
Cons:
The Chelux only heats to around the 162-degree mark.
The Chelux is noisier than expected while it heats up water.
It's a squeeze to fit your travel mug in properly if at all.
Check Current Price →
more

See it at 1st In Coffee →
See it at Newegg →
See it at Walmart →
2. InstaCoffee Single Serve Coffee Maker
features
7
ease of use
8
durability
6.5
brew quality
7
value for money
8
An incredibly fast coffee maker, this InstaCoffee brewer delivers the perfect cup of coffee in less than half a minute. It has a 14oz reservoir, the maximum amount of coffee you can get in one brewing, which is also the size of standard travel mugs. For this reason, your one single cup of coffee will always be the perfect temperature.
At the same time, you can also experiment with putting less water in the reservoir and get a more prominent flavor profile or more for a milder one. You can have your coffee when you want it and exactly how you want it.
If you prefer to use grounds instead of K cups pods, this InstaCoffee brewer has you covered there as well. It comes with a reusable filter which you can use for your favorite grounds or even loose-leaf tea if you want to.
This machine also comes with a handy self-cleaning mode to help prevent limescale build-up, which often happens in similar products. The drip tray is easy to clean, as you only have to remove and rinse it. Meanwhile, the narrow profile will ensure the machine won't take up much space whether you use it in your kitchen, dorm, office, or hotel room.
Highlights:
Fresh coffee in 30 seconds
One-touch operation
Uses both K Cups and grounds
Narrow profile
Adjustable intensity
Self-cleansing feature
Comes with a reusable filter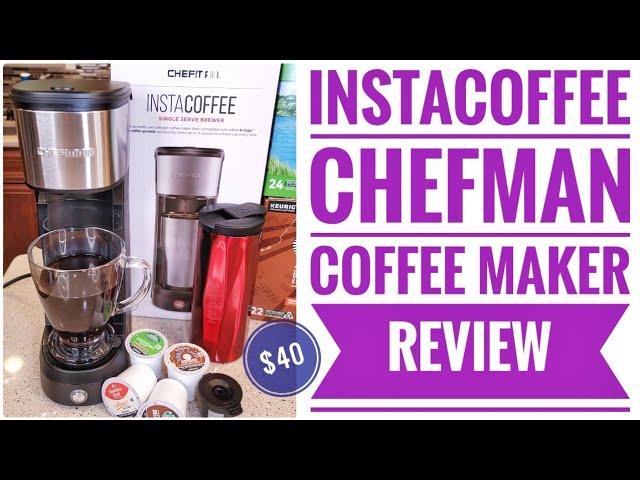 Product Specs:
Pros & Cons:
K Cup Compatable
4-14oz Cup
Fits Travel Mug
Fixed Reservoir
1 Year Warranty
Ground Coffee
Regular Brew
Water Filter
14oz Reservoir
6' D x 4.25' W x 13' H
Pros:
I found it takes around 1min to brew a K Cup.
Aside from popping in your K Cup, it's a 1 button machine.
The reusable filter comes in handy when you run out of K Cups.
Cons:
The K Cup housing of the InstaCoffee appears delicate.
I found the coffee far too weak using a K Cup at 10oz or 14oz.
No window to see water in Reservoir, inside markings are hard to see.
Check Current Price →
more

See it at 1st In Coffee →
See it at Newegg →
See it at Walmart →
3. Hamilton Beach FlexBrew
features
7
ease of use
8
durability
6.5
brew quality
8
value for money
8
This Hamilton brewer makes it easy to personalize your cup of coffee anytime you want to. You can even adjust the amount of water it uses. This includes a single-serve 10oz cup of coffee made from a pod, or a 14oz serving brewed from fresh grounds. Its cup holder area is adjustable, and it fits mugs up to 8 inches tall.
The machine comes with an additional cup rest area which, apart from being a cup rest, can also serve as a holder for the brew basket or a K Cup pod. The perfect option if you aren't using your brewer for some time or are traveling, but you want your pods or basket to be ready.
Its user-friendly operation system makes this Hamilton coffee maker very easy to use. Lower the lid, press the button, and your invigorating brew will soon be ready.
Just one look at the see-through water window after it has finished brewing, and you will clearly see if the water needs to be refilled. A unique feature of this product is its removable pod piercing tool which allows for easier cleaning access.
Highlights:
Works for single-serve or ground coffee
Adjustable between 10oz and 14oz
Comes with a grounds basket
Easy water level control
Handy operation
Uses 8-inch cups
Removable K Cup assembly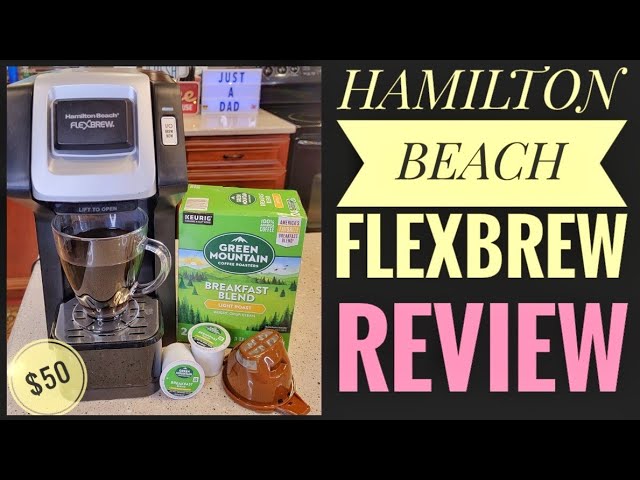 Product Specs:
Pros & Cons:
K Cup Compatable
Brew Size 10-14oz
Regular / Bold Brew
14oz Reservoir
1 Year Warranty
Ground Coffee
Can Filter Water
Fits Travel Mug
Reservoir Fixed
10.2' D x 6.5' W x 13.4' H
Pros:
We found the coffee comes out hot and flavourful.
The K Cup assembly is fully removable for cleaning.
We found operating the maker couldn't get any easier.
Cons:
We found it takes 2 / half min to perform a brew.
Brewing with K Cups over 10oz come out weak.
The needle that penetrates K-cup's bottom isn't very sharp.
Check Current Price →
more

See it at 1st In Coffee →
See it at Newegg →
See it at Walmart →
4. Mixpresso Single Cup Coffee Maker
features
6.5
ease of use
7
durability
6
brew quality
7
value for money
7.5
Whether you need your dose of coffee to spruce you up in the morning or during the day, this Mixpresso brewer will never hinder your productivity.
With a preheating time that takes less than 2 minutes, you won't have to waste time making your single-serve cup of coffee. Compatible with K Cups, reusable cups, and most reusable filters, this machine will even let you choose which favorite brew you want to prepare.
Fill the reservoir with water, place your pod, grounds, or tea in its place, press the button, and your delicious brew will be ready in no time. Cleanup is equally simple. Press and hold one button to drain all water from the reservoir and clean the inner part of the brewer. The drip tray is removable for easy rinsing and fitting taller mugs.
Despite its 800 watts of power, the quiet operation allows you to use this Mixpresso brewer without disturbing others in their sleep. Plus, the machine is so compact that it can fit easily in even the smallest kitchens or office space.
Whether you are a traveler, single, or live with a busy family, you will love this brewer that gives you your private coffee anytime you need one.
Highlights:
Effortless cleanup
Programmable quantity
A full cup in less than two minutes
Easy to fill
Works for pods, grounds, and tea
Quiet operation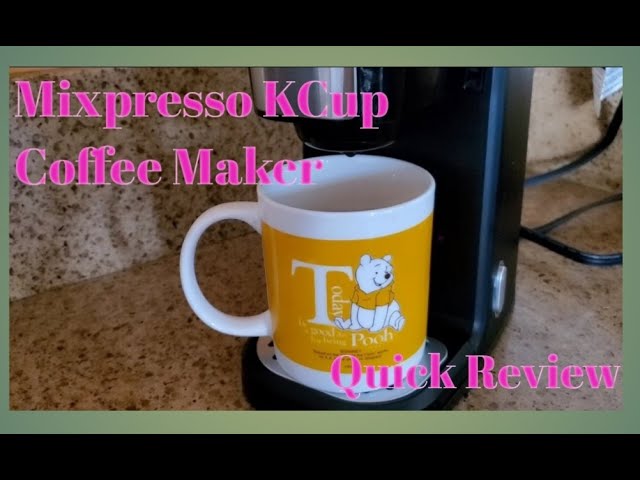 Product Specs:
Pros & Cons:
K Cup Compatable
4-12oz Cup
Won't Fit Travel Mug
Fixed Reservoir
1 Year Warranty
Ground Coffee
Regular Brew
Water Filter
12oz Reservoir
19.8' D x 11.6' W x 15.6' H
Pros:
Our coffee came out piping hot and flavorful.
The machine is near silent when brewing coffee.
Affordability is the Mixpresso's biggest upside.
Cons:
We found it takes around 3 min to make a cup of coffee.
We noticed a slight chemical / plastic taste & smell.
The build quality of the Mixpresso feels cheaply made.
Check Current Price →
more

See it at 1st In Coffee →
See it at Newegg →
See it at Walmart →
5. Adir Single Serve Coffee Maker
If you are looking for an Eco-friendly solution for your filtered coffee, this Adir brewer could be the perfect option for you. It comes with permanent filters that enable you to cut out disposable pods and filters yet still enjoy your single-serve sup.
Not only that, but the coffee maker has its own stainless steel to-go cup. This cup is insulated, has a safe-to-touch handle, holds 15 oz., and fits most vehicle cup holders, so you can even take the brew with you in the busy mornings.
The filter, the mug, the holding basket, and the lid are all dishwasher safe as well, which means you can wash them overnight and have them ready and clean for your next morning dose. Even if you use and clean it multiple times a day, the durable material of the elements will allow you to enjoy your coffee for a considerable period of time.
Feel free to take this Adir brewer with your on your travels. This way, you can get your favorite brew, anytime anywhere. Fill the machine with water and coffee grounds, place the mug into the brewing base, then push a button to start brewing. Once your cup is entirely full the brewer will turn off automatically, saving energy.
Highlights:
Automatic shut down
Durable technology
Eco-friendly filters
Fills up a 15oz cup
Dishwasher safe elements
Comes with an insulated universal mug
Final Thoughts
While all the coffee makers here represent the perfect budget-friendly solution for brewing coffee, the final choice will always be dependent on your needs. Whether you choose one that allows you to brew multiple types of drinks or just a single-serve coffee from a pod, it will be up to you. You can't go wrong with any of these five brilliant K Cup coffee makers.
FEATURED PRODUCTS
Chulux Coffee Maker

K-Cup / Ground Coffee
12oz Cup Only
Brew Time (3 min)

Check Price
Chefman InstaCoffee

K-Cup / Ground Coffee
14oz Cup / Thermos
Brew Time (2 min)

Learn More
Hamilton Beach FlexBrew Single Serve

K-Cup / Ground Coffee
10oz Cup / Thermos
Brew Time (3 min)

Check Price
Recommended Reading
If you love to have your dose of caffeine before you start your morning routine,…
COMMENTS
If you love to have your dose of caffeine before you start your morning routine,…
COMMENTS
If you love to have your dose of caffeine before you start your morning routine,…
COMMENTS