The 10 Best Espresso Machines Under $500
By Evelyn J Stafford ~ Updated 22 December 2021
As an Amazon Associate I earn from qualifying purchases
Today we're looking at the all-time best espresso machines under $500. And yes, there are going to be some pretty amazing units on the list. While you can certainly spend over $1000 dollars on a luxury espresso machine, you can also save yourself a fistful of cash and go with something more affordable.
Any espresso machine under $500 is going to be ridiculously great. We're not talking about budget machines. These are all real, professional coffee makers that can brew an authentic Italian espresso in just seconds.
Some of the features you can expect to find include a powerful heating system for quick espresso, a large water reservoir for less-often refills, a steam wand to create latte art, semi-automatic function for convenience, and the latest in coffee brewing technology. Many of these machines are handsfree, allowing you to brew with just one push of a button.
And it doesn't stop at espresso. Many of the best espresso machines in this category come with the ability to make ground coffee, lattes, tea, cappuccinos, and much more. When you invest this kind of cash into an espresso machine, you're committing to a certain way of life. And that way of life means tasty espresso at any time of the day!
While espresso machines are all the rage right now, some people prefer the good old pour over coffee maker. What some don't realize is that you can get an automatic pour over coffee maker designed to make life a lot easier. Click the link to find out more.
Buyers Guide: Features to be Aware Of
Machine Size: Believe it or not, not ever machine is the same size or weight! In fact, the most expensive and luxurious espresso makers are typically heavy and cumbersome, and can take up a ton of room on your kitchen counter.
Before you buy, it's a good idea to know how much space you have at home. You may want to invest in a single-shot machine that is smaller, narrower, and easier to fit on the counter. Pod machines are also typically much smaller and easier to store.
Pod or Grind: You have two ways of brewing. You can use a pod or your own coffee grounds. Some machines let you choose one or the other, and some machines are dedicated to a specific one. There is no "preferred" method. If you enjoy making your own coffee with beans, pods are going to seem cheap and useless.
However, if you like your machine to be convenient and quick, using espresso pods is going to be the answer.
Single or Double Boiler: You might notice that some espresso machines offer a double boiler. But what is it? And what's the difference between a single and double?
Well, a double boiler means that the water for your steam wand and for your brewing are in separate boilers. Rather than being forced to pull a shot, then steam – like with a single boiler – a double boiler allows you to adjust the temperature of each device independently, then not need to wait to use the steam wand once the shot is pulled. Basically, it's faster and more convenient.
Pre-Infusion vs Normal Extraction: Most normal espresso is extracted using a method of pressurized and heated water being squired through coffee grounds to give you that perfect Italian flavor. Pre-infusion is a new type of system that works by softly soaking the ground coffee before applying full pressure. This works to ensure a perfectly permeated portafilter of coffee, and a richer, more even flavor.
Coffee Types: The thing with using an espresso maker is that they don't all offer the same types of coffee. However, they do have something for everyone. Contrary to popular belief, every quality espresso machine can craft an espresso, latte, or cappuccino. And with some extra hot water, you can make your own americano.
The biggest difference is that not every espresso machine can make normal coffee. This is something you should be aware of. If you're a coffee person who likes espresso sometimes and a standard cup of joe in the morning, you need a machine with this special feature.
Overview: Best Espresso Machine Under 500
If you don't have the time to read through 10 in-depth reviews, we totally understand. That's why we have put together this brief overview of the two top units. If you just want to know the best machine in this category, here's the no-nonsense scoop.
ON SALE!
★ De'Longhi ★
Espresso Maker
Pods / Ground Coffee
15-bar Espresso
Single Serve Only
Milk Frothier
Removable Reservoir
44oz Reservoir
11.6" H x 9" W x 11" D
1 Year Warranty
Check Price
★ De'Longhi ★
Combo Coffee Maker
Ground Coffee Only
15-bar Espresso
Single Serve / Carafe
Milk Frothier
Removable Reservoir
40oz Reservoir
12.7" H x 14.5" W x 11" D
1 Year Warranty
Check Price
For a standard espresso machine, the De'Longhi 15 Bar Pump is at the top of our list. And that's for one reason: quality. This machine is exactly what any coffee connoisseur needs in their home. It has a powerful pump system, it heats quickly, and it's dedicated to making espressos.
It's also well priced! It's crafted from stainless steel, it has the ability to craft beautiful cappuccinos and lattes, and it uses a quality milk frother to add an almost sensual flavor to your favorite beverages. In terms of the best espresso machine, this is really as good as it gets.
But wait! Do you want a coffee maker & espresso combo? Then try another De'Longhi product, the All-In-One Combination Maker & Espresso Machine. Half of the unit is dedicated to making a tasty espresso, latte, or cappuccino, and the other side is a fully functioning coffee machine that can make a full pot using your favorite ground coffee! It's the best of both worlds.
Now you might be wondering about the best espresso machine that uses pods. Easy. The Nespresso Creatista Plus Coffee & Espresso Machine uses the flavorful Nespresso pods in conjunction with reliable barista technology and a built-in milk frother to upgrade your standard "pod flavor" to something you could normally only find at a legit coffeehouse. It's like pod coffee on steroids.
The other units on our list are also great, sharing many of the features of these three great coffee machines. If you're still undecided, read on for in-depth reviews of each machine.
Best Espresso Machine under 500
1. De'Longhi 15 Bar Pump Espresso Maker
WINS PICK OF 2021
De'Longhi is notorious for making the best coffee machines in the business, and the De'Longhi 15-Bar Pump Espresso Maker is no exception. This fantastic unit is incredible for being significantly under $500. It's easy to use, it's built from a strong, stainless-steel material, and you can use it with either pods or grounds. This allows you to fulfill your coffee desires any way you choose, having perfect espresso day or night in just a few minutes!
If you're looking for a dedicated brewer for crafting espressos, this should be at the top of your list. It can make cappuccinos or lattes, it comes equipped with a simplistic frother, and the steel drip tray is quick to clean. This is quite honestly the most comprehensive maker you can get without spending your child's college fund!
Other great features include the 44-ounce removable water tank, the twin brewing cycle, the three-in-one filter holder, the professional pressure system that gives quality coffee with every shot pulled, and fully adjustable controls. Plus, the machine will maintain optimal temperature so that you can brew one beverage after the other without taking a break.
Powerful Heating System
44oz Removable Water Reservoir
Easy to Clean
Advanced Milk Frother
Lightweight & Affordable
Sometimes Leaky Steam Nozzle
Brews Loudly
See It In Action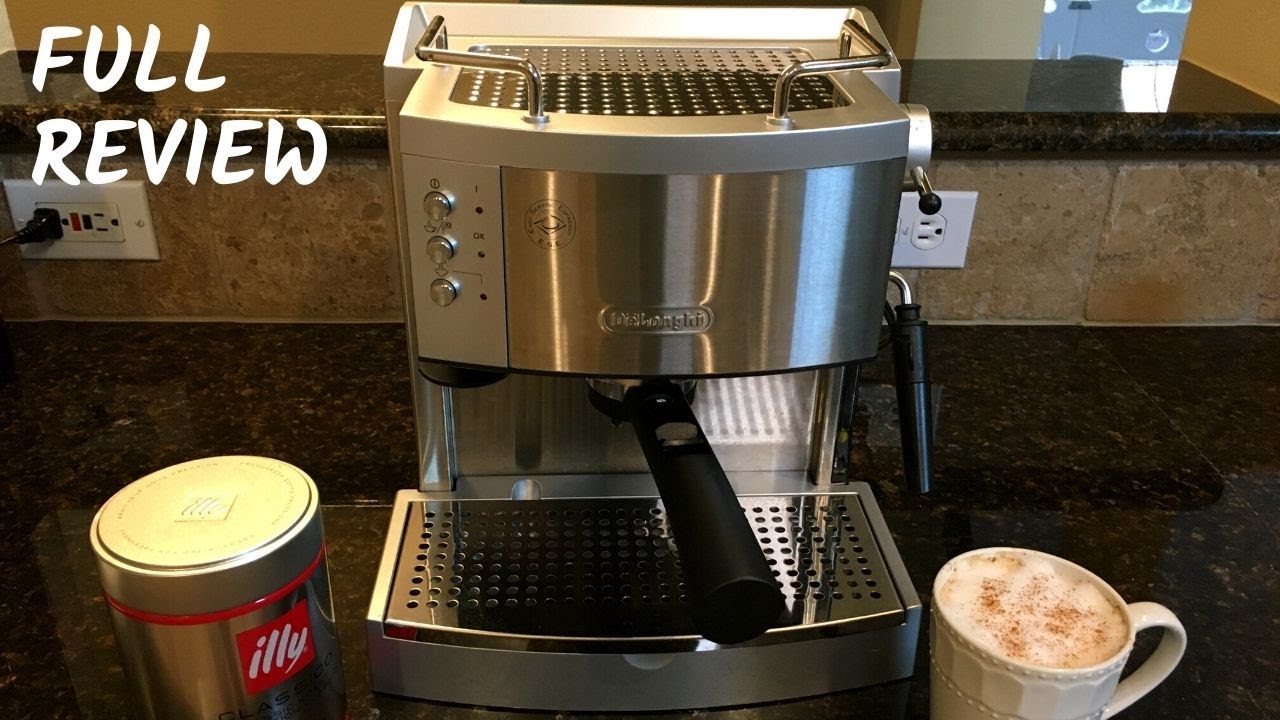 2. De'Longhi Combination & Espresso Machine
Another great unit from De'Longhi, this coffee brewer brings the best of both worlds to your kitchen. You get a fully operational coffee machine that brews drip coffee into a large glass carafe, and you get to experience all the joy of a professional coffee maker. Not only that, but you can brew a cappuccino, latte, or macchiato between huge mugs of coffee!
The real bonus to this coffee machine is the duo feature. If you live in a family household with people who enjoy both espresso and coffee, this is your best bet to keep everyone happy. But its versatility doesn't end there. It uses a unique front-loading system for maximum convenience. You can fill all the reservoirs without having to fuss with the machine or open any annoying lids.
Finally, the combo unit comes included with an advanced cappuccino system that will mix steam with milk for some of the richest froth ever. And because of the active carbon filter, all the water you use for brewing is going to result in a cleaner taste.
Dual System/Coffee + Espresso
Available w/ Milk Frother Jug
Flavor Savor Brew System
Advanced Cappuccino System
Ideal for Families
Coffee Pot Not Best Quality
Must Manually Shut Off Espresso Drip
See It In Action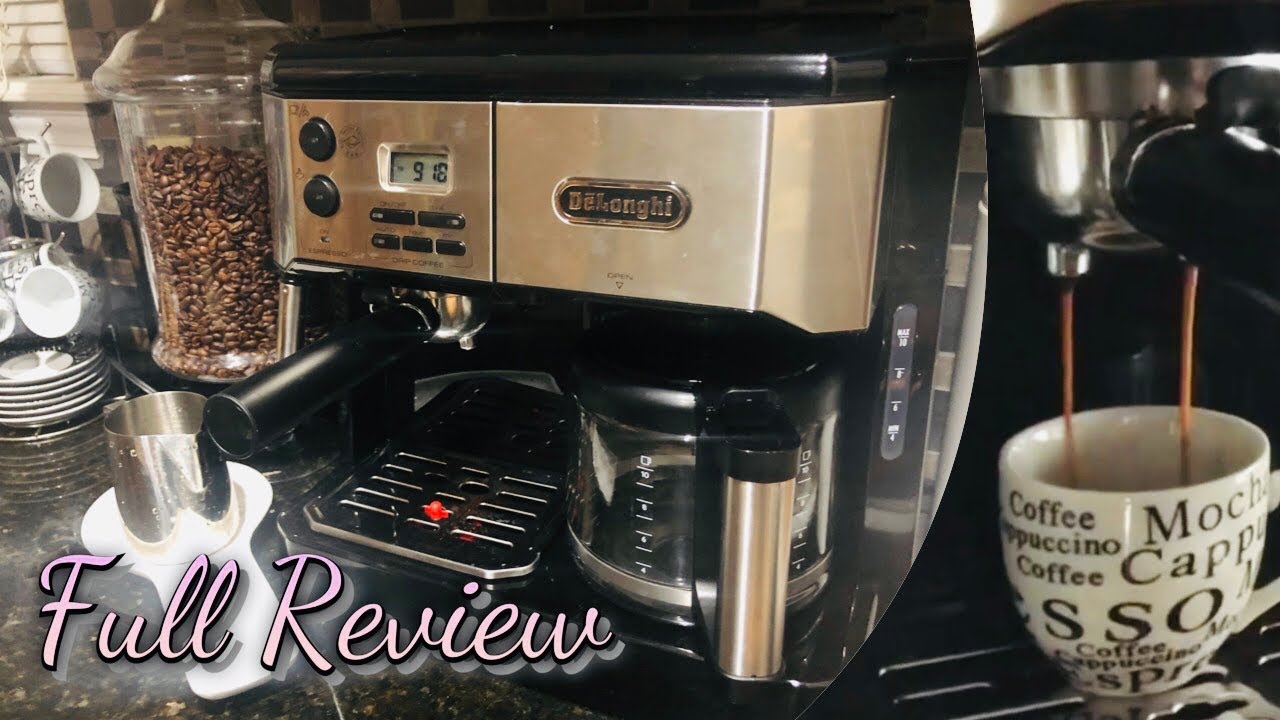 3. Mr. Coffee Espresso and Cappuccino Maker
Mr. Coffee has created the ultimate cappuccino maker. Available in red, white, or silver, this highly advanced brewing system has everything an espresso lover needs, including an automatic milk frother preprogrammed to make froth for a cappuccino or latte without any guesswork. It's incredibly convenient for those who want to make a specialty beverage without having to manually froth!
But besides cappuccinos, you can make café-quality espressos in either single or double. The machine uses a one-touch control panel for the least amount of confusion. Simply select your drink and let the brewer do its job! It also comes with a powerful 15-bar pump for excellent extraction and rich flavor.
Tailored for Cappuccinos
Comes Available in Red
Milk Frother is Automatic
One-Touch Brewing
Espresso Tastes Amazing
Probably Won't Last Forever
Should Be Cleaned Before Used
4. Breville Infuser Espresso Machine
The Breville Infuser is one of the most advanced systems on this list. It's truly one of the very best coffee makers money can buy. And yes, it's bordering the $500 mark, but it's worth every penny. If you want a high-end machine with the best current features, this is it.
The big bonus with using Breville is the pre-infusion function. It works to apply a lower water pressure at the beginning of the extraction cycle. This will soak the grinds evenly, so that when higher water pressure comes on to complete the shot, it's going to be richer and tastier!
Besides the advanced pre-infusion technique, this Breville machine offers a plethora of other great features. It comes with an auto-purge function to adjust the water temperature automatically. The 15-bar Italian pump makes for a great-tasting beverage. Plus, there is a manual override for those who are more meticulous about their brew. It even comes in red, black, or silver.
Professional Machine w/ Balanced Flavor
Precise Extraction & Volume Control
Micro-Foam w/ Steam Wand
Heating System Works Quickly
Stainless Steel Design
Very Expensive
No Built-in Grinder
5. De'Longhi Super Automatic Espresso Machine
The De'Longhi Super Automatic Espresso Machine is at the top of its class. This is no ordinary coffee maker. It's easy to use because of its automation. This is why it's been labeled the #1 fully automatic espresso machine currently available.
So, what can such an advanced brewer do? It can brew an espresso, latte, or cappuccino. It can heat up within 60 seconds. It can be cleaned with minimal effort. It uses an advanced frother to create magically delicious froth. And finally, it has a twin-brewing cycle, which is great for when you have company over!
Because this is a super automatic espresso machine, it of course comes complete with an integrated burr grinder. This leaves you with no work to be done when making your beverages. Push the button and wait while your coffee beans are ground and then instantly brewed.
Pro Espresso Machine
Stainless Steel Build
Super Automatic + Convenient
Rich & Creamy Foam
Complete w/ Grinder
Some Complaints of Bean Hopper
Long Heat-Up Time
6. Gaggia Classic Semi-Automatic Espresso Maker
The Gaggia Semi-Automatic Espresso Maker is a little outdated, coming out at least twenty years ago. But it's still worth your attention. It's a heavy-duty brewer with a sturdy housing of stainless steel, with fast water heat-up within just a few minutes, and 20 seconds to initiate steam.
For such an old unit, it has some more pretty impressive features. And it is semi-automatic after all. There's a commercial portafilter, the same type they use in coffeehouses. There's also a Pannarello wand that can dispense froth, steam, and hot water. This makes it a great piece of equipment for espressos, cappuccinos, lattes, and other specialty beverages.
When it comes to the quality of the coffee, it's nearly perfect. You get a consistent espresso shot with each pull, plus a thick layer of crema without needing any previous practice. This is one of the easier brewers to master. It has simple flick-switch controls and a steel drip tray.
Another feature that's still relevant today is the 3-way solenoid valve, which is what you typically find on commercial machines. It works to relieve pressure so that the discarded puck is dry and easy to manage, instead of being soggy and messy.
Quality Pannarello Wand
Single + Double Shot
Slim & Stylish
Commercial-Quality
Strong Stainless Steel Housing
Slight Learning Curve
Outdated Machine
Personal Espresso Machines
7. Gaggia Classic Pro Espresso Machine
The Gaggia Classic is one of the most professional personal brewers that money can buy. Not only does it craft a perfect espresso, but it's also small and personalized. It's a great unit for people who live alone or who are the only espresso lovers in the house. It's slim, it can store easily out of the way, and it doesn't take a brain surgeon to master.
This is a huge upgrade from previous models of Gaggia coffee brewers. It's been totally redesigned with a better look, easier functionality, and way better coffee. The Classic Pro comes in over five different colors, including red, blue, and white – and they all look amazing.
The Classic Pro is constructed with a tough housing unit, making it nearly indestructible. The rocker switches make crafting espressos simplistic and ideal for those who don't have a lot of experience with manual brewing, and the commercial steam wand creates an ultra-creamy layer of foam over your cappuccino or latte!
This unit heats up exceptionally quickly. At the same time, the pump mounts have been improved to dampen sound and mitigate vibration. For a personal brewer, it's super quiet and discreet. This makes your mornings more peaceful when making coffee!
Best-Looking Machine Available
Huge Upgrade from Previous Models
Brushed Stainless Steel Housing
Amazing Steam Wand
Mouth-Watering Espresso Taste
Slightly Heavy
No Hot Water Spout
8. Breville Bambino Plus Espresso Machine
The Breville Bambino Plus takes automatic espresso making to new heights. It's hard to say where to start with this awesome machine. It has a great design, it's built from quality materials, and it has an outstanding lifespan. This isn't just another espresso brewer that you'll throw away after six months.
Let's start with the automatic micro-foam milk texturing. The steam system is so advanced with the Breville Bambino that you can even adjust the temperature of the milk and the type of texture to suit your specific tastes. This results in foam that tastes and looks even better than what you'll find at your local café.
Because this is a relatively new model from Breville, you get insanely fast heat-up. The thermojet heating system is unmatched in the industry. If you can't wait for your coffee in the morning, this is the best brewer to get nearly instant espresso to your lips!
Like other great Breville machines, this unit uses pre-infusion to better saturate the coffee grinds, giving you a fuller flavor when the drink is ready. With pre-infusion, you get excellent coffee, every time, with flawless consistency.
Easy to Use
Slim & Discreet & Lightweight
Lightning-Fast Heating
Automatic Micro-Foam
Pre-Infusion Technology
Must Use Nespresso Descaling Liquid
No Integrated Grinder
9. De'Longhi Espresso Machine
A personal espresso brewer from De'Longhi, this tiny unit is excellent for small homes. You can brew fast espresso like a professional all day long. It has the same steady pressure that you get with bigger machines, but it's dedicated just for one person. It also saves space with its sleek design.
Because it's designed for small homes, this unit is incredibly easy to clean. In fact, there's not a whole lot to it. You can do a full maintenance check on the machine in just a handful of minutes. The water tank is removable and easy to wash, the steel drip tray keeps the counter spotless, and the twin brewing cycle makes for faster coffee whenever you want it.
The manual frother makes foam your way. You can manually mix steam with milk to create an extremely rich froth for your favorite textured drinks, and you do it your way! And yes, you can have either one shot or two shots. It all depends on how hyped you want to get with your coffee in the morning.
If you're tired of machines that can only brew espressos, you'll be happy to know that this unit can accommodate a taller cup. That means it's easier for you to craft your own americano with two shots for a huge creativity boost on a Sunday afternoon!
Strong Brewing Pressure
Works w/ Taller Cups
Three-In-One Filter Holder
Sleek Profile
Affordable & Simplistic
Slight Vibration
Not Great Reviews
Espresso Pod Machine
10. Nespresso Creatista Plus Coffee and Espresso Machine by Breville
Last but not least, the Nespresso Creatista by Breville is the best piece of equipment for making instant coffee drinks using the famous Nespresso pods. It is a huge upgrade from a standard pod machine. Rather than simply putting the pod in the machine and getting hot water squirted over the grounds, you get a full system of steam and pressure for an authentic beverage.
This is also one of the better machines for making amazing iced coffee drinks. Simply pour the brew over ice to create any drink that you would usually pay $10 for at your local cafe. All you need is ice!
The brewer comes integrated with an automatic frother, it comes with a complimentary gift set of starter Nespresso capsules, it has a removable 1.5-liter water tank, and it even has 19 bars of pressure, which is way more than many of the machines we've already talked about today. Plus, it heats up in under 3 seconds.
It may not work with ground coffee, but if you want all your beverages immediately and as easily as possible, this is the way to do it. Stick a pod into the special holder, hit the button, and a few seconds later you have an authentic coffee beverage of any kind. Plus, you have tons of options available at your fingertips with the Nespresso brand.
Perfect Taste & Latte Art
Convenient & LCD Display
Auto-Purge Steam Wand
Huge Coffee Variety
Includes Starter Package
Must Use Nespresso Pods
No Normal Coffee
Final Verdict
Choosing the best espresso machine under $500 was never going to be an easy job. Each machine on our list today is a miracle in itself. The De'Longhi 15 Bar Pump Espresso Maker is certainly the best espresso machine under $500 in terms of a strictly espresso. It has the best features, the easiest usage, the most positive reviews, and the tastiest coffee. We recommend it to anyone who wants an affordable espresso maker with the best features.
But that said, the De'Longhi Combination & Espresso Machine is going to be the preferred choice for those who love using a normal coffee maker and just having espresso sometimes.
And if you're looking to save room at home with a small, single-serve espresso machine under $500, you obviously want the Breville Bambino Plus Espresso Machine. It's simply a remarkable unit, and it takes up very little space!
As you can tell, choosing the best really depends on your personal needs. De'Longhi is usually the way to go. But if you are lazy and want quality coffee in pod form, we have to recommend the Nespresso Creatista. It turns convenient Nespresso pods into coffeehouse beverages that will blow your mind!
FEATURED PRODUCTS
ON SALE!

De'Longhi Espresso Maker

Single or Double Shot Espresso
Semi-Automatic / 15 Bar Pump
Froth Milk Manually

Check Price
De'Longhi Combination Maker

1 / 2 Shot Espresso or Carafe
Combination / 15 Bar Pump
Froth Milk Manually

Check Price
Recommended Reading
Today we're looking at the all-time best espresso machines under $500. And yes, there are…
COMMENTS
Today we're looking at the all-time best espresso machines under $500. And yes, there are…
COMMENTS
Today we're looking at the all-time best espresso machines under $500. And yes, there are…
COMMENTS