The 10 Best Espresso Machines Under $100
By Evelyn J Stafford ~ Updated 22 December 2021
As an Amazon Associate I earn from qualifying purchases
Today we're looking for the very best espresso machine under $100. You might think that an under $100 you don't have many options for a great espresso machine, but that's simply not the case. For less than 100 bones, you can pick yourself up a great espresso machine with a steam wand, a milk frother, a large water tank, and even more!
The espresso machines we're reviewing today are drastically different. We'll be looking at single-serve espresso makers, espresso machines that can use ground coffee, and some units with excellent pressure for making a creamy espresso. The features of the best espresso machines are going to differ from model to model, but they are all wildly affordable!
At the end of the day, it's all going to come down to what you're looking for in an espresso machine under $100. Are you a coffee fanatic? Do you want a full system that can brew the greatest coffee you've ever tasted without breaking the bank? And do you need all kinds of fancy features? If you're happy to pick up a functional espresso maker without too many bells and whistles, your options are plentiful.
To discover the very best espresso machine under $100, continue reading! We have detailed reviews in this article for the 10 best espresso machines under $100.
If you find theses options a little basic and want to see what a little extra bang for your buck will fetch, be sure to stop by our guide to the best espresso machine under 200.
Overview: Best Espresso Machine Under 100
When talking about the best espresso machines under $100, you know there is going to be some competition. Believe it or not, some of the best manufacturers make their espresso units with exceptional quality even at such a low price.
The main features you can expect from an espresso machine under $100 include delicious coffee, a large water tank, an easy-to-clean design, a usable milk frother, amazing convenience, an intuitive control panel, and the ability to use your own ground coffee. Some machines even include a steam wand.
★ De'Longhi ★
Espresso Maker
Semi Automatic
Espresso, Cappuccino & Latte
Pods or Ground Coffee
Manual Frother
Removable Reservoir
12.2" L x 19.3" W x 15" H
1 Year Warranty
Check Price
ON SALE!
★ Sowtech ★
Espresso Machine
Semi Automatic
Espresso, Cappuccino & Latte
Ground Coffee
Manual Frother
Fixed Reservoir
10.6" L x 7.7" W x 13.8" H
1 Year Warranty
Check Price
If you don't have time to read 10 espresso machine reviews, we totally understand. To make things easier for you, one of the best on the list is undoubtedly the De' Longhi 15 Bar Espresso & Cappuccino Maker. It's a 15-bar system that offers a ridiculous amount of quality. It's very popular.
The best thing about the De' Longhi 15 Bar Espresso & Cappuccino Maker is that you can use pods or ground coffee because it has dual functionality. It's one of the simplest machines to clean, it has a 3-in-1 filter holder, and it's going to last you for years to come, allowing you to enjoy an authentic Italian espresso from the comfort of your own home.
There are some other really great coffee machines on the list that make espresso, but the De'Longhi is definitely a preferred model. If you're interested in something even more simplistic for use only with pods, you might want to consider the Nescafe Dolce Gusto.
It's also wildly affordable, it has high functionality, and you can use your favorite Nescafe pods to make unbelievable coffee at any hour of the day. Either one of these machines will make an espresso lover very happy.
Product Selection: The Best Espresso Machines Under $100
1. De'Longhi 15 Bar Espresso & Cappuccino Maker
WINS PICK OF 2021
The De' Longhi 15 Bar Espresso Machine is an absolute miracle. You simply cannot find a better espresso maker at such a low price. You can do everything with this unit. Espresso, cappuccino, latte – it's all yours to enjoy at home. Plus, you can use your own coffee or coffee pods for making the espresso.
And unlike other machines, this unit uses professional pressure. That means that every single espresso you drink is going to be authentic Italian.
The machine also comes with a twin brewing cycle, meaning that you can make two espressos at the same time. This is ideal for anyone living in a house with multiple espresso lovers! The steam wand adds a huge boost of flavor, while the steel drip tray and removable water tank provide easy cleaning.
If you're looking for the absolute best espresso maker with simple operation and a stylish design, you don't want to miss out on the opportunity to get the De' Longhi brewing system!
Works Basically Forever
Coffee Grounds + Pods
Sleek Design
Quick & Easy
Milk Steamer is Great
Need Your Own Grinder
Best for Starter Baristas
See It In Action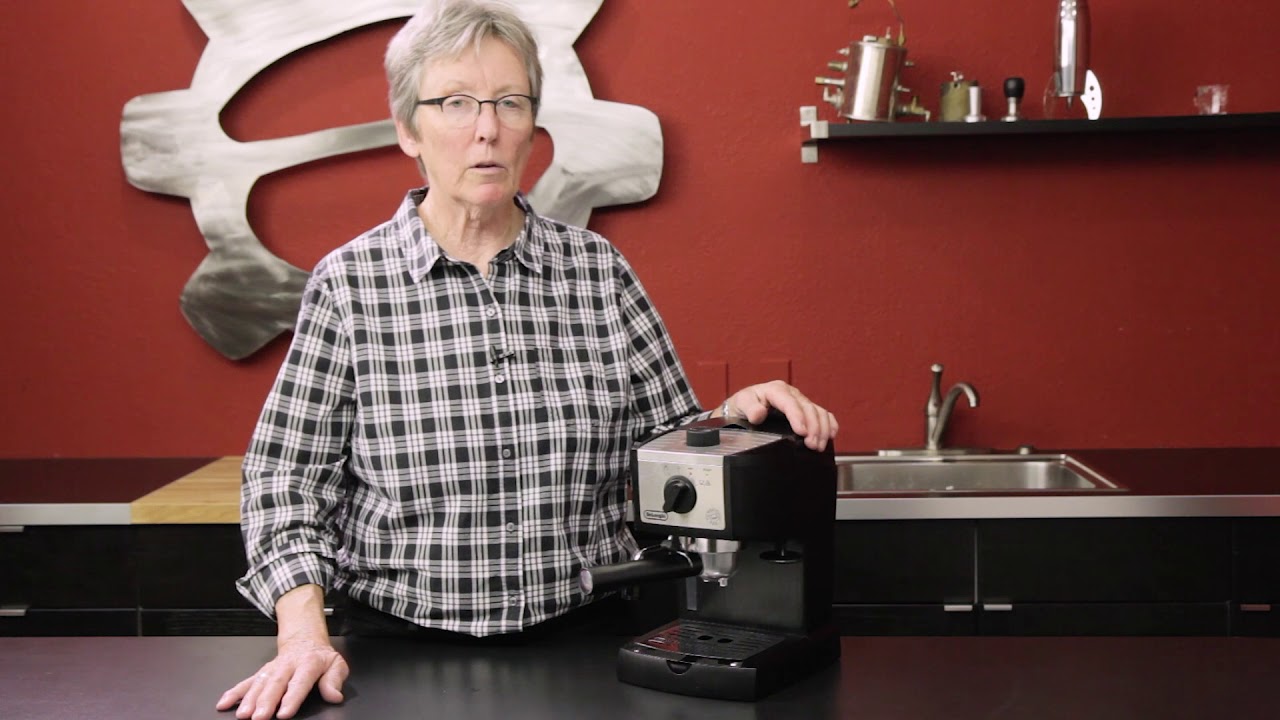 2. Espresso Machine 3.5 Bar Espresso Maker
If you want to get the absolute cheapest espresso machine possible, look no further. The Espresso Machine 3.5 Bar Espresso Maker comes with everything you would expect from a quality espresso brewer but at a ridiculous low price.
For those who don't have hundreds of dollars to throw away on coffee makers, this is an excellent investment. It might not last forever, but you'll definitely get your money's worth.
In terms of features, this machine is very easy to use. It incorporates only a few buttons so that even if you don't understand how to operate a professional espresso maker, it's still very simple with minimal room for error.
Plus, the pressure is ideal for making a creamy and rich espresso. Even though the machine is so surprisingly affordable, it still comes with the frothing arm so that you can make your favorite cappuccinos and lattes. All your drinks are going to be smooth as velvet to make your mornings more enjoyable. It even fits nicely on any countertop setup in any kind of kitchen, making it nearly invisible.
Super Affordable
Simplistic Design
Frothing Arm
Powerful Pressure System
Fits Anywhere
No Auto Shutoff
Takes Some Getting Used To
See It In Action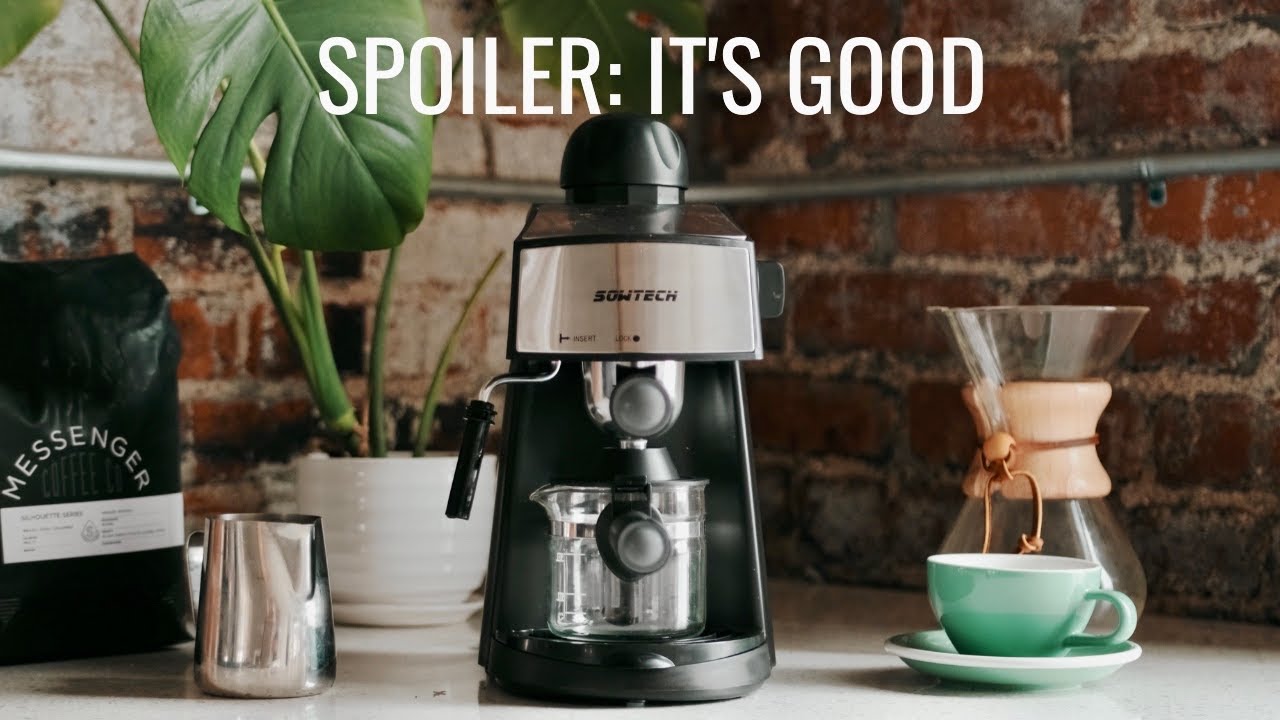 3. Bialetti Moka Express
The Bialetti Moka Express is at the top of the list in terms of being a cool coffee maker. It's entirely different from the espresso machines you're used to. First, it doesn't require any nonsense electricity.
You can make your coffee and your espresso using this awesome machine which was originally designed way back in the 1930s. It's made in Italy, so you know it is going to give you the best coffee taste and creamy espresso flavor in the world.
This espresso machine may take a little bit of getting used to. However, once you have mastered how to craft your own espresso using the traditional method with this tool, you are going to feel a huge sense of satisfaction. It's arguably the most popular espresso machine in Europe of its kind. The Moka Express is really for those who have a true love of coffee and don't care about fancy gimmicks or instant pod machines.
The machine is authentic, it takes just a few minutes to brew yourself a delicious coffee or espresso, and it comes in a huge variety of different colors to suit your personal taste, including black, red, and festive green and red. There's even a gold machine if you're feeling particularly fancy.
Comes in Various Sizes & Colors
Made in Italy
No Annoying Electronic Components
Authentic Coffee Machine
Slightly Flimsy
Tough to Clean
4. Mr. Coffee Automatic Dual Shot Espresso
It should be no surprise that Mr. Coffee is a company that makes extremely useful coffee machines. Their new and improved dual shot espresso machine is absolutely wonderful. It's higher up on the price scale, very close to budget, but that's because it's full of ridiculously powerful features.
It's a dual shot machine, meaning you can make two shots of espresso at the same time. Not only that, but you can also use the frothing arm to turn all your beverages into creamy drinks that are extra frothy. The entire unit is small and compact. It has a thermal block heating system which provides blinding speed in all your coffee brewing. No more waiting impatiently for your cup of espresso in the morning!
Finally, the pressure pump system on this machine is fantastic. It produces 15 bars of pressure just like with a professional machine from a coffee shop. The vertical water reservoir is also removable so that you can effortlessly refill and clean the entire unit. The Mr. Coffee Espresso Machine is easy to use, fun to operate, and the taste is out of this world.
Bar Pressure is Great
Removable Drip Tray
Ideal Frothing Arm
Makes 2 Shots at Once
Brews Very Quickly
Not for Professional Baristas
Short Lifespan
5. Yabano 3.5 Bar Espresso Machine
The Yabano 3.5 Bar Espresso Machine is one of the most affordable coffee makers that money can buy. It's cheaper than most standard drip coffee machines. But even still, it makes some exceptionally tasty coffee beverages.
It has a control knob for easy operation, it uses a 4-cup glass carafe so that you can drink larger servings, it has a steam wand that is very efficient, and its compact design fits anywhere in your kitchen!
Yes, this unit does have its share of poor reviews. That said, it also has some great ones! So long as you understand how to work a small espresso machine like this, you won't have any difficulties. You can make a latte, a mocha, or an americano in just a few seconds using your favorite ground coffee. Plus, the machine comes with everything you need to start your journey to becoming a professional coffee barista.
Easy to Clean
Dirt Cheap
Great for Beginners
Delicious Coffee Flavor
Lightweight
Poorly Reviewed
Must Use Ground Coffee
6. Gevi 15 Bar Espresso Machine
The Gevi 15 Bar Espreso Machine takes brewing to the next level. Yes, it has an excellent milk frother – and yes, it makes some of the best coffee in the business. If you like cappuccino, latte, mocha, or espresso, this is the machine you want sitting on your kitchen counter.
It comes with some of the best systems available at such a low price. Not only is the pressure ideal for making authentic Italian espresso, but you have active temperature control with this unit. There is a visual thermometer which will help you to control the temperature so that you always have a brew that's right for you.
Some other amazing features include the double volume boiler, the 25-second brewing, and the frother that makes delicious foam. The controls are simplistic, the machine looks great in any modern kitchen, and most of the pieces are removable so that you can wash them by hand. The machine even has a cup warmer!
Fantastic Bar Pressure
Easy to Clean
Sizable Water Tank
Adjustable Steam Strength
Different Coffee – Professionally Made
Most Expensive
Confusing Manual
7. Gevi 20 Bar Espresso Machine
The Gevi 20 Bar Espresso Machine is simply wonderful. It's exactly like the machine we just talked about, only better. This unit has some seriously powerful pressure, especially for such an affordable coffee brewer. It uses a 20-bar pressure system to provide quick and stable coffee extraction, making espresso that is richer than you're used to and so fragrant that your whole house will be filled with that sweet smell.
Another amazing thing about this machine is that it comes with three unique functions. It has manual control, one-shot brew, and two-shot brew. That means regardless of what mood you're in, the coffee maker can always provide you with the exact right amount of espresso.
The machine also comes included with intelligent temperature control. It uses dual thermostats so that you can control the temperature of the espresso extraction while controlling the temperature of the milk frothing simultaneously and separately. The taste of your coffee and the taste of your milk foam are always going to be perfect.
As for the coffee machine itself, it looks amazing. It has three buttons on the front, easy operation at the top, and some of the most impressive technological features on the inside. It's actually a little unbelievable that you get this machine at such a low price. We highly recommend this unit for anyone who wants a professional espresso maker.
Bar Pressure is Beyond Amazing
Stylish & Futuristic
Double Temperature Control System
Advanced Thermo Block
Stainless Steel Steam Wand
No Color Choices
Advanced w/ Confusing Settings for Beginners
8. Hamilton Beach Espresso Machine with Steamer
Hamilton Beach makes a large variety of coffee makers. They are one of the most popular brands for kitchen appliances, and it really shows with their new espresso machine. It's great for making cappuccinos and mochas, and the no-fuss milk frother allows you to customize your favorite specialty beverages at home in your own kitchen.
In terms of espresso machines, this one is pretty basic. It has a removable reservoir, it can make 2 cups at the same time, and it is relatively easy to maintain. It comes with everything you need to make a barista-style coffee at home, but it does lack many sophisticated bells and whistles.
One of the better features with this machine is that you can use your own coffee grounds or pre-measured soft pods. Keep in mind that these are not like K-Cup pods or Nespresso Capsules, but they work in kind of the same way.
If you're not interested in spending tons of money, this is definitely a good second option. There are certainly more expensive machines with more reliable features, but everything on this unit does work. The steam wand is great, the milk really does taste professional when frothed, and you can still have your favorite Italian espresso at home without spending a fortune at your local cafe.
Perhaps the biggest issue with this unit is that it is built mainly out of plastic with just a few external parts crafted from aluminum. It heats up exceptionally quickly, but it will lose its heat just as fast. The steam it produces is hot enough to create hot and foamy milk, with the wand able to rotate in two dimensions.
Awesome Milk Frother
Removable Water Reservoir
2 Cups at Once
Coffee Grinds or Soft Pods
Simple to Clean
Plastic Construction
Loses Heat Quickly
Best Espresso Pod Machines Under $100
Now it's time to look at some of the best espresso pod machines under $100. You're not going to be able to use coffee grounds with these units. We have included two in the list that are at the top of their class, and each one uses a sophisticated system of pods to brew you the ideal espresso. Let's take a look.
9. Nescafe Dolce Gusto
The Nescafe Dolce Gusto is hands down the best pod espresso maker. It uses specially designed capsules from any number of your favorite coffee brands to deliver you a perfect brew every time. The machine is tiny, it looks like a small robot from the future, and it can make every specialty beverage you can imagine.
The drinks are all inspired by the most famous coffee houses in the world. There's no arguing that this machine makes some of the best coffee ever using its pressure-based system. Rather than having to fight with coffee grounds and milk frothers, you can simply pop in your pod and then hit the button. It's instant coffee!
The user interface is simplistic, the price is reasonable, and you can even change the size and temperature of your drink to create a personalized cup. At the end of the day, Nescafe is dedicated to coffee and it really shows with this new automatic capsule coffee machine.
Available w/ Coffee Capsules
Fits Anywhere Perfectly
Easy Interface
Ultimate Coffee Flavor
Versatile & Easy to Maintain
Water Reservoir is Tricky
Expensive Coffee Pods
10. Mixpresso Single Serve K-Cup Coffee Maker
Right away you're probably wondering just what the Mixpresso coffee machine is. Well, it works much like the Nescafe Dolce Gusto, only it uses the same K-Cups as a Keurig. It's a small and portable coffee maker that allows you to enjoy whatever coffee brand you love the most. Anything from Starbucks to Dunkin' Donuts can be made with this unit.
One of our favorite features is the quick brew technology. The machine is going to heat up in only 30 seconds, meaning you don't need to wait for your favorite coffee in the morning. The materials are BPA free, the removable water tank is 45 ounces, and the entire unit is easy to scrub down and maintain. The removable drip tray is even adjustable to fit any height of mug while still collecting all the drips.
The Mixpresso Coffee Maker takes up very little room because of its sleek design. This makes it easy to store out of the way. It's also one of the better coffee makers to have set up in an office or to take with you on a camping trip. And if you want something a little more colorful, the machine does come in a few different color combinations.
Available in Multiple Colors
Large Water Tank
Uses K-Cup Pods
Removable Drip Tray
Perfect for Home or Office
Single-Cup Only
Nespresso Copycat
Final Verdict
It is extremely difficult to choose the very best out of all these espresso machines, but that's kind of why we're here. Any one of the models we talked about today is going to be a great addition to your kitchen, but by far our number one pick is the De' Longhi 15 Bar Espresso & Cappuccino Maker. It's simply a superb machine, and let us tell you why.
This unit allows you to use ground coffee and pods, that way you have full control over what kind of beverages you're brewing. It also enables you to have consistent taste with every single drink. Yes, it's at the upper end of the $100 scale, but it's worth every last dollar.
Then we have the Nescafe Dolce Gusto, which is a hugely successful pod coffee maker that brings convenience and style to your kitchen. It's slightly more affordable then some of the other coffee makers, and it allows you to make cappuccinos, lattes, espressos, and coffees in a single serving. You can use pods from your favorite coffee houses to make instant espresso in a slim and futuristic machine.
FEATURED PRODUCTS
De'Longhi Espresso Maker

3 Coffee Types + Manual Frother
Semi Automatic / 15-bar
Pods / Ground Coffee

Check Price
ON SALE!

Espresso Machine 3.5

3 Coffee Types + Manual Frother
Semi Automatic / 3.5 Bar
Ground Coffee Only

Check Price
Recommended Reading
Today we're looking for the very best espresso machine under $100. You might think that…
COMMENTS
Today we're looking for the very best espresso machine under $100. You might think that…
COMMENTS
Today we're looking for the very best espresso machine under $100. You might think that…
COMMENTS