The 10 Best Espresso Machines Under $300
By Evelyn J Stafford ~ Updated 22 December 2021
As an Amazon Associate I earn from qualifying purchases
Today we're finding out the best espresso machine under $300. Not only are we going to be checking out the top coffee makers in the business, but we're also going to be looking at the best coffee makers with a milk frother! All the machines on today's list will have a professional milk frother for making an amazing layer of froth on your specialty beverages.
For espresso machines under $300, you have a surprising amount of options. In fact, many of these appliances don't even push the $200 mark! But even at such a reasonable price, you still get all the main features that make an espresso maker worth having.
This means you will have a large, removable water tank. Your maker will come complete with a steam wand, a heap of options, an easy control panel, and the authentic Italian flavor that's so important to espresso lovers! Plus, you can choose between manual espresso or fully automatic depending on how involved you like to be with the coffee-making process.
In for a penny in for a pound as the old saying goes – if you're considering stepping up to the next level, we also have you covered. Be sure to stop by our guide to the best espresso machine under 500.
Overview: Best Espresso Machine Under 300
What do you need in the best espresso machine? Well, it's all about the coffee. You need an amazing caffeinated beverage at the push of a button. Pure espresso, milky latte, and delectable cappuccino. It's all about the coffee!
★ Mr. Coffee ★
Espresso Maker
Semi Automatic
Espresso, Cappuccino & Latte
Ground Coffee Only
Automatic Frother
Removable Reservoirs
11.2" L x 8.8" W x 12.6" H
1 Year Warranty
Check Price
ON SALE!
★ De'Longhi ★
Espresso Maker
Pods / Ground Coffee
15-bar Espresso
Single Serve Only
Milk Frothier
Removable Reservoir
44oz Reservoir
11.6" H x 9" W x 11" D
1 Year Warranty
Check Price
That's why we highly suggest you check out the De Longhi 15 Bar Pump Espresso Maker. This baby self primes automatically. It can be used with either pods or grounds. It also crafts beautiful cappuccinos and lattes with the easy-to-use frother. It's by far the best option for people who want the best of everything inside of a single appliance.
Easy to clean, easy to use, and easy to love – De Longhi espresso makers are always very high quality. This unit even has a rapid cappuccino system to maintain optimal temperatures throughout the whole brewing process, that way you can brew one espresso after another. It's really quite amazing.
But then there's the Mr. Coffee Espresso and Cappuccino Maker. This is the machine that you should consider if you can't get enough cappuccino! Yes, it still makes excellent tasting espresso, but it's designed to be the best and most affordable cappuccino maker as well, with a dedicated automated milk frother. No more guesswork when frothing!
If you're after the best pod maker, believe it or not we have two options. The Nespresso Vertuo Next and VertuoPlus are the best in the business when it comes to crafting above-average coffee. Not only do you have basically infinite options thanks to Nespresso's capsules, but it's a huge upgrade when compared to other pod espresso machines.
The Vertuo Line takes a standard pod coffee and makes it something amazing. With the help of the steam wand, you can add tasty froth directly to any beverage, creating a drink that is far superior to anything from a boring pod machine.
What We Look for
Types of Machines: There are a lot of different espresso machines under $300. You have semi-automatic, automatic, super automatic, and pod style. But you probably want to know what the difference is.
Semi-Automatic espresso machines are quite a bit different from manual espresso units. This was the original upgrade in the world of coffee brewing. Rather than pulling a lever to activate the piston, semi-automatic espresso machines comes with an electric pump. Simply push a button to pull your shot!
Automatic espresso machines take it to another level. They work exactly the same as the semi-automatic machines. You must grind the beans, tamp it, then hit the button to pull the shot. The big difference here is that an internal timer will then cut off the shot after it's ready, leaving you free to do something else while the shot is prepared.
Super Automatic are the best espresso machines. The fact that you can get this machine in this price range is a little amazing. People who like to make a manual espresso might not enjoy the super automatic, but the rest of us certainly do. For super, you don't need to do anything except fill the bean hopper. The machine will then grind the beans, set the portafilter and tamp it, pull the espresso shot, then steam the milk. It's a full system that does everything automatically, giving you the best espresso possible.
Pod Style is self explanatory. The best espresso machines under $300 that utilize pods are going to offer superior extraction compared with standard pod units. It's more than just inserting a pod into the machine and letting hot water spray onto the grounds. These machines use a milk frother, they have stronger pressure, and they make a more concentrated shot of espresso – or other specialty beverage.
Coffee Styles: Here's the deal. If you select one of the espresso machines below, you're going to have instant access to many different types of caffeinated beverages. This is because any espresso machine is going to be able to make you an espresso, americano, cappuccino, latte, macchiato, ristretto, or lungo.
How? Because every one of these drinks traditionally works with one or two shots of espresso. The only difference is the way you froth your milk and how you add the contents!
Still, the style of coffee will also depend on which grounds you use. With any professional espresso maker, the style is always up to you. However, most machines are unable to make standard drip coffee, so this is always something to keep in mind.
15 Bar vs 20 Bar: When checking out our top selections below, you'll probably notice two main levels of pressure. 15 bars and 20 bars. But what does that mean? Do espresso machines that output 20 bars of pressure make better coffee than machines that only pump out 15 bars?
The answer is no. Even a machine that brews at 9 bars of pressure is outputting 130 PSI, and that's a lot. A 15-bar pump is 100% professional and what most trusted engineers put into their coffee machines. When you see "20-bar system" advertised, it's generally just trying to lure you in with bigger numbers.
The truth is that 15 bars of pressure, or even 9 bars of pressure, is totally adequate for water being pushed through coffee grounds. Most makers are 15-bar for a reason!
Product Selection
Espresso Machine + Milk Frother
1. Mr. Coffee Café Barista
WINS PICK OF 2021
First on our list is the Mr. Coffee Café Barista, and it's more than just a coffee maker. It's a fully functioning espresso deluxe! This is one of the highest rated appliances out there if you love cappuccinos. It comes included with a 15-bar pump system for excellent espresso extraction, plus a trouble-free automated milk frother.
What this means is that you never need to do any guesswork for making your cappuccino froth. Simply press the button on the machine and your froth will blend itself! No more hassle and no more fuss.
Other features include an easily refillable water reservoir, amazing coffee flavor, rich espresso in single or double, and a simplistic control panel that even a baby can use. If you're in the market for the best espresso maker for you and your family, Mr. Coffee has you covered! The richest cappuccinos, the sweetest lattes, and the strongest espresso.
Removable Water Tank
Automatic Milk Frother
One-Touch Controls
3-In-1 Espresso Maker
Semi-Automatic System
Can't Make Regular Coffee
Not Ideal for Iced Beverages
See It In Action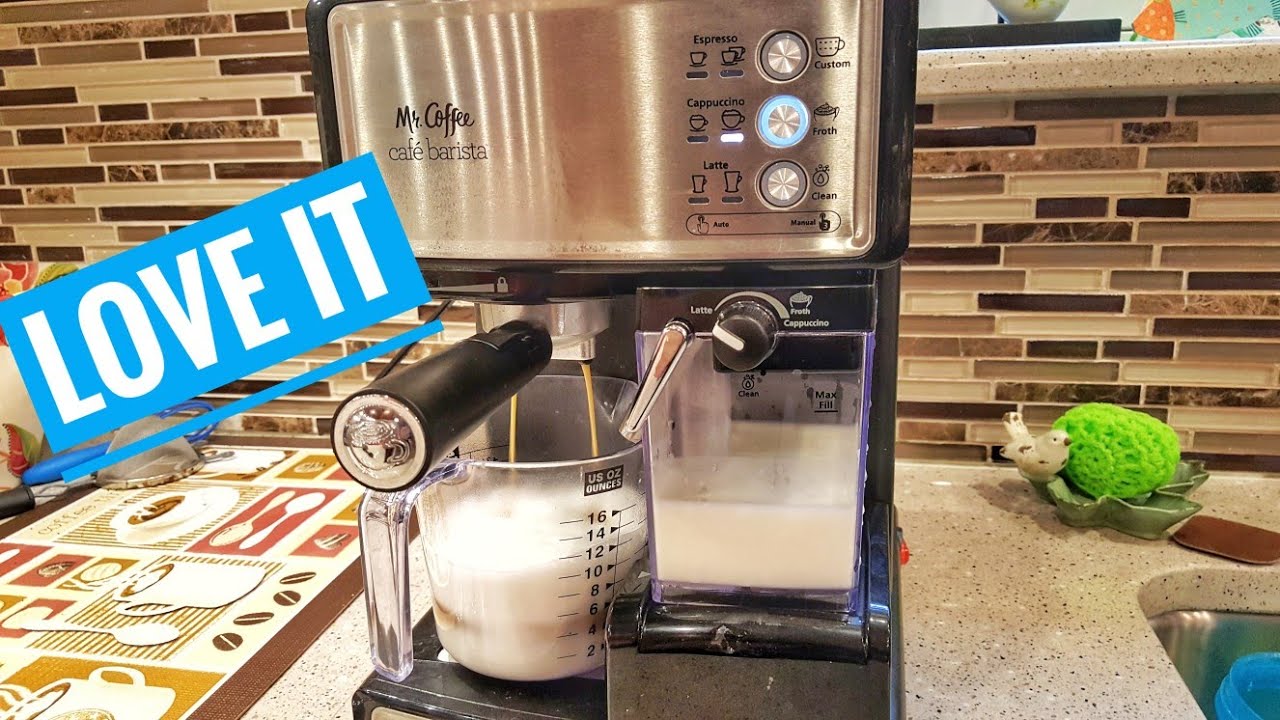 2. De'Longhi 15 Bar Pump Espresso Maker
The De'Longhi 15 Bar Pump Espresso Maker is the real deal. Coming in under budget, this is arguably the best priced. It can craft a beautiful espresso beverage like you wouldn't believe – and it can do it whichever way you prefer.
If you want coffee taste like you find at your favorite café, you absolutely need this machine! It can use pods or ground coffee, the appliance is stainless steel and gorgeous, the brewing system is 100% professional, the pressure is perfect, and the final coffee flavor is remarkable.
But there's so much more. This coffee maker truly allows an ordinary person to brew like a pro. Single espresso, double espresso, or a specialty beverage can be yours in seconds with no previous experience. The De'Longhi uses two separate thermostats to allow full control over the steam pressure and the water temperature! And the whole system is easy to figure out.
Plus, no more waiting between cups of coffee. The De'Longhi 15 bar pump maintains the ultimate espresso brewing temperature so that you can make one cup after the other with consistent temperature and flavor with no waiting times.
Easy to Clean + Steel Drip Dray
Professional Brewing @ Lowest Price
Heats Up Very Quickly
Two Separate Thermostats
Strong, 15-Bar Pump System
No Water Filter
Must Froth Manually
See It In Action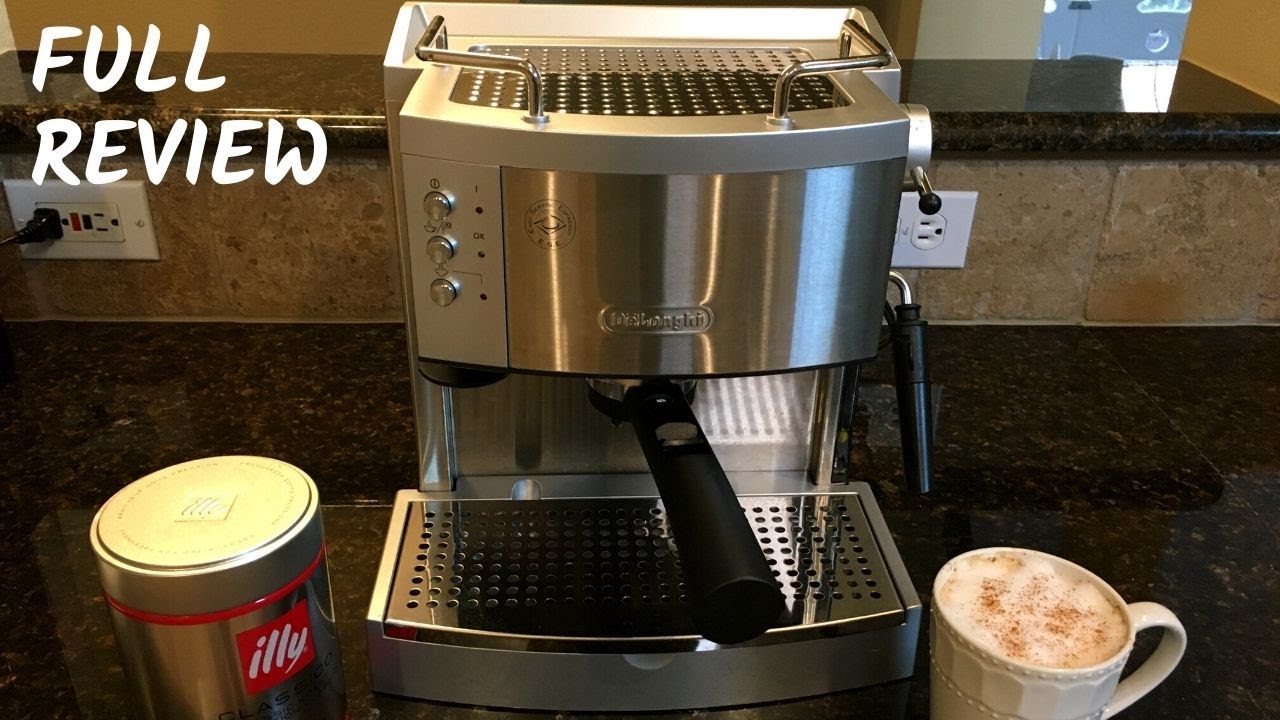 3. Calphalon Temp iQ
The Calphalon Temp iQ Coffee Maker is an espresso machine like no other. It may not be a very popular brand, but it can still make the best coffee drinks. It's also a little expensive, just pushing the budget. But that's because it delivers quality espresso beverages with every shot pulled.
The Calphalon has a 15-bar system. It comes with a simplistic dial interface for selecting hot water, pre-programmed shot options, or steam. And with the thermoblock heating technology, you get consistently hot water temperatures with all your beverages.
The Calphalon Temp iQ even utilizes the pre-infusion method for gently blooming your grounds before full extraction, making for a much tastier espresso when the whole process is over. It also comes with a large 2L water reservoir with a hinged lid, a cup-warming tray, a wand for milk frothing, and a stainless-steel milk pitcher.
Small & Portable Machine
Maximum Flavor Extraction
Easy Dial Interface
Removable Massive Water Tank (2L)
Full Stainless-Steel Construction
Fairly Unknown Brand
Foam Not Always Reliable
4. De Longhi EC68oM Espresso
Another solid espresso machine from De'Longhi, this is a single-serve option that allows you to brew like a pro. You can make a single shot or a double shot, plus you can make a cappuccino or a latte in just a few seconds. The big bonus in using this espresso machine is that it's tiny. It saves space and can be stored anywhere on your kitchen counter.
The De Longi uses professional, 15-bar pressure to extract the optimal taste. It has an advanced frother, a twin brewing cycle, and a steel drip tray to keep your brewing area clean. The espresso machine also looks very sleek and modern with its stainless-steel design.
When it comes to actually foaming the milk for your beverage, it's never been easier. The manual frother will mix steam and milk in just a few seconds to create the richest texture you've ever had with a beverage at your own home. Plus, the machine accommodates taller cups so that you can make larger beverages.
Single-Serve for Small Households
Saves Space
3-In-1 Filter Holder
Very Easy to Clean
Steel Drip Tray + Removable Water Tank
Hot Water Dispenser Not Great
Questionable Longevity
5. Gevi 20 Bar Espresso Machine with Frother
The Gevi 20-Bar Espresso Machine with Frother is so much more than just a great joe maker that provides the best espresso ever. It's also insanely cheap. And I mean that in the best way possible. It's barely over $100, and still comes included with all the features you hope for in a quality espresso machine.
For example, it has a 360-degree rotating froth wand, it's capable of crafting two espresso shots, it has a buoy inside the drip tray to remind you when the water is full and you need to do a clean, and it has a transparent water tank capable of holding 1.5 liters of liquid, completely removable for easy fill ups. And to top everything off, the cup warmer works to keep all your mugs and espresso cups warmed and ready for the next drink.
But it doesn't stop there. For such a remarkably affordable espresso machine, it even comes with double temperature control, and this allows you to tweak the temperature of the water and the taste of your milk foam at the same time.
As for the machine itself, it can brew within just 25 seconds, it uses a double volume boiler, and it actually looks amazing on your kitchen counter.
Wildly Inexpensive
Pro Milk Frothing Wand
Dual Temp Control
Two-Year Manufacturer Promise
Two Cups of Espresso at Once
No Color Options
Not Much Else!
6. Gevi 15 Bar Espresso Machine with Frother
The Gevi 15-Bar Espresso Machine is quite similar to our last model. It still makes delicious beverages, and it still has all the great features, but it's a little bit newer. It uses two separate thermostats, overheat protection, and a powerful pressure extraction system for consistently delicious drinks in your own kitchen.
This machine also uses a manual steam wand for crafting latte art. You can make a delicious iced latte or normal cappuccino, it has a warming tray, a removable drip tray, very easy operation, and it can do two shots at the same time thanks to its advanced portafilter. The entire machine is also stainless steel and very stylish. Plus, it's durable and bound to last for years to come.
In fact, the manufacturer is so confident that they have given you a two-year promise on the brewer. They offer excellent customer service and will take care of you in case anything happens. But it's unlikely that you will have any problems using this machine. It even brews your favorite drink in just 25 seconds after a short warmup.
1.5L Water Tank
Removable Drip Tray
Full Warming Tray
Can Make Two Espresso Shots
Rich Froth Texture
Some Leaking Issues
No Grinder
7. Espresso Machine & Cappuccino Maker with Milk Steamer
Here we have a great machine from a lesser-known company called Espresso Works. It comes in a variety of colors, including red or blue, and it uses a simplistic dial for easy brewing. Forget about annoying buttons. Simply turn the dial and start the brew!
This is one of the faster machines for making coffee. A cappuccino or great espresso can be brewed within just 45 seconds. This is thanks to the highly advanced heating system. And once your drink is ready, it's going to taste authentically Italian because of the 15-bar pump and perfect extraction. You can make a single shot or a double shot, plus the removable water reservoir holds enough water for quite a few brews without needing a refill.
The machine itself is pretty affordable, and people generally have nothing but good things to say about it. It comes with all the pieces you need to start your journey to being a home barista. And even though it's not super auto, it's still a very simplistic system for anyone to learn after just a few tries.
Coffee Espresso System w/ Grinder + Frother
Amazing Steam Wand
Deep Drip Tray
Makes Double Shot Espresso
Comes in Vivid Colors
Should Clean Frequently
Fantastic Customer Service
8. Breville Café Roma Espresso Maker
Breville always makes great stuff, and this coffee machine is no different. It's designed for personal use and quick beverages. It uses a standard 15-bar system, but this unit utilizes a dual-wall filter system to give you better crema than usual. It has a froth enhancer and a warming plate for your cup. It also has a removable drip tray, a frosting jug, and a massive water reservoir that can be removed for easy cleaning.
To be honest, this unit doesn't offer anything overly exciting, but it's definitely a great budget item if you're not looking to spend a ton of money on your next machine. It is quite old, so some of the features are outdated. But nonetheless, it's a great item to pick up at a low price.
Dual-Wall Filter System
Cup Warming Plate
Included w/ Frothing Jug
Powerful Thermoblock Pump
Personalized Coffee Maker
Fairly Old Machine
Only Works w/ Small Espresso Cups
Pod Machine + Milk Frother
9. Nespresso Vertuo Next
The Nespresso Vertuo Next is the perfect coffee system for anyone who loves pods. Using the Nespresso capsules, you have an infinite list of hot beverages that you can make from the comfort of your own home. The big bonus in using capsules is that you don't have to mess around with grounds or complex machinery.
For simplicity, you can simply press a button and brew superior flavor using this machine. It takes normal pod brewing and takes it to a new level with better pressure, better temperature, and more options for cup sizes. It also uses centrafusion technology to create great espresso unlike anything you have ever tasted.
We could go on and on about how awesome this machine is, considering it's definitely the best pod coffee maker, but we'll leave you with one last fact. The machine uses connectivity with Bluetooth and Wi-Fi so that it's always up to date with the newest brewing techniques whenever Nespresso releases a delicious unique variety.
4 Cup Sizes
Huge Selection of Coffee Capsules
Centrifusion Technology
Bluetooth + Wi-Fi Connectivity
Full Coffee Intensity Settings
Frother is Sold Separately or as Bundle
Capsules Can Be Expensive
10. Nespresso VertuoPlus
The VertuoPlus is another fantastic machine from Nespresso. Whereas the Vertuo Next is more of a personal coffee maker, this unit is huge and works for the whole family. It's available with the specialized Aeroccino milk frother, which can add even more quality to your caffeinated beverages with amazing crema. Because it is a bit larger, this machine comes with a huge 54-ounce water tank, an automated capsule ejection and storage system, and it can accommodate five different cup sizes.
If you want a luxury pod coffee maker, this is the one for you. Yes, it only brews single servings, but it can make up to 14 ounces. Plus, you get all the luxury of having access to the full stockpile of Nespresso capsules. The unit even comes with a complimentary gift set that will give you a taste of the different kinds of flavors you can expect when shopping for capsules.
The life of this machine is excellent, it's going to work for years to come. It even automatically adapts its brewing style to suit each capsule. This means that the temperature, beverage size, pressure, and brewing time are all unique depending on what you put in the machine. This is truly the top piece of technology when it comes to smart pod brewers.
Adapts for Brew Time/Pressure/Temp/Size
Major Simplicity/One-Touch Brewing
Removable Water Tank + Capsule Storage
Lots of Technology for Smart Coffee Maker
Heats Up In 15 Seconds
Slightly Larger Model
Only Does Single-Serve Coffee
Final Verdict
Out of all the best espresso machines under $300, it's hard to choose just one. However, we can say with a high degree of certainty that the De'Longhi 15 Bar Pump Espresso Maker is absolutely the pick of the litter, followed closely by the Mr. Coffee Café Barista.
The De'Longhi is an entire system. It can do double-shot, it has an awesome steam wand, it can make cappuccinos or lattes, and it can use grounds or your favorite pods. It's the first step to truly becoming a professional barista, with all the standard features found in the top coffeehouse espresso machines.
The Mr. Coffee espresso machine is also great, and it's not far behind. The big bonus with the Mr. Coffee espresso maker is that it can automatically froth your milk, and this is a big advantage for anyone who feels too lazy to do it manually. Its amoung the first class espresso machines!
Then of course there is the Nespresso Vertuo Next, which uses pods only. It's a single-serve machine that crafts espresso far tastier than any normal pod or capsule machine. It uses a frother, expert pressure, and highly advanced extraction techniques. We highly recommend it for someone who only wants to use pods.
FEATURED PRODUCTS
Mr. Coffee Espresso Maker

Single or Double Shot Espresso
Semi-Automatic / 15 Bar Pump
Automatic Milk Frother

Check Price
ON SALE!

De'Longhi Espresso Maker

Single or Double Shot Espresso
Semi-Automatic / 15 Bar Pump
Froth Milk Manually

Check Price
Recommended Reading
Today we're finding out the best espresso machine under $300. Not only are we going…
COMMENTS
Today we're finding out the best espresso machine under $300. Not only are we going…
COMMENTS
Today we're finding out the best espresso machine under $300. Not only are we going…
COMMENTS