The Best Automatic Pour Over Coffee Makers
By Evelyn J Stafford ~ Updated 22 December 2021
As an Amazon Associate I earn from qualifying purchases
Pour over coffee makers are by far the best machines for making coffee. Forget about the old-school drip coffee machines and their inferior quality and pick yourself up the best automatic pour over coffee maker today! This change will drastically improve your morning coffee ritual.
We present five of the best electric pour over coffee makers on the market today, making your trip from the old clunky machines of yesterday to the high-tech coffee makers of tomorrow that much simpler. You will truly be amazed at how much richer your coffee tastes when switching to an automatic pour over machine.
Have you ever found your self wanting a machine that can make a single serve coffee first thing in the morning – that doubles up as a pour over for later in the day? Well, yes they exist! Check out or guide to the best duo coffee maker for more info.
TOP PICK OVERVIEW
★ The OXO ★
Brew
9 Cup Max
9 Gallon Capacity
Double-wall Thermal Carafe
198° - 205°F
24 hour Start Timer
8.3" L x 15" W x 17.2" H
2 Year Warranty
Check Price
★ Bonavita ★
Connoisseur
8 Cup Max
8 Gallon Capacity
Double-wall Thermal Carafe
198° - 205°F
No Start Timer
12.4" L x 6.8" W x 12.2" H
1 Year Warranty
Check Price
If you don't have time to read everything, here is the scoop on our two top picks.
First, the BREW Coffee Maker from OXO. This machine really takes the cake. For an automatic pour over coffee maker, you can't get much better than this in terms of value and quality. Coffee with rich flavour, perfectly heated water, smartly designed processing, a handy control dial, a double-walled carafe, plus an automatic 24-hour timer.
Honestly, the features of the OXO Brew Coffee Maker are endless. This is by far the best pick on our list.
The close second is Bonavita's Connoisseur One-Touch Coffee Maker. This is a quality automatic pour over machine. It makes up to 8 cups of coffee, comes with a suitable steel carafe, and maintains the best possible brewing temperature. This is definitely the budget version of the OXO Brew 9-Cup Coffee Maker. They are close, but the BREW comes out on top. It's simply better.
What is An Automatic Pour Over Coffee Maker?
If you have ever thought something is missing from your boring old morning coffee – flavour maybe? – then chances are it is time to get yourself a new coffee maker. How about an automatic pour over?
These great coffee machines enhance the taste of your morning beverage by a lot. In fact, once you brew your favorite grounds in an automatic pour over coffee maker, you'll never touch a standard percolator again!
How do they work? Well, there are a few key processes to making the richest coffee. One of the most important is actually the temperature of the water as it is showered over the grinded coffee bean dust, also known as coffee grounds.
The automatic pour over machine works by heating the water before it is showered onto the coffee grounds. Think of it like preheating the oven before you put in the pie. Having the precise water temperature results in a cleaner saturation of the grounds, allowing the flavour to bloom and flow freely into your cup.
This process differs from normal brew machines in two ways. First, the showering of the water. Water is distributed evenly on the grounds rather than sloppily poured into the center of the basket. As you can imagine, this results in a finer taste.
Second is the already-heated water. As we already stated, having the water heated correctly before it gets poured onto the coffee grounds is critical in getting the best flavour. Standard coffee machines just can't do this. They can't cope! Try it yourself to taste the amazing difference a finely tuned process can make. Automatic pour over coffee machines are recognizable by their futuristic dual-tank system. You will generally see them with the carafe on the right and the basket of coffee grounds above it, then the water tank on the left. The result is a very sophisticated look. This is a great way to modernize your kitchen.
The Difference Between Manual and Automatic Pour Over
Now you know what an automatic pour over coffee machine is and how it works, but what's the difference between auto and manual? Well, manual is done by hand! It's the same process as the automatic pour over, just longer and more tedious.
You may have made automatic pour over coffee without even realizing it. Ever stuffed a coffee filter into a cup, loaded it with coffee grounds, then slowly poured boiling water from the kettle over it? That's exactly what manual pour over coffee is!
It's very similar to using a French press. You must set up the coffee filter, boil the water, wait around and then pour it. Needless to say, this takes a big chunk of time out of your morning.
Automatic pour over machines are great because they do all of the hard work for you. Simply fill the water reservoir the night before, set the timer, then wake up with the tastiest pour over coffee waiting in the carafe come sunrise. Even if you forget to set the timer, all you need to do is push a button.
Automatic pour over coffee makers also have the bonus of a special shower distributor. Whereas when doing it manually you are pouring the hot water from the kettle's spout and flooding the basket of grounds, automatic machines use a unique showerhead system to evenly distribute the hot water at just the right rate and in just the right places.
When you choose one of the automatic pour over coffee machines on our list, you are committing yourself to a rich, bush-of-the-button coffee experience unlike anything attainable through a manual process. We highly recommend one of these machines for anyone who considers themselves a coffee connoisseur.
1. OXO BREW Coffee Maker
WINS PICK OF 2021
Our number one pick is the OXO BREW Coffee Maker, and for good reason. This is a powerful little machine that fits perfectly underneath all of your kitchen cabinets. It comes with a sleek, smart, and slim design, practically blending right into the background of your kitchen.
The BREW Coffee Maker is one of the simplest automatic pour over machines ever made. It comes with all the features you would normally expect – full programmability, 2-9 cup capable, a quality thermal carafe, and the perfect temperature of water. However, rather than annoying buttons, all the settings can be made with a single turn of the knob.
Convenience doesn't end there. Much like the older drip coffee machines, the thermal carafe keeps your coffee piping hot until you are ready to drink it, which is handy if you sleep past your automatic brew time. There is even a freshness indicator on the bright LED screen, letting you know when it's time for a new brew.
What about the brew quality? Well, the quality is above industry standards. With the machine's unique showerhead pour, its smart processing and perfectly heated water, and its premium carafe, you receive an end product that is delicious, ready-to-drink coffee better than most coffeehouses. Leave it to OXO to make the greatest automatic pour over coffee machine ever!
Features
Brews between 2 and 9 cups
LED interface shows status, time, indicator
Settings are controlled with a single dial
Unique rainmaker showerhead
Perfectly heated water in separate tank
24-hour programmable
We like
The well-made thermal carafe keeps coffee hot
The 24-hour programmability is convenient
Coffee quality is outstanding
The machine looks super modern, slim and compact
We don't like
Cleaning can be annoying
Tank is known to fog
Customer support can be slow
See It In Action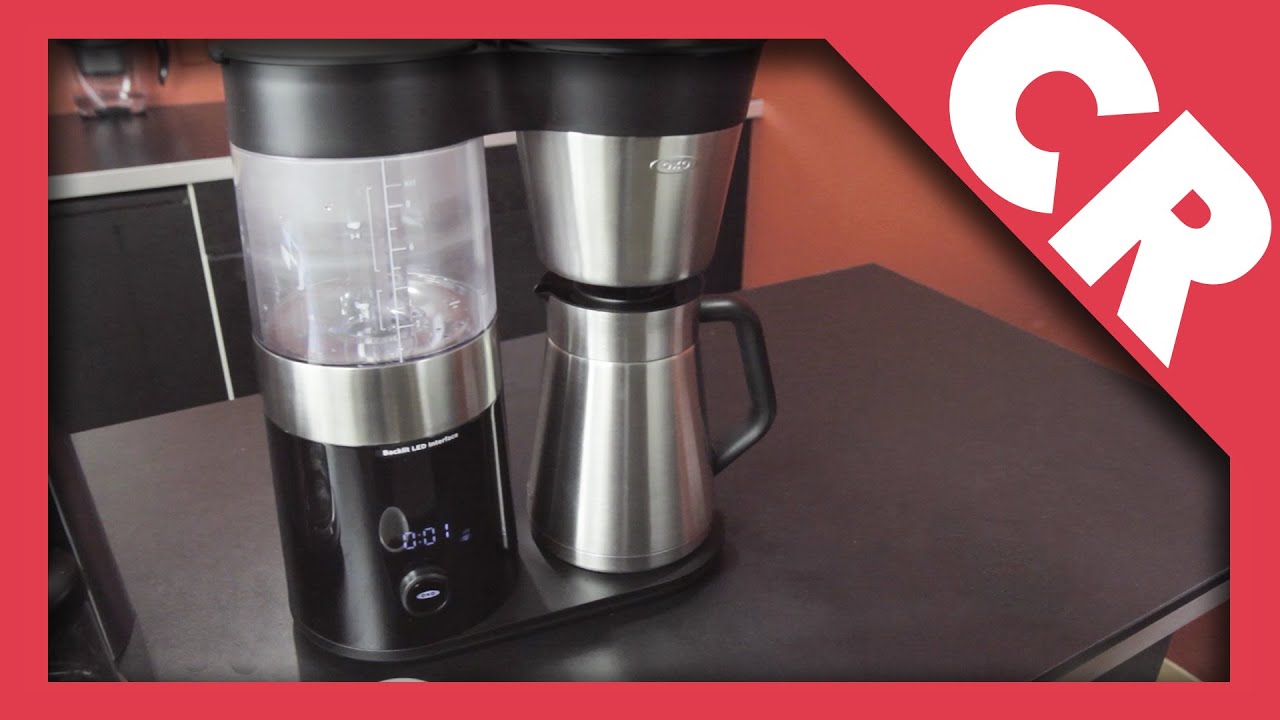 Bonavita has a lot of coffee makers out there, ranging from traditional machines to more high-end models like this, their Connoisseur One-Touch Coffee Maker. We think this is one of their better models. It is simple, easy to use, and has no complex bells or whistles. You can make 8 cups of scrumptious coffee in just about 6 minutes flat.
Bonavita has taken simplicity to the next level with the Connoisseur One-Touch Coffee Maker. It has one button. That's it – one button! There is literally nothing to confuse even the most tech-ignorant coffee lover. Simply fill the water reservoir, add coffee grounds to the hanging filter house, push the single button, then relax with your cup of high-quality coffee.
As with other automatic pour over machines, this unit produces the perfect water temperature, which it then distributes over the coffee grounds using its unique showerhead to saturate every last flake. The product is some of the best tasting coffee ever.
A final bonus when using the Connoisseur from Bonavita is its simplistic design. Chrome and black, slim and short, you can store this coffee maker anywhere at all. It is even easy to clean because there are not many components, just the filter and the water reservoir.
Features
Brews 8 cups of coffee in around 6 minutes
1500-watt water heater for perfect temperature
Pre-infusion mode for maximum flavour
Showerhead pouring mechanism for even distribution
Convenient single-touch brew button
High-quality thermal carafe
We like
The unmatched flavour of coffee
Convenient design is easy to store
Carafe pours nicely without spillage
Simplicity at its finest, smaller than most machines
We don't like
There is no automatic brewing option
May be excess drippage from brew basket
Simplicity means lack of options/settings
See It In Action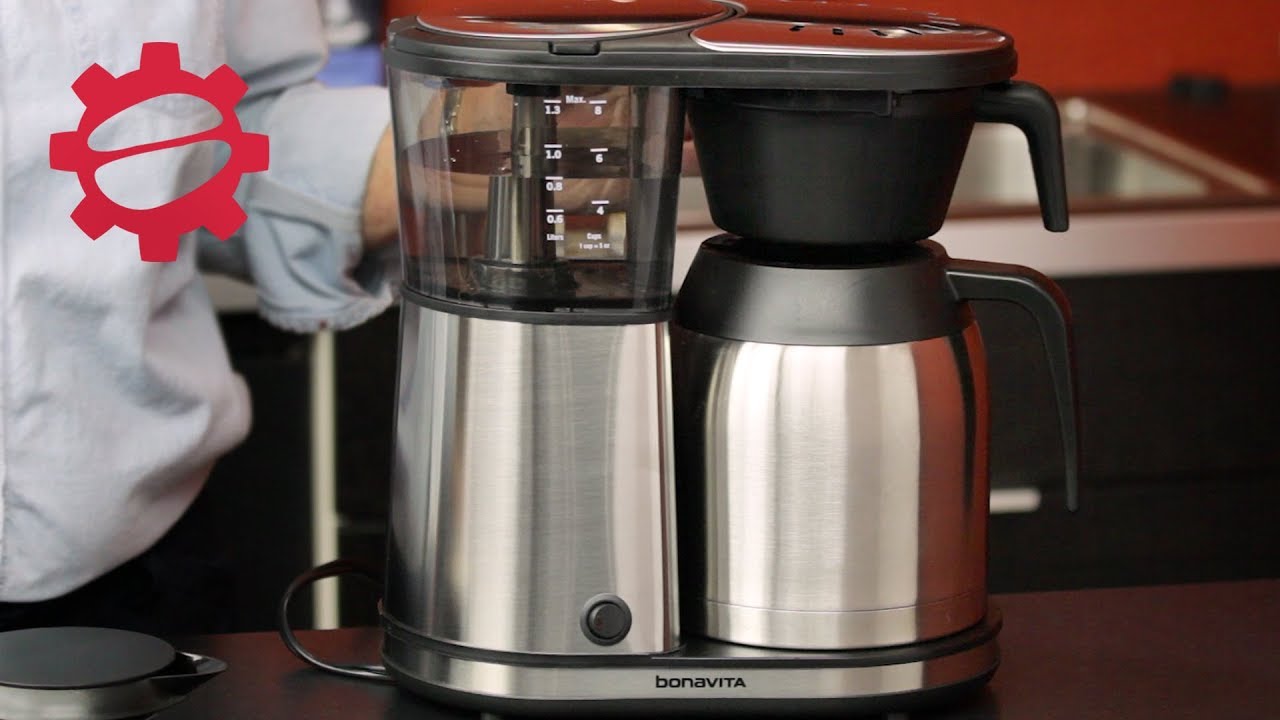 3. Technivorm Moccamaster Coffee Brewer
First of all, the Technivorm Moccamaster Coffee Brewer is by far the most powerful and intense automatic pour over coffee machine on our list. While the OXO BREW Coffee Maker is our top pick, this beast of a brewer by Technivorm is undoubtedly the most advanced.
So, why didn't we pick it as number one? Well, the price can be scary. This is a serious machine for serious coffee drinkers, and not the best in terms of overall value. If you've got the extra scratch to spend on a luxury coffee maker, this is the machine for you.
The Moccamaster looks like a mad scientist's lab experiment with philters, vials, bubblers, and percolators! But don't worry, it's just a sophisticated coffee machine. In fact, it's the number 1 automatic pour over choice of many experts in the brewing world. We're talking about scientifically delicious coffee made through a meticulous process unmatched in the industry.
To make things better, there is no other coffee maker offered in such an array of vibrant colours. Want your coffee maker to be purple? No problem! How about sky blue, pink, yellow pepper? The choices are endless.
Coffee quality is where the Moccamaster gets most of its praise. This is one of the highest-rated machines online today. Everyone is raving about the taste of the Moccamaster's coffee. It's simply unbeatable. Trust us, this brewer makes coffee that surpasses what you get in your favourite local café.
Features
Easy one-button activation
Has a professional look
Automatic shutoff after 100 mins
Brew time less than six minutes
Comes with a hot plate
Glass 10-cup carafe
We like
Comes in 28 different colors
Very fast to brew coffee
The coolest-looking coffee machine
Flawless reviews online, almost perfect 5 stars
We don't like
The price is daunting
No pre-programmable mode
May become heavily addicted to amazing coffee
4. Cuisinart Coffee Brewer
Cuisinart offers their simplistic new coffee brewer for all your automatic pour over coffee needs. This excellent machine brews some of the tastiest coffee you've ever had inside your own home. At such a competitive price, it's hard to pass up this superb 8-cup brewer.
In traditional Cuisinart style, the machine comes incredibly durable straight out of the box. The coffee maker itself is chrome and can be purchased with either the thermal chrome carafe or the very handsome glass carafe (for a few extra dollars). Whichever you pick, rest assured knowing the machine is going to last for years to come.
Features are plentiful. There are three strengths to choose from: mild, medium, and bold. Unlike other coffee makers with a "bold" option, you can really taste the difference in each strength because of Cuisinart's smart brewing process. You can also make your coffee hot or extra hot.
Something that Cuisinart does fabulously with their coffee machines is the self-cleaning mode. This is great. The coffee maker keeps itself in perfect shape every few cycles. The only thing you need to clean is the well-designed carafe. A simple rinse and you're good to go!
Finally, Cuisinart has built a top-shelf automatic pour over coffee maker. The price is affordable for everyone. The machine cleans itself. It looks sharp in a kitchen with chrome appliances. Honestly, there is not much reason to shop for another brewer, unless perhaps you want to spend a fortune. If not, the Cuisinart Coffee Brewer is the way to go.
Features
Available w/ thermal or glass carafe
Strength control: mild, medium, bold
Temperature control: normal hot or extra hot
Comes w/ permanent filter & charcoal water filter
Self-cleaning model
24-hour programmable
We like
Cuisinart's trusted name in coffee
Very advanced design
Simplistic LED display
Simply delicious coffee
We don't like
Only comes in chrome
Carafe has been known to leak
Machine only makes 8 cups
5. Breville Precision Brewer Coffee Maker
Breville is offering their Precision Brewer Coffee Maker as a top contender in the automatic pour over coffee world. If you are something of a coffee snob and are looking for a machine with a lot of features to play with, look no further. The Breville has enough features to confuse a life-long barista.
You can now adjust the temperature, adjust the flow rate of the pump, and adjust the contact time. This is the best machine for customizing how your coffee is brewed, letting you satisfy your inner coffee snob.
You can also play with the bloom time, changing the flavour from earthy to fruity or from floral to bitter. Plus, you get a cone filter basket and a flat bottom basket included with the machine, adding more customizability. With six specialized brewing modes, a unique "gold standard" mode, and Breville's innovative steep & release technology, you can brew a single cup or a full carafe of any kind of coffee you desire. This is every coffee enthusiast's dream machine.
As for the machine itself, you'd be stumped trying to find something more durable or well built. The steep price of this coffee maker is reflected in its sturdiness and dependability, as well as its infinite programmability and the superb taste of its coffee. This is definitely a winner for all coffee lovers.
Features
Automatically adjusts temperature
Brews any amount of coffee
Comes with cone filter & flat bottom baskets
Automatic pre-sets
Automatic steep & release for single cup
Massive thermal carafe
We like
The range of brewing sizes, unlimited
The quality of coffee is unparalleled
Can brew a single cup w/o the carafe
The smart backlit menu & knob
We don't like
Almost too many features, a little overwhelming
Price is pretty high
The machine is large
Our Pick: The OXO Brew
For quality and value, the BREW Coffee Maker from OXO is our number one choice. This machine looks smart, has an intuitive user interface, a single dial that makes it easy to change settings, and a high-tech microprocessor that controls the brew cycle for exceptional coffee with every brew. The perfect upgrade to your old glass carafe drip coffee maker.
The thermal carafe is doubled walled and stainless steel, the LED menu is bright and easy to see, and the coffee maker as an appliance looks sleek and modern in any kitchen. While every coffee maker on our list has exceptional value of its own, the BREW is the overall best.
FEATURED PRODUCTS
OXO Brew Coffee Maker

9 Cup Max
9 Gallon Capacity
24 hour Start Timer

Check Price
Bonavita Connoisseur

8 Cup Max
8 Gallon Capacity
No Start Timer

Check Price
Recommended Reading
Pour over coffee makers are by far the best machines for making coffee. Forget about…
COMMENTS
Pour over coffee makers are by far the best machines for making coffee. Forget about…
COMMENTS
Pour over coffee makers are by far the best machines for making coffee. Forget about…
COMMENTS