The Best Dual Coffee Maker (2 Way Combination)
By Evelyn J Stafford ~ Updated 22 December 2021
As an Amazon Associate I earn from qualifying purchases
Duo coffee makers bring the best of both worlds to your in-home coffee experience. These are the "do it all" machines of the coffee industry, great for those living in caffeine-fueled households. Whether you enjoy a single serve K Cup or ground coffee, these 2 in 1 coffee makers have something for everyone.
Every 2 way coffee maker is going to come capable of making a full carafe of coffee or a single serving straight into your mug or travel mug. And while many of the features are similar, some work better than others. Let's check out the six best dual coffee makers.
A dual coffee maker makes for a great addition to any kitchen. As good as these are, they don't come with a grinder. If you live a coffee snob (like myself) who prefers a fresh grind, you could consider a adding a single cup coffee maker with grinder.
Combination Coffee Maker Buyer's Guide
When it comes to buying the best dual coffee maker, you want to make sure it comes with all the features that fit you and your lifestyle. All of the best duo coffee makers are going to serve you a full pot or a single serve cup, while some will be compatible with K-Cups and some will have an integrated frother. Here is a short list of things to look out for when shopping for the best dual coffee maker.
K Cup: If you like the single serve K Cup, the pods used to make Keurig coffees, then your machine absolutely must be capable of incorporating K-Cups. This takes away the need to constantly shovel grounds into the filter basket. Luckily, number one on our list is the best dual coffee maker.
Coffee Grounds: Every good 2 in 1 coffee maker must permit the use of ground coffee. It's a given. Even if the machine can use K Cups, make sure it is compatible with coffee grounds. Any high-quality duo coffee maker will come with a reusable coffee filter, allowing you to save money and save the environment by not using paper filters.
Delayed Start: This is a big one. If you are one of those people who value your time and don't want to mess around in the morning making coffee, be sure that your new duo coffee maker has a delayed start, also known as a pre-programmable setting. This allows you to wake up to the fresh smell of brewed coffee.
Cup Sizes: Cup size depends on your preference. All of the 2 way coffee makers on our list allow you to make a full carafe or a single serve cup, but some thermal carafes and glass carafes are bigger than others. If you are fueling your whole family with coffee in the morning, aim for a bigger carafe, maybe one that can hold 12 cups.
Filters: Filters are majorly important with any dual brew coffee maker. You don't really need a milk frother, you don't need a special 10-cup thermal carafe, and you don't need a whole bunch of fancy features. But you should have a gold tone filter that your coffee maker can reuse, allowing you to use the single serve brewer repeatedly without wasting paper filters or non-recyclable pods.
Overview
These are two of the best dual coffee makers that money can buy. They are even manufactured from the same company. That being said, the Hamilton's 2-Way Brewer Coffee Maker feels like an inferior version of the FlexBrew Coffee Maker. The former simply doesn't match up to the FlexBrew. That being said, the 2-Way Brewer is an excellent budget choice.
ON SALE!
★ Hamilton Beach ★
FlexBrew (Dual)
K-Cup or Grounds
Single Serve
12-cup Carafe
Fixed Reservoir
Auto-Shutoff
Programmable Timer
13.9" H x 10.6" W x 10.2" D
1 Year Warranty
Check Price
ON SALE!
★ Hamilton Beach ★
2-Way (Dual)
Grounds Only
Single Serve
12-cup Carafe
Fixed Reservoir
Auto-Shutoff
Programmable Timer
13.7" H x 12.2" W x 10.6" D
1 Year Warranty
Check Price
The FlexBrew allows use of the single serve K-Cups, critical if you want to enjoy Keurig's famous coffees and hot chocolates in an easy ground-free way. The FlexBrew also offers separated water reservoirs, one for the full carafe and one for the single serve. This keeps life more organized for you.
Even though the 2-Way Brewer has smart features, can brew in either a carafe or a single mug, and is fully programmable, it simply lacks the luxury features that come with the FlexBrew. However, the lack of features is made up for in the price. Still, for the extra money we would definitely shoot for the FlexBrew. It is by far the best dual coffee maker on our list.
1. Hamilton Beach 49976 FlexBrew Dual Coffee Maker
WINS PICK OF 2021
We are in love with the FlexBrew Coffee Maker. These guys really know how to make a machine. The FlexBrew is an ultra-compact unit that can house a giant 12-cup glass carafe and a full 7-inch travel mug. It gives you the best of both worlds.
With a separate water reservoir for the main carafe side and the single serve side, you can easily be prepared for every coffee situation. Pop in a K-Cup for a single serve, then immediately brew a full 12-cups using your favourite ground coffee. Plus, the machine allows you to set the strength of the brew!
The FlexBrew is an ideal miracle machine to take care of all your coffee needs, reducing the kitchen clutter caused by having two separate brewers. It compacts everything into one fashionable unit that fits effortlessly under your kitchen cupboards and is easy to clean. There is almost no maintenance with the FlexBrew.
Additionally, you can expect to preprogram your morning (or afternoon/evening) coffee with a few quick pushes of a button. The LED screen will remind you exactly what time your coffee is set to be brewed. If you forget, there are no worries with the automatic shutoff feature. No matter what, you can't go wrong with the FlexBrew Coffee Maker.
Features
Brews a full carafe & a single cup
Uses K Cup or ground coffee
Programmable 24-hour timer
2-hour automatic shutoff
Separate water reservoirs for convenience
Special brew strength selector
We like
The massive versatility for brewing
Its unique design + availability of a white unit
Super easy to clean and maintain
The adjustable cup rest comes in handy
We don't like
Must fill reservoir each time for a single cup
Can only preprogram the carafe side
Plastic housing
See It In Action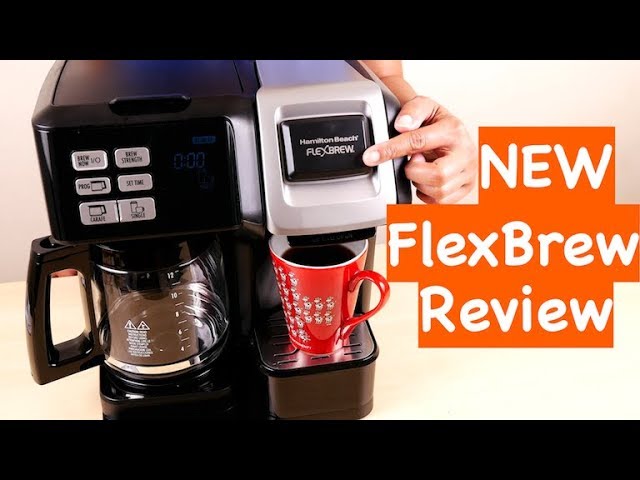 2. Hamilton Beach 2-Way Dual Coffee Maker
Hamilton Beach has created yet another fantastic coffee machine. Their 2-Way Brewer Coffee Maker comes with all the features you need in a basic dual coffee brewer. Not only can you make a full pot of coffee in minutes, but you can also brew a single serve directly into your mug or travel mug.
The machine comes included with smart features like the brew strength control to choose between regular coffee or bold coffee, while the warming plate works to keep your coffee the perfect temperature while you slowly drain the carafe.
The 24-hour programmability means you can set the machine before bed and wake up to the familiar scent of brewing coffee, taking the hassle out of your morning coffee ritual. With the automatic shutoff feature, you never have to worry about forgetting to turn off the machine. It turns itself off!
While the 2-Way Brewer may not be the fanciest machine, it is definitely going to do the job of making a swell cup of java. You cannot use K-Cup, but who needs them! This machine works just great with coffee grounds, making your favorite brand of coffee in no time at all.
The carafe is glass with an ergonomic black handle, looking handsome with the machine placed anywhere in your kitchen. The carafe holds a full 12 cups of coffee, which is enough to satisfy anyone's morning craving. This is a great machine for the whole family.
Features
Brews 12-cup carafe & 14oz mug
Has brew strength selector
24-hour programmable
Automatic shutoff
High-quality glass carafe
Warming plate
We like
Having a choice between normal/bold
The machine is simple to clean
Programmable features work well
Produces yummy coffee
We don't like
Budget option, lower quality than others
No permanent filter
Machine doesn't look that attractive
See It In Action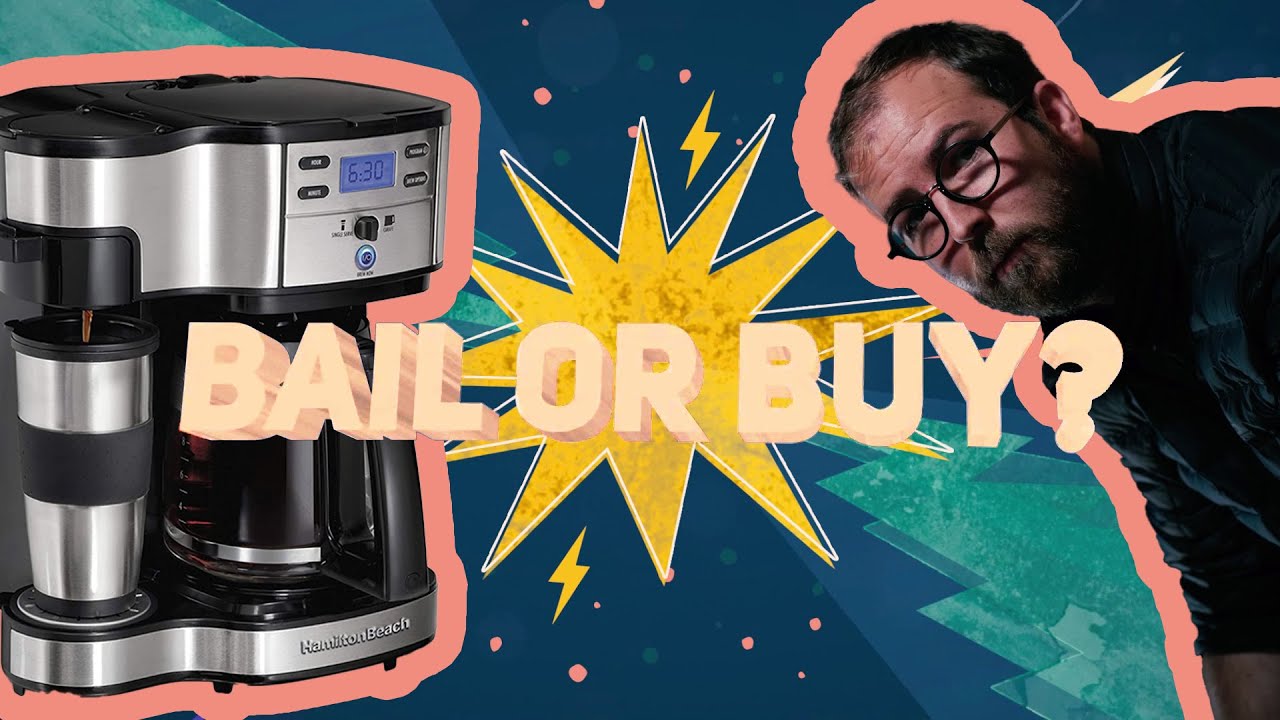 3. Cuisinart SS-15BKS Two-Way Coffee Maker
The Cuisinart Two-Way Coffee Maker is another one of the best dual coffee makers on the market. It's a bit more expensive than some of the other dual coffee makers on the list, but that's because it offers a bit more for the average joe.
You get two options for making a delicious cup of coffee. You also have two different ways of brewing that cup of coffee. The Cuisinart Two-Way Coffee Maker comes with a single-serve station on the right, allowing you to choose between 6, 8, or 10 ounces. On the left side of the coffee machine, you have a full pot of drip coffee. This is one of the best dual coffee makers primarily for its choices, its build quality, and its attention to detail.
But here are the two different ways your dual brew coffee maker can serve you coffee. You can either use your favorite grounds or your favorite K-Cups! There are no limitations with the single serve brewer. Buy the K-Cups with the flavors you like, or buy your local coffee grinds. It's that easy!
Additionally, this awesome dual coffee maker from Cuisinart comes with a reusable gold tone filter, it's BPA free, the handle is stainless steel, there is a 24-hour brew start option, it cleans itself, it offers control over the brew strength, and it brews consistently delicious cups of coffee!
Features
12-Cup Carafe + Single Serve
Energy Saving Mode
Reusable Filter Cup
Self-Cleaning Mode
Fully Programmable + Brew Strength Control
We Like
Many Different Serving Sizes
Sturdy Stainless Steel Handle
Removable Drip Tray
Pause and Serve Feature
Gold Filter
We Don't Like
No Milk Frother
Can't Brew Dual Coffee Simultaneously
4. Hamilton Beach 2-Way Dual Coffee Maker
If you're hunting for the best two-way coffee makers, you cant go by this 2-Way Dual Coffee Maker. This awesome coffee maker can brew single-serve coffee, it comes with a thermal carafe that can brew ground coffee, and it makes some of the best-tasting drip coffee out there.
If you're the kind of person who loves single-serve coffee in the morning, and who only occasionally needs to make a full 12-cup carafe of ground coffee – or the other way around, this is one of the best dual coffee makers you can buy. It is not compatible with K-Cup pods, so you never have to worry about ruining the environment with too much throw-away trash.
Instead of K-Cup pods, this dual coffee maker uses a reusable filter for you to brew your coffee grounds, including one small filter for single-serve coffee and a larger basket for a full 12-cup carafe. This is better for the environment – not to mention, it's cheaper than some of the K-Cup pods dual coffee makers, like the Keurig's coffee maker.
Other features include a large water reservoir, a thermal carafe, automatic shutoff, a programmable timer for easy brewing, fully automatic functions, and some of the best dual coffee you'll ever taste in your life!
Features
Programmable Cup of Coffee
Single-Serve Grounds
Fully Automatic
Brew Strength Control
Powerful Hot Water System
We Like
Stylish Coffee Brewer
Programmable Timer
Single Serve and Carafe
Automatic Shutoff included
Large Thermal Carafe
We Don't Like
Doesn't Use K-Cup Pods
No Milk Frother
5. Cuisinart Coffee Center Dual Coffee Maker
Cuisinart just can't stop making great coffee machines. Their newest edition to their line of fabulous and versatile coffee makers is the 12-Cup Coffee Center, a dual coffee maker that allows you to brew either a whole pot of coffee into a carafe or a single cup straight into your favourite mug.
The bonuses of using the Coffee Center are plenty. You get a well-designed traditional coffee maker, plus a single-serve coffee maker, plus a compatible machine for all your favourite Keurig flavours and tastes. It gives you everything in a slim design that will fit snuggly anywhere on your kitchen counter.
We especially like the colour choices Cuisinart offers. This machine comes in either silver, white, or black, any of which look fantastic in a modern kitchen. Plus, the machine is BPA free. It's safe to drink from and friendly to the environment with its charcoal water filter and reusable filter cup.
Separate water reservoirs allow you to only fill the side of the machine you intend to use, which comes in quite handy. The single-serve reservoir can be removed, making cleaning much easier. The same for the drip tray. However, the large reservoir for the carafe cannot be removed. Still, the unit is a breeze to clean.
Features
Tough 12-cup carafe w/ steel handle
Bold mode for strong coffee
Gold tone coffee filter
Charcoal water filter
Includes a reusable filter cup
Compatible with K-Cup Pods
We like
Comes in silver, white, black
Can use either K Cups or ground coffee
The reusable filter cup is environmentally friendly
Machine looks neat and slim in the kitchen
We don't like
Slow to brew
Reservoirs are difficult to access
Only one of the reservoirs can be removed
6. Keurig K-Duo Dual Coffee Maker
Finally, Keurig has engineered the machine we have been waiting for. The Keurig K-Duo Dual Coffee Maker does it all. Really, it does everything. It may not be as fancy as the Keurig K-Duo Plus, but it's still amazing. From brewing a massive carafe using ground coffee to a single mug using one of their famous K-Cups, this machine has all your coffee needs covered.
There is a 60-ounce water reservoir that is shared between both sides of the machine, making less of a hassle than with separated water reservoirs. You only have to fill and clean the one tank. In fact, Keurig has done all they can to simplify the machine, making life easier for you.
The control panel is simple. Every option and setting is made with a single touch of one of the well-labeled buttons. Also, this is one of the only Keurig machines that comes equipped with a pre-programmable option. You can choose when your coffee is brewed 24 hours ahead of time.
There is so much more with this great machine. As a Keurig, it makes splendid coffee that will put a smile on your face on even the groggiest morning. It is well-built, well-designed, and has been known to last much longer than other electric coffee makers. In all earnest, this is probably one of Keurig's best models to date.
Features
Very nice 12-cup glass carafe
Water reservoir holds 60 ounces
Allows for strong brew
24-hour automatic brew
Brew a carafe between 6-12 cups
Pause brew for sneaking a cup
We like
Keurig machine that accepts coffee grounds
Very impressive overall design
Coffee flavour is superior
A true all-in-one machine
We don't like
Carafe is not well-designed
Some accessories sold separately
Must use paper filters
Not as Advanced as Keurig K-Duo Plus
7. Ninja Hot & Cold Brew System
Ninja is notorious for designing high-quality machines that look amazing, make the best coffee, and cost a pretty penny more than the competition. The Hot and Cold Brewed System is no different. This is one of the best coffee machines on our list, and it comes with a price tag that reflects its grandeur.
That price tag is well-warranted. The Hot and Cold Brewed System does it all. We're talking about hot and delicious coffees in six different sizes, your choice of brewing tea bags or loose tea leaves, intelligent technology integrated into the machine, a foldaway frother that makes smooth milk froth for hot and cold beverages, and so much more.
The best thing about this duo coffee system is that it uses only one space for the carafe or coffee mug, unlike other machines that have unnecessary dual compartments, one for the carafe and one for the coffee mug. This allows the Ninja to be very small and fit into tight spaces.
The foldaway frother is a key feature, as it really adds to the flavour of specialty coffees like cappuccinos or lattes. You can even brew single-shot espresso-flavoured coffees to satiate your inner Italian. There is not much the Ninja can't do!
Features
Brews six different sizes
Comes with coffee & tea baskets
A foldaway frother for hot/cold milk
Doesn't use wasteful pods
Makes specialty coffees
Most compact unit on our list
We like
Can brew tea & coffee/hot & cold
Frother works miracles with milk
Dishwasher safe & environmentally mindful
2-in-1 brewer smaller than the rest
We don't like
Warming plate is not the greatest
Mesh coffee filter is barely usable
No colour options
8. Cuisinart Programmable Dual Coffee Maker
Last on our list, the Cuisinart 12-Cup Dual Coffee Maker. This neat unit comes as a full 12-cup coffee maker and a hot water dispenser. This allows you to make a full pot of coffee while using the hot water feature to make oatmeal, tea, or even soup. It's extremely handy in a household that is constantly needing boiled water. Say goodbye to your kettle!
Even though this is a dual system of coffee and hot water, the features are not lacking. You get a 24-hour programmable feature to set the time your coffee will be brewed. There is a self-cleaning function, an automatic shutoff, and even temperature control for your heater plate, keeping it at low, medium, or hot.
The glass carafe comes with a drip-free spout and a strong glass construction, BPA free. You are able to either make a full carafe or set for between 1 and 4 cups. No matter what, the coffee dispensed is going to be delicious.
Brew pause is another great feature found in most of Cuisinart's machines. You can pause the brew, fill your mug, then continue brewing into the carafe. This is great for the impatient coffee snobs among us. Also, the removable components are easy to take out and wash by hand.
This is a very convenient all-in-one machine at an even more convenient price. We highly recommend Cuisinart every day of the week.
Features
Hot water dispenser
Customizable hot plate
12-cup glass carafe w/ drip-free spout
54-ounce reservoir
Accommodates tall travel mugs
Self-cleaning function is amazing
We like
The self-cleaning mode is a life saver
Comes in red or black
Hot water dispenser great for cereal/oatmeal/tea
Everything convenient in one machine
We don't like
Durability
Can't use with K-Cups
Coffee carafe difficult to clean
Our Pick
Our number one pick among the best duo coffee makers is, hands down and without a doubt, the Hamilton Beach FlexBrew Coffee Maker. This baby has it all. A high-quality 12-cup glass carafe, a programmable timer, brew pause, automatic shutoff, separate water reservoirs, a clean LED display, quick brewing, and so much more.
Plus, the FlexBrew is compatible with K-Cups and coffee grounds. You can grind up your favourite beans and pour in the grounds, or you can pop in an easy-to-use K-Cup. The choice is yours. With the FlexBrew, you get enough options to satisfy everyone in your household.
FAQ
Are Expensive Dual Coffee Makers Better?
As sad as it is to say, the more expensive your dual brew coffee maker is, the better it's going to perform, the longer it's going to last, and the better your coffee is going to taste. It's no surprise that coffee maker reviews are almost always more positive the higher up the price goes.
This is for one main reason. Cheaper dual coffee makers are often crafted from plastic, they don't come with a lot of extras, and they don't give you that many choices. When you upgrade to a coffee machine that cost a bit more, you'll immediately notice that the mechanisms work better, the coffee is delivered faster and with more consistency, and you will almost always have the choice to pick your own brew sizes and strengths, and to use whichever kind of coffee you prefer.
How Do I Clean a Dual Coffee Maker?
Cleaning dual coffee makers is not as complicated as you might think. In fact, cleaning a dual brew coffee maker is basically the same as cleaning a standard drip coffee maker. The only difference that you need to observe while cleaning is that you must descale each side of the dual brew coffee maker. That means you need to clean the singe-serving side and the normal side, otherwise you might have a bitter cup of coffee.
The good news is that most dual coffee makers actually come with a self-cleaning mode, allowing you to simply push a button to descale both sides of the machine. This dramatically reduces your cleaning time, meaning you only need to wash the exterior surfaces with a cloth.
What's the Difference Between Thermal & Glass Carafe?
If you've been shopping around for dual coffee makers, you've probably come across advertisements for both thermal and glass carafes, and you're probably a bit confused as to which one is the best. Well, the truth is that neither one is really better for your coffee maker. It's all up to your personal preference. In general, glass looks better than thermal, which is why a lot of people prefer glass. However, thermal actually stands up a little better over time.
The thing with a glass carafe is that it's easy to break. It also doesn't keep the coffee hot for as long. Most two-way coffee makers come included with either a 10-cup thermal carafe or a 12-cup thermal carafe, with glass carafes being sold in the more expensive machines.
How Do I Unclog a Dual Brew Coffee Maker?
Unclogging a dual brew coffee maker is one of the most commonly asked questions out there. Sometimes, your coffee maker will become clogged with gross deposits and other debris, and it will stop your whole system from making coffee. Of course, it will normally only happen to your single-serve brewer or to your standard drip coffee maker side.
The good news is that clogs are easy to fix. Simply fill your dual brew coffee maker with vinegar. You want the water reservoir to be about halfway filled with vinegar and the rest of it filled with water. Then, put a paper filter in the basket. Turn the coffee maker on, the machine will brew the vinegar mixture, and whatever deposits were clogging your brewer will be spat into the paper filter!
As a side note, this is a very important procedure to do occasionally, just to keep your coffee maker clean and running smoothly.
FEATURED PRODUCTS
Hamilton Beach FlexBrew Dual

K-Cup or Ground Coffee
Single Serve & Carafe (12 Cups)
Fixed Water Reservoir

Check Price
ON SALE!

Hamilton Beach 2-Way

Ground Coffee Only
Single Serve & Carafe (12 Cups)
Fixed Water Reservoir

Check Price
Recommended Reading
Duo coffee makers bring the best of both worlds to your in-home coffee experience. These…
COMMENTS
Duo coffee makers bring the best of both worlds to your in-home coffee experience. These…
COMMENTS
Duo coffee makers bring the best of both worlds to your in-home coffee experience. These…
COMMENTS