The Best Battery Operated Coffee Maker for People On The Go
By Evelyn J Stafford ~ Updated 22 December 2021
As an Amazon Associate I earn from qualifying purchases
Welcome to the world of the battery operated coffee maker. When it comes to these types of coffee makers, portable is the number one requirement. These little machines allow you to make coffee while on the move, 100% portable, delicious battery operated coffee, anywhere on Earth.
These coffee machines are definitely a revolution.
Just as popular is the tried-and-true Aeropress! We ran out of room in this review but if you'd like to explire the Aeropress to the new and improved Go model, be sure to stop by our Aeropress vs Aeropress Go review.
Overview of Our Best Findings
If you don't have time to read the entire article, here are the two best battery operated coffee makers available right now. If you are looking for portable coffee with a battery powered machine, these two are affordable, they work great, and each of them can make you endless cups of coffee.
★ Wacaco ★
Portable Espresso Machine
Manual Pressure
Ground Coffee
Add Hot Water
0.75 lbs
1 Year Warranty
Check Price
ON SALE!
★ Conqueco ★
Portable Espresso Machine
Battery Operated
Nespresso Pods
Heats Water
2.55 lbs
1 Year Warranty
Check Price
Wacaco Nanopresso Portable Espresso Maker
Forget about batteries. If you want portable coffee without having to use a battery powered coffee maker, the Wacaco Nanopresso Portable Espresso Maker is right up your alley. This is a manually operated coffee maker, no need for batteries or electricity.
Totally compatible with any ground coffee, this excellent portable coffee maker can make you a steaming hot cup of coffee anywhere in the world. And it only uses manual technology. This is probably one of the coolest travel gadgets ever invented. It is easy to use, well-constructed, and it fits nicely in your bag for easy traveling.
Conqueco Portable Espresso Machine
At an affordable price, you can now own the perfect portable coffee maker. This baby works with hot water or cold, it can be charged in your car, it's food grade safe, and it makes the best espresso shots ever. It operates with a single touch of a button, it cleans itself, and it is very portable to carry.
Our Top 6 Battery Operated Coffee Makers
Here we have composed a list of the best battery powered coffee makers in the world. All five are extremely portable, most are battery operated, and all of them make yummy cups of coffee.
1. Wacaco Nanopresso Portable Espresso Maker
WINS PICK OF 2021
First of all, this is not a battery operated coffee maker. This model is a manual espresso machine and boy does it work! You get an outstanding 261 PSI of pressure just from using the new and improved pumping system.
And while you may think hand pumping coffee is annoying and tedious, it absolutely is not. It takes only a few seconds of pumping for you to be gifted with a rich and delicious cup of coffee. And the best part is that you do not need any batteries or electricity. Say goodbye to your old battery operated coffee maker, and say hello to manual cups of coffee!
There are lots of handy accessories that can go with this coffee maker, like the unique barista kit or the NS-adapter. It has a huge water capacity of 80ml, plus a specialized lining that features a heatsink pattern that protects your hands from the heat of the hot water.
And it doesn't end there. This coffee maker is one of the smallest and lightest there is, with a clever ergonomic design and a lightweight construction. But amazingly, it still feels solid in your hands, not like a plastic toy like you might expect. The whole unit is very well constructed.
Because of the coffee maker's ideal size, it is the perfect travel companion for backpackers, hikers, tourists, and business people. It fits discreetly into any bag and can be used to make yummy coffee in just a few seconds literally anywhere.
We like
Major Portability/Great for Travel
Lightweight & Small
Easy to Pump w/ Good Pressure
Acceptable Water Capacity
Very Cool Travel Gadget
We don't like
Accessories Sold Separately
Cleaning Sucks
Must Have Hot Water
See It In Action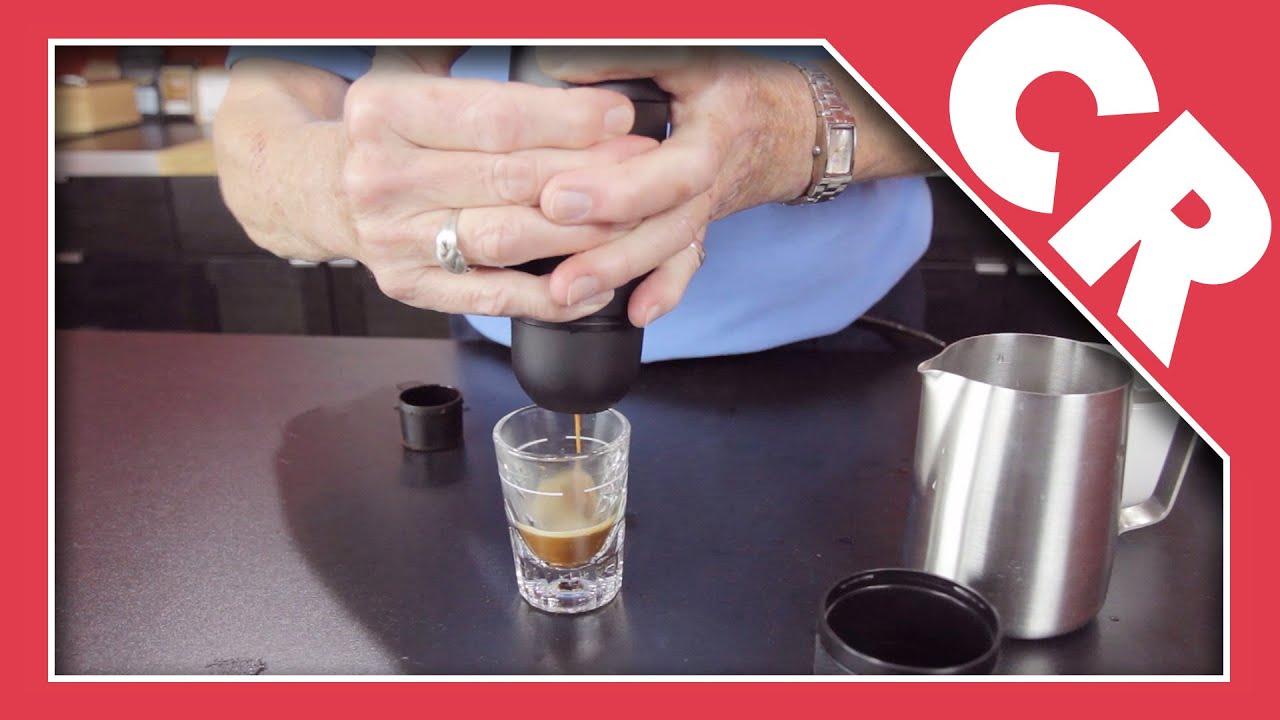 2. Conqueco Portable Espresso Machine
Here we have perhaps the best battery operated coffee maker ever developed. If you want an instant cup of coffee with a push of a button, this unit is for you. It comes included with a rechargeable battery, a unique heating function, professional pressure for a professional cup of espresso, and it can fit nicely into any space.
This is one of the best machines in the world for brewing battery powered coffee, either in your car, at the campsite, or even on the bus! You do not need to plug the unit into the wall just to make coffee. You don't even need to have your water already boiled. This machine can heat the water and brew the coffee with one push of its main button.
In fact, this is one of the easiest battery powered coffee makers that you can use. It has a special cleaning function so that you don't have to clean it, it only has a single button, it can hold quite a bit of water, and you can use the specially designed pods on the go. You can even charge this coffee maker through your car's aux port.
Speaking of cars, this tiny little portable coffee maker can fit inside most cup holders, making it just like a travel cup. It is totally safe to hold, it wont' burn your hands, and you can finally relax with a cup of espresso anywhere in the world. Because of its lightweight design, it is ideal for hikers.
We like
No Need for Boiled Water
Charge Inside the Car
Easy to Operate
Lightweight & Well-Designed
Charges Quickly & Makes Coffee Fast
We don't like
Must Use Special Pods
Takes Longer to Brew
No Cool Colors
See It In Action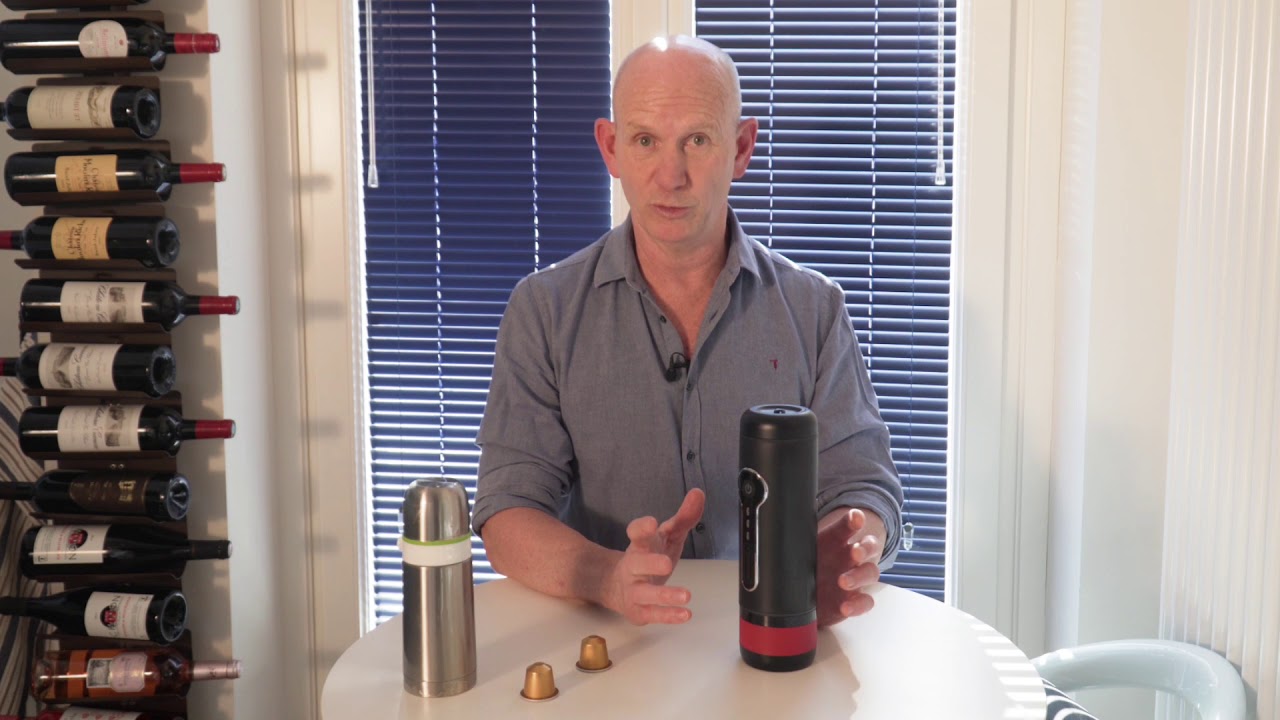 3. Mounchain Filter Coffee Machine
Here is a great budget option for those looking for the best battery operated coffee maker. Rather than using a rechargeable system, this filter coffee maker relies on a pair of AAA batteries to give you a scrumptious single serving of coffee wherever you may roam.
What people really enjoy about this portable coffee maker is that it is easy and convenient. It works with both K-Cups and with your own coffee grounds using the reusable filter. You get both types of coffee at your disposal at all times.
Additionally, you can use the top part of the machine as a cup. Any time you want to stop and take a break with a hot coffee, simply push the button and then pour the coffee into the convenient cup. The coffee maker weighs next to nothing, it is roughly the size of an average travel mug, and it is easy to clean.
You can use this pour over coffee maker when camping, when hiking, and whenever you are in a place that demands instant coffee. The only issue with this model is that you do need boiled water, and so you can't actually have a hot coffee anywhere unless there is boiled water nearby.
But you do get a wonderful selection of very popular coffee capsules thanks to the K-Cup capabilities. This small battery operated coffee maker is an excellent gift, and it is the best companion for any travel enthusiast. This is especially true for those who like small cups of strong americano-type coffee, since that is what you get with this machine.
We like
Great Gift Option
High-Quality Espresso Coffee
Convenient & Highly Portable
Compatible w/ K-Cup Pods
About the Size of a Travel Mug
We don't like
Must Have Boiled Water
Looks Kind of Ugly
Poor Online Ratings
4. Weoola Portable Espresso Machine
The Woola Portable Espresso Machine is definitely a unique battery operated coffee maker. It comes with loads of functions. You can use it in the car, you can use it at the bar, or you could even use it in space if you could somehow get there. This thing is totally travel worthy, it can use boiling water or cold water, and you can even charge it in the car.
This is one of those coffee makers that uses Nespresso pods, and so that is an important thing to keep in mind. That said, Nespresso pods are absolutely delicious, and they work very well in all of the different kinds of coffee makers. If you want a strong coffee, Nespresso pods are the best.
Inside the package you will find a charger so that you can charge the coffee maker overnight, and you will even be able to charge your coffee while sitting in your car. And because of its small and slim design, this is one of those coffee makers that sits nicely inside a cup holder.
Whereas other battery operated coffee makers tend to be annoying to clean, this version is not. You only need to wash the drinking cap. The Weoola coffee maker does the rest of the cleaning and maintenance for you. This is exceptionally handy if you are hiking for long periods of time.
Adventurers will really enjoy this coffee maker. So long as you have an ample supply of coffee and a power source, you'll never run out of caffeine!
We like
Rechargeable Battery
Easy to Wash & Maintain
Simplistic Design & Cool Look
Cold & Boiled Water
Great for Taking on Trips
We don't like
Restricted to Nespresso Pods
Water Often Leftover in Reservoir
Unfamiliar Manufacturer
5. Makita DCM501Z 12V Cordless Coffee Maker
The Makita DCM501Z Coffee Maker 12 Volt is a truly magnificent coffee maker. It brews some of the tastiest coffee you have ever tried, especially from a small battery powered coffee maker. The biggest difference is that the coffee maker Makita has designed is not a travel companion. This is an on-site Makita coffee maker meant for construction workers and day laborers.
While you can definitely use this in the office, it would look extremely out of place. It is one of the only 12 volt coffee makers on the market, and it is designed by Makita as one of their tools. It uses the same kind of 12V lithium ion battery that you would find in a cordless drill or a cordless saw.
However, this is a very cool battery operated coffee maker. You don't need a paper filter with the Makita DCM501Z, since it has a permanent drip filter that allows you to use both coffee pods and coffee grinds. It even comes with special protection that will turn off the coffee maker automatically when there is not enough water, that way it does not cause an accident.
If you are looking for a portable coffee maker to use on the job, to have sitting on the back of your tailgate, or just to have sitting in your yard for those occasions when you are too lazy to go inside on a summer morning, this is definitely one of the best coffee makers around. It is certainly the best coffee maker ever designed by Makita.
Additionally, you may want to consider picking up the 18V LXT battery. The 18V LXT is sold separately and comes with its own charger, but it definitely worth it if you want ion cordless coffee without the risk of your battery dying.
We like
Strong & Well-Designed
Excellent Addition to Other Makita Tools
Long-Lasting Battery
Permanent Filter & Safety Mechanisms
Easy to Clean & Maintain
We don't like
Purpose Designed for Construction Settings
Not Good for Travel
Small Brewing Size
6. Schumacher 1229 12V Coffee Maker
The final battery powered coffee maker is not actually a battery powered coffee maker at all. It is an on-the-go unit that you can use for making hot beverages in your car by simply plugging it into the aux port. No battery required! By unlike the other coffee makers that do run using a rechargeable battery, this machine is really only good for in the car.
It brews 10 cups of coffee with a single pot, it fits nicely in your car so that you can drive and drink at the same time, and it completes its full brewing cycle in roughly 30 minutes. It comes with a full anti-drip valve, it has boil protection, and the on/off switch is easy to use.
This is definitely not a travel companion, unless you are in the mood for a road trip. This is the best unit to take with you for road trips because you can continuously drink your favorite caffeinated beverages while on the road. That really takes away the need to make a pit stop every 30 minutes just to purchase a coffee from a gas station. Now you can get it straight from your own car.
We like
Best for Road Trips
Plugs in Easily to Car's Port
Looks Like a Real Coffee Machine
Can Use Ground Coffee
Large 10-Cup Reservoir
We don't like
Distracting While in the Car
Atrocious Online Reviews
Unit Gets Hot
The Best Battery Operated Coffee Makers: Buyer's Guide
Choosing from the best battery operated coffee makers is a little more complicated than you might think. There are a ton of different portable travel coffee makers that you can have in your car, on a camping trip, or at work for an easy coffee. But the differences are many, from battery operated to manual.
Do you want a single cup in 5 minutes? Do you want coffee using cold or hot water? Do you prefer Nespresso capsules or coffee grounds? Do you need boil dry protection? Which coffee maker best suits your personal needs?
The confusion is endless, which is why we have come up with a buyer's guide for the best battery operated coffee makers on the market. Check out the important features below before choosing which battery operated coffee maker best suits your busy lifestyle.
Brewing Time
The time it takes brewing coffee is critical when choosing the best battery operated coffee maker. Whether you want to brew a 5-ounce cup or a single serve shot of espresso, you need the brewing to be fast. And this is true for all coffee makers, whether its an automatic pour over coffee machine or a handy portable travel coffee maker.
The hard truth is that brewing times vary. In a perfect world, it would be instantaneous! But, it's not. A pour over coffee machine will make a delicious brew, but it's going to take a few minutes. A portable travel coffee maker that runs on cold, plain water is going to take even longer, since something like a lithium-ion battery will heat the water. This means waiting a while for your battery operated coffee maker to do its thing.
If you want the quickest cup of coffee, choose a battery operated coffee maker that requires hot water. You'll get your cup of coffee faster if you add hot water instead of cold or warm water. You only need to press the button and let the battery coffee machine brew your beverage!
Brewing Size
Brewing sizes vary just as much as brewing times. This one is going to be a lot about personal preferences. If you want 5-ounce cups of coffee, you're going to need a slightly larger battery powered coffee maker, and you may loose out on the compact design.
On the other hand, if you're looking for a single serve cup of coffee, a smaller espresso machine may be better for you. A typical portable travel coffee maker – the type that comes designed in a sort of cylinder tube, usually small enough to fit in your backpack – will yield smaller servings of coffee.
For example, a battery powered coffee maker that uses Nespresso capsules will yield only one small cup of coffee. However, a digital touch automatic pour over coffee machine that uses ground coffee and paper filters will give you a larger brewed coffee. You'll still get the perfect coffee either way, but one gives you more!
Coffee Flavor
To have a brewed coffee with the perfect flavor, literally anywhere in the world, is the whole point of a battery operated coffee maker. Without that perfect taste, you might as well brew coffee using an instant packet and some swamp water. This is why coffee flavor is far more important even than brewing time or brewing size.
Here's the scoop. We're all familiar with Nespresso capsules and Keurig K-Cups. If you want delicious coffee in your travel coffee maker, stick with the classics. Pop a capsule into your battery operated coffee maker, add hot water, hit the button, and get a single serve cup of your favorite flavor. Not only will this often taste better – you can choose from all your favorite brands – but it requires far less cleaning than brewing coffee with coffee grounds.
Of course, coffee grounds and paper filters work perfect too. It's just that when you brew coffee in an automatic pour over coffee maker, you can more easily misjudge the amount of water to add and the amount of coffee grounds, resulting in a bland coffee and a ruined morning.
Easy to Clean
The best battery operated coffee makers should be easy to clean. Whether it's a pour over coffee maker or a portable espresso maker, cleaning needs to be quick and easy. Something like the Makita DCM501Z automatic pour over coffee machine is the perfect example of a coffee maker best left to the workplace, as it works more like your power tools and requires significant cleaning just for a quick brew.
The best battery operated coffee makers are the ones that require literally no cleaning! If you want minimum waste, forget the automatic pour over coffee makers. A sleek pod coffee maker best relates to this situation, as you just add a coffee pod and water, drink the coffee, then recycle the pod and give the coffee maker a quick rinse. It's as easy as instant!
Coffee Maker Size
When it comes to the best battery operated coffee makers, size really does matter. However, it's impossible to pick the "perfect coffee maker." This choice is really going to depend on you. An automatic pour over coffee maker is going to be big, it's going to offer you more brewing choices, and it will have things like a manual mode and a digital touch screen. You'll have brew options as well, with larger cup sizes available.
But then you need to carry it around. A perfect example of this is the Makita DCM501Z automatic pour battery operated coffee maker. It's a very cool design, but it's huge and has a lot of moving pieces. This is not the kind of compact design you want if traveling by air or trying to conserve space. It's a great coffee maker, it's just a little big.
The smallest battery operated coffee makers are the easiest to clean, the easiest to travel with, and the easiest to operate. They offer a compact design, a strong battery life, food grade materials, and the perfect small brew. They fit easily in a backpack and can be charged quickly.
Basically, you're choosing between small machine + small coffee brew or bigger machine + bigger brew. In the end, it's totally up to you.
Hot Water Requirements
There are two main ways to brew coffee with a battery operated coffee maker. You can use cold, lukewarm tap water, or you can use hot water. Each type has advantages and disadvantages. For example, a pour over coffee maker is typically only going to need cold water, as it comes with a small heating element. This is convenient because the battery operated coffee maker will boil the water for you. The only issue is that it takes a while for the brew to complete.
Using hot water in something like a portable espresso machine means that your brew will finish sooner. However, the biggest issue here is finding hot water to brew with! You would need an extra piece of equipment just to brew your coffee.
Battery Operated vs Manual
Brewing coffee can happen manually or automatically while on the go, as both types are available with full portability. For manually brewing into your cup, coffee must be made with hot water and a bit of physical work. These unique brewers have a compact design and a manual mode, allowing you a bit of extra fun during the brewing process.
The great thing about manual machines is that they don't require any electricity. They use a hand powered piston to force water through the grounds at the appropriate pressure. The only issue is that you need to have hot water ready to go. Other than that, it's really quite easy.
Even the best battery operated coffee makers have a hard time competing with manual machines. Being able to brew without electricity by boiling water on a fire is really quite nice. However, if you're in a situation where boiling water would be impossible, you really need the best battery operated coffee maker, that way the machine can boil your water and brew it for you.
Our Overall Winner
These six battery operated coffee makers are the absolute best for people who like coffee on the go. Just imagine being able to brew your own hot espresso while sitting on the bus or lounging at the park. Battery powered coffee makers require little maintenance, some of manual mode, they are super affordable, and they will brew a tasty cup of coffee every time.
If you want a battery operated coffee maker that you can recharge, especially while on the go in your car, the Conqueco Portable Espresso Machine is it. The battery is fully rechargeable, and the package comes with the car adapter. The small coffee maker is safe, it brews your coffee in just a few seconds, and there is no need to find boiling water first. It's perfect! And it is, in our opinion, the best!
FEATURED PRODUCTS
Wacaco

Manual Pressure
Ground Coffee Only
Add Hot Water

Check Price
ON SALE!

Conqueco

Battery Operated
Nespresso Pods Only
Heats Water

Check Price
Recommended Reading
Welcome to the world of the battery operated coffee maker. When it comes to these…
COMMENTS
Welcome to the world of the battery operated coffee maker. When it comes to these…
COMMENTS
Welcome to the world of the battery operated coffee maker. When it comes to these…
COMMENTS